Essential Information
| | |
| --- | --- |
| Location | |
04 Jul 2019
Are you interested in family or local history? Do you like visiting churches or are you interested in the lives and deaths of seafarers? Explore our Maritime Memorials database.
By Barbara Tomlinson, Curator Emeritus at Royal Museums Greenwich
What is the Maritime Memorials database?
Maritime Memorials is an online database containing records of over 6000 memorials to seafarers and victims of maritime disasters.
The records have now been edited, amended and expanded, and the website is easier to read, search and explore.
Search the Maritime Memorials archive
How to use the Maritime Memorials database
If you know the name of the person you are looking for, or are interested in a specific place, there is a good general search facility on the site. Alternatively, type the name or place you are looking for into your search engine followed by the words 'maritime memorials'.
A list of topics is available to investigate on the home page (there are a surprising number of good quality memorials to privateers, their opponents and investors). There is also a browse facility for 'causes of death'.  
'Vessel loss', which includes all casualties resulting from the destruction of a ship, is the largest category. Many of these incidents are not otherwise easily located online.
Users can also browse events and places. Click on the place name in capitals above your results to find more information.
Many entries begin with a basic record to be expanded later, so the amount of data varies. For those with an interest in genealogy, transcripts of inscriptions will include details of other family members. Mariners are listed below in a 'people' section – this may tell you more. Fuller memorial entries will have photographs, extensive bibliographies and notes.
If you are a Georgian Navy enthusiast, the Maritime Memorials database is a good place to find church wall tablets with effusive and informative epitaphs, as well as some of the earliest memorials to naval seamen. Gravestones, some carved with ships, are included from the 17th to the 20th century. Victorian and later heroes appear, as depicted in public statuary and stained glass. Although the archive generally does not include 20th century collective war memorials, it does record casualties commemorated by their families.
Exploring the archive
A good example of high status Georgian wall monument is that of Captain James Newman-Newman RN. The RMG collections include a portrait of this stout gentleman by Archer James Oliver, painted about ten years before his death in 1811.
His fate is commemorated by a wall tablet in the Church of St Peter and St Paul, Fareham, together with the crew of HMS Hero.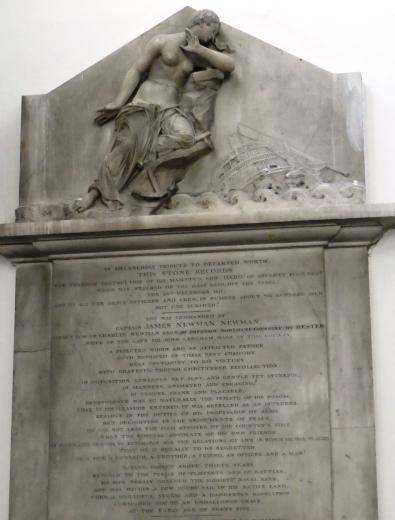 The ship was wrecked in a storm on the coast of Holland on Christmas Eve 1811. At the time, Newman-Newman was in command of a convoy of troop ships and merchantmen returning from Sweden to England, and about 18 of these vessels were stranded at the same time. Had he survived the wreck, he would have been court-martialled for the loss of his ship.
On the upper part of this characteristically neo-classical memorial, a relief by Sir Richard Westmacott shows a semi-nude figure of Hope, looking towards the stern of the stranded ship, its broken mast going over the side.
The scene is bordered by stylised waves which are nearly, but not quite, Grecian. The remainder of the monument consists of a lengthy inscription enumerating Newman-Newman's virtues as displayed in the various roles he was called upon to fulfil in his public and private life.
This memorial, although not in good condition, shows how closely memorials relate to other, more portable and perhaps more accessible aspects of material culture.