You may not have heard about the Royal Research Ship Sir David Attenborough – but there's a chance you'll remember another name associated with this world-leading polar vessel: Boaty McBoatface.
In March 2016 the Natural Environment Research Council (NERC) launched an online poll encouraging members of the public to help name a new polar research ship.
The organisation said it was looking for 'inspirational' suggestions for the government-funded ship.
Over 32,000 names were put forward.
Some ideas drew inspiration from previous polar journeys, or paid tribute to significant cultural and scientific figures.
Others took a different approach.
'It's Bloody Cold Here', 'I Like Big Boats & I Cannot Lie' and 'What Iceberg' all became part of the online name game fun. However, one particular name stood out like no other: Boaty McBoatface.
Originally suggested by former BBC radio presenter James Hand, by the end of the poll on 16 April Boaty McBoatface had garnered 124,109 votes and 33% of the total vote.
From Boaty McBoatface to Sir David Attenborough
The NERC said it would 'review all of the suggested names'.
On 6 May the final decision was announced: the new ship would be known as the Royal Research Ship (RRS) Sir David Attenborough.
The idea had been a popular suggestion during the public vote, and the announcement came just days before Sir David Attenborough's 90th birthday. The name celebrated the naturalist's legacy in British broadcasting, inspiring a love of the natural world over generations.
"I am truly honoured by this naming decision and hope that everyone who suggested a name will feel just as inspired to follow the ship's progress as it explores our polar regions." Attenborough said.
The decision even had the backing of the person who originally came up with Boaty McBoatface.
"RRS Sir David Attenborough is a fitting and excellent choice," James Hand said. "It's the name I voted for, from a sea of worthy contenders."
However, the name Boaty McBoatface isn't easily forgotten.
Boaty McBoatface lives on
Sir David Attenborough is home to a number of advanced scientific facilities and vehicles.
One of them is an advanced underwater submarine, designed to reach depths of 6,000m and journey independently under the ice in the polar regions.
Its name? 'Boaty McBoatface'.
'Boaty McBoatface' will be deployed from RRS Sir David Attenborough, conducting a range of expeditions in the Arctic and Antarctic regions.
Sir David Attenborough meanwhile has continued to follow the progress of the ship that bears his name, from appearing at the traditional keel ceremony and hull launch to being part of the official naming ceremony in 2019.
Erebus and Terror – names with polar heritage
RRS Sir David Attenborough is not just home to 'Boaty McBoatface'. Two smaller vessels will also play an important role in the ship's operations.
'Terror' is a cargo tender that will transport food, fuel and science equipment onto land in places the Sir David Attenborough cannot reach.
'Erebus' is a small workboat that will allow scientists to carry out research in shallow waters, as well as transport people and supplies to and from polar island stations.
Both vessels are named after HMS Terror and HMS Erebus, the two ships involved in Sir John Franklin's fatal expedition to find the Northwest Passage.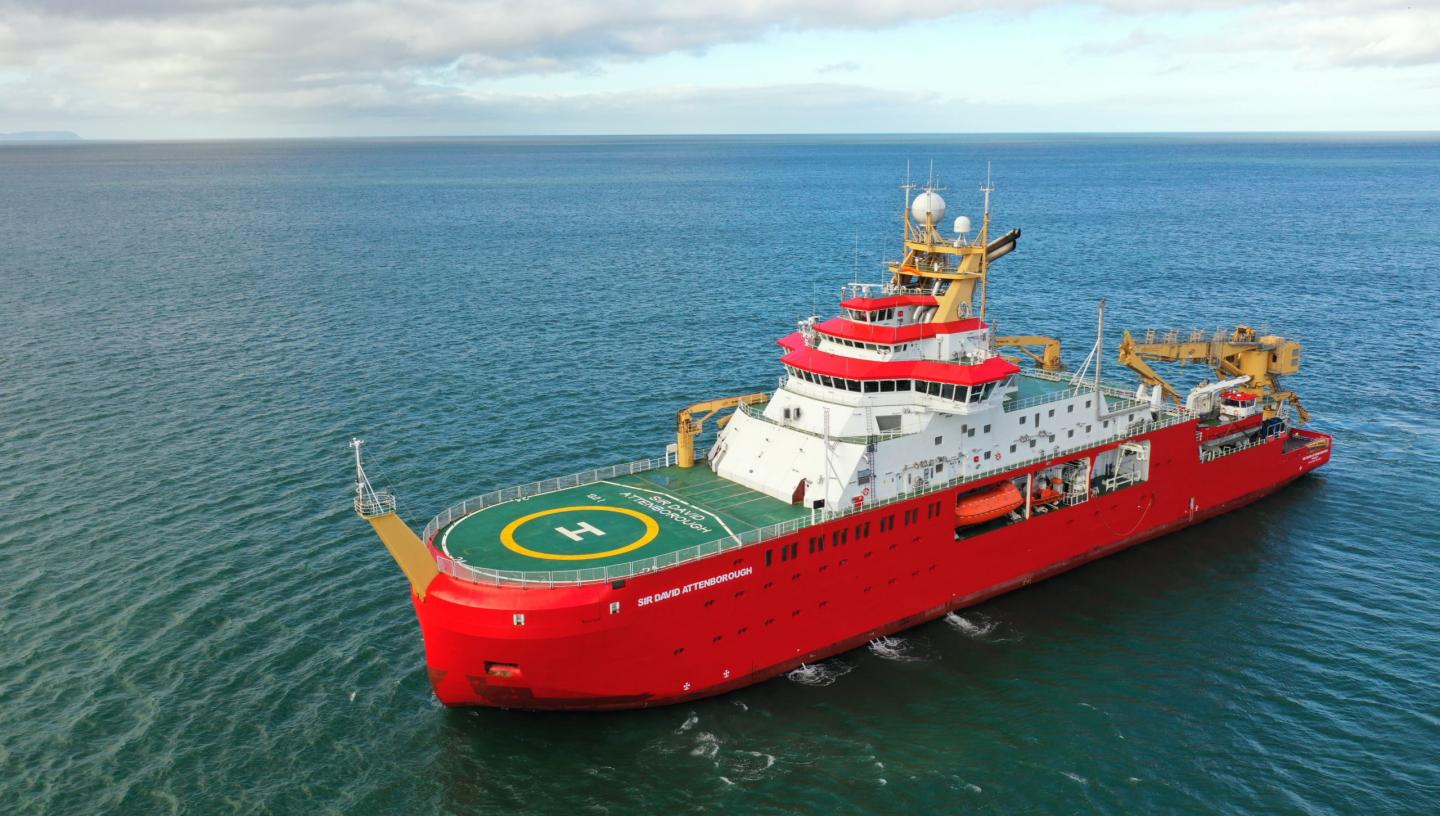 Learn more about RRS Sir David Attenborough
Come behind the scenes on board the UK's newest polar research vessel