Skyscapes act to remind of us of our connection to space: our world is just a tiny speck within the vast and growing expanse of the universe. 
From flat horizons created by fields and oceans to curved dunes and jagged mountains, the Earth has a selection of stunning compositions to frame the night sky. But we have mirrored nature's innate charm and elegance with some of our own engineering feats, such as modern skyscrapers and historic castles, which equally serve to enhance the beauty of the sky captured behind them. 
With the universal expanse above us and a plethora of landscapes, both natural and artificial, to pick from, the shortlisted entrants have risen to the challenge of taking their blank canvas and transforming it into a masterpiece. 
Find out more about the winning images and explore the full shortlist below.
Luna Dunes by Jeffrey Lovelace
Image taken in Death Valley National Park, California, USA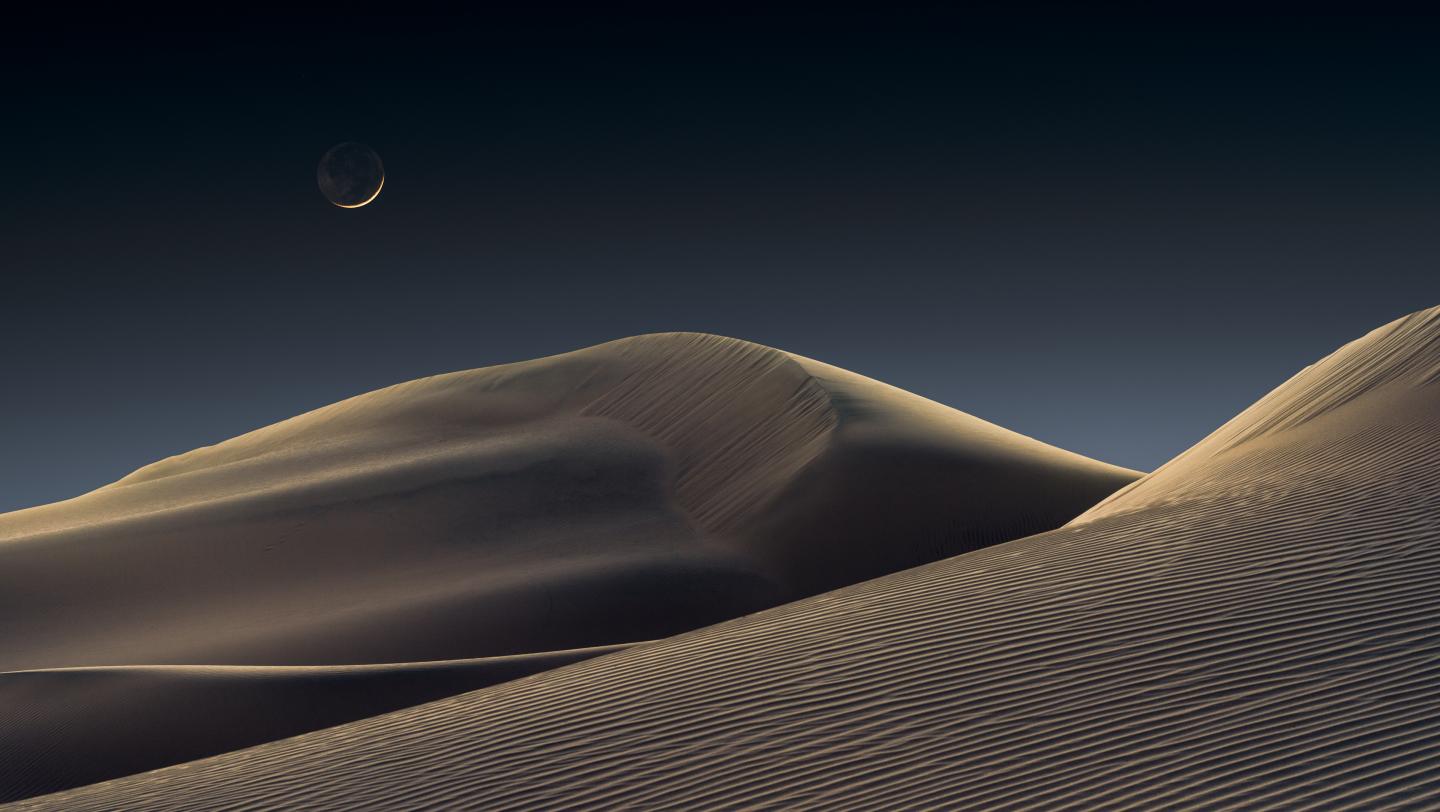 A floating crescent Moon, flowing sand dunes, an empty wilderness – looking at Jeffrey's image, it's easy to forget the effort that must have gone into capturing this serene skyscape.
"I hiked deep into the dunes and eventually found the foreground I had imagined for this shot," he says. "As I set up my gear, the red of the sunset faded into the blue twilight. Once everything was assembled, I looked up and there hung a shining sliver of a crescent moon outlining its dark but visible face. After a long moment of appreciation, I got busy shooting."
Equipment used: Sony ILCE-7RM4 camera; Sand and sky: 70 mm f/8 lens, ISO 400, Sand: 30-second exposure, Sky: 1-second exposure; Moon: 200 mm f/2.8 lens, ISO 100, Moon face: 2.5-second exposure, Moon edge: 1/100-second exposure 
This image was one of my favourites this year. It is beautifully composed with the subtle textures in the sand and sky complementing the crescent well. I loved the colours too – navy blue and gold – giving this picture a regal touch

Imad Ahmed, competition judge
Moon over Mount Etna South-East Crater by Dario Giannobile 
Image taken in Milo, Sicily, Italy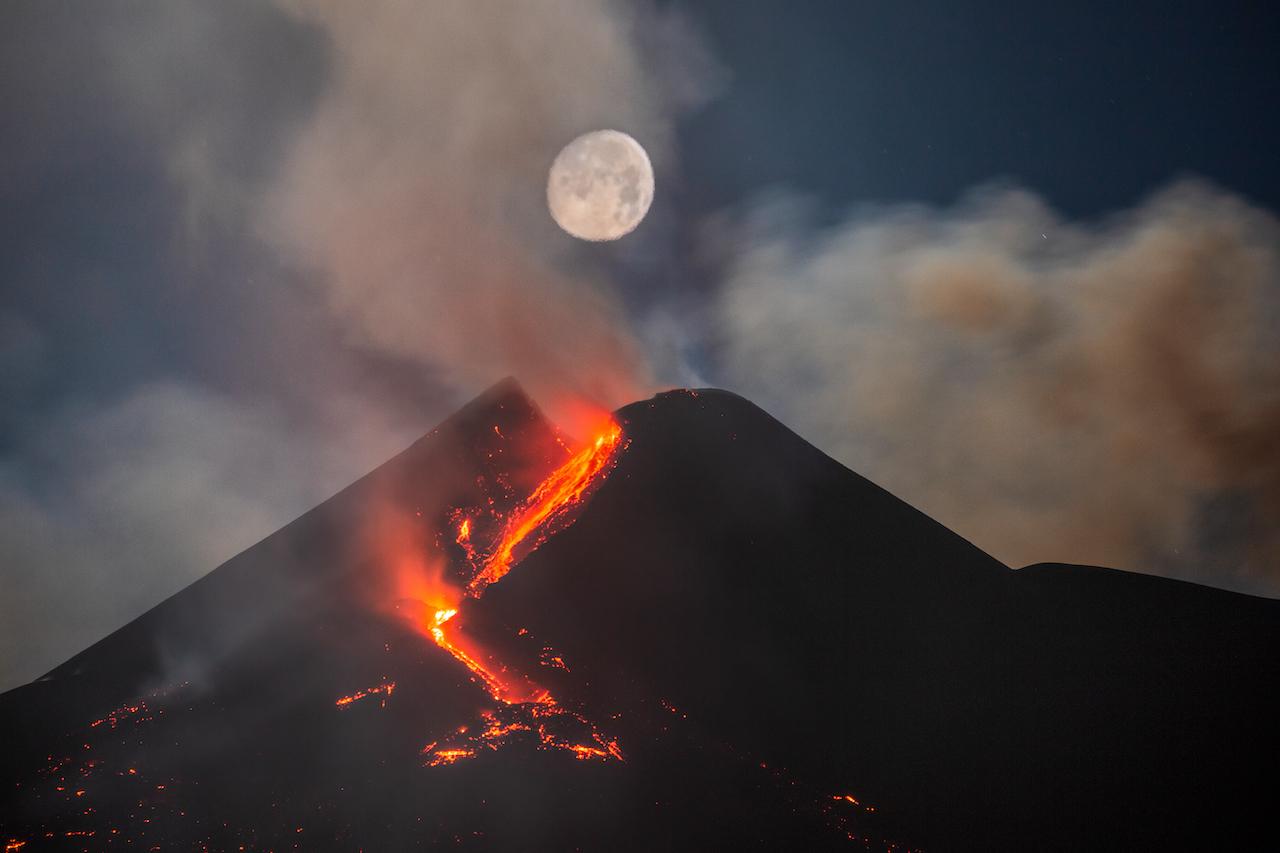 "In February 2021, Etna showed intense volcanic activity spewing ash columns and lava fountains more than 500 metres high. These were mostly located near the new south-east crater which poured numerous lava flows into the Bove Valley," Dario recalls. 
"They were short in duration but accompanied by intense activity that fractured the structure of the crater from which the flows poured. On 25 February, Mount Etna again showed intense activity and I placed myself at the Piano Bello refuge, calculating the exact position so that the Moon would set near the crater, aligning itself just above."
Equipment used: Canon EOS 6D camera, Sigma 150–600 mm lens at 347 mm f/5.6; Foreground: ISO 800, 5-second exposure; Moon: ISO 100, 1/125-second exposure 
Artists have long-attempted to emphasise the power of the Earth and our fragility in the face of its might. This image, with its striking capture of extremes, does so with great skill

Sue Prichard, competition judge
Watch the epic story behind Dario Giannobile's photograph of the Moon over an erupting Mount Etna. 
Van Gogh's Sketchpad by Jin Yang
Image taken in Lijiang, Yunnan Province, China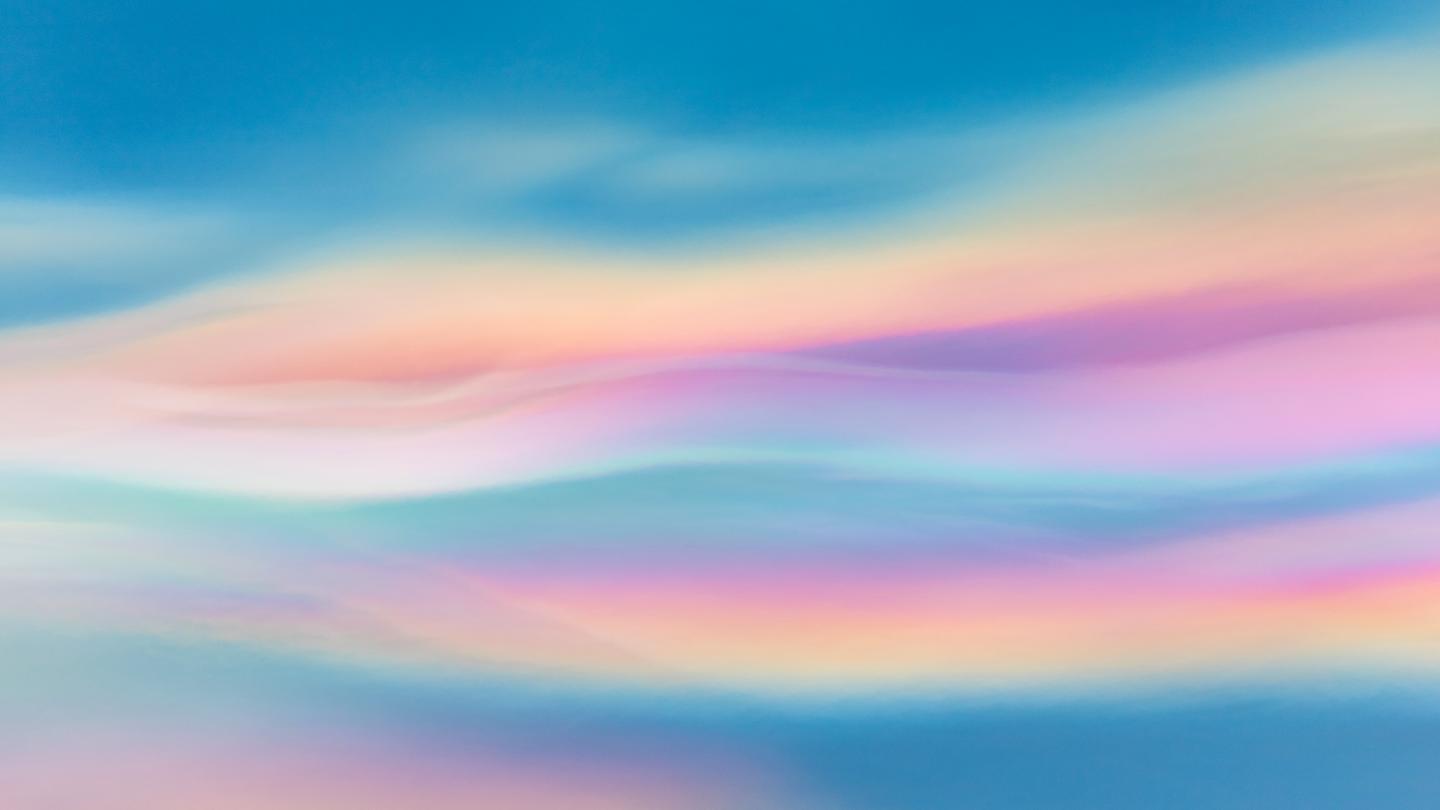 "At the beginning of 2021, a cluster of charming and beautiful iridescent clouds occasionally appeared at Lugu Lake in Yunnan Province, China," Jin remembers.
"This incredible phenomenon lasted for ten days in total and promised good luck for the New Year in Chinese folklore. If Van Gogh saw this beautiful scenery, he would certainly marvel at the extraordinary craftsmanship of nature saying how fantastic it is." 
Equipment used: Canon 6D2 camera, Sigma 546 mm f/8 lens, ISO 100, 1/640-second exposure 
If you didn't know it, you'd likely wonder what this is and probably wouldn't guess it's a cloudy sky. But these aren't ordinary clouds and their colours are not easy to reproduce in such a stunning, understated yet vibrant fashion

Steve Marsh, competition judge
See the full shortlist
Explore all the photographs in the Skyscapes category