We've been celebrating Women's History Month by looking at the women who played such a vital role in the history of science and the development of our Observatory. Previously we've discussed Louise de Keroualle and the creation of the Observatory and Caroline Herschel - the first ever paid female astronomer. Today we look at Ruth Belville who brought the correct time from the Royal Observatory Greenwich to London for almost fifty years.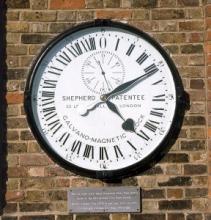 The first ever clock to show Greenwich Meantime directly to the public
Ruth Belville (1853 - 9143)
Ruth inherited the job of bringing the time to London from her father, John Henry Belville, who worked at the Royal Observatory Greenwich for forty-five years. In those days, one of the only ways for horologists to obtain the correct time was to physically go to the Observatory, but Belville began a service of 'bringing the time to London' by using an extremely accurate chronometer checked against Observatory time and sending it by messenger from shop to shop of those watch-makers who subscribed to his service.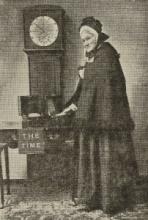 Ruth's mother Maria Belville
His wife, Maria, took over the task after John died in 1856. She personalized the service by going to the shops herself, retiring in 1892 and allowing her daughter Ruth, aged 38, to take over. Every Monday, Ruth would travel by public transport to Greenwich, have a cup of tea with the porter, receive a certificate of accuracy for her trusty chronometer, and spend her day travelling to London's clock shops, bringing her 40 customers the correct time, whereupon they would adjust their own clocks.
Ruth carried on in this vein throuh the First World War, through competition with the Standard Time Company and laying of telegraph wires all over London, through media frenzy which named her 'The Greenwich Time Lady', and even through the breakthrough of wireless communication. She chose to retire in 1940, at the age of 85, having completed her rounds for forty-eight years!
The text within this blog was drawn from the booklet 'Women, Astronomy & Greenwich' written by Kelley Swain.