We spoke to Chris and Paul Matthews to learn more about what Royal Museums Greenwich means to them and what it meant to their late Father, Mr Stephen Matthews.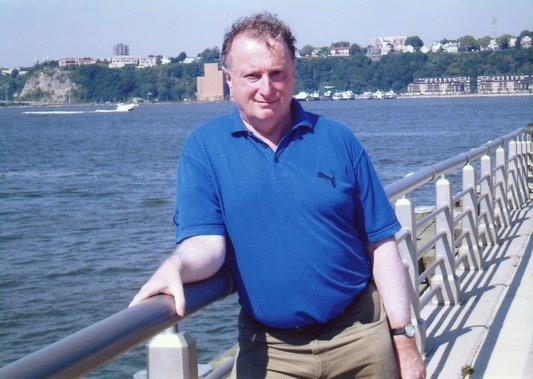 "Dad led a full and interesting life – joining the Merchant Navy at a young age and eventually becoming a Captain of oil tankers, before going to studying Maritime Economics at Cardiff University and building a successful career as a journalist. He devoted much of his spare time to public service, volunteering with local charities and schools, as well as serving as a magistrate. 
His first loves, from childhood until his untimely passing at the age of 64, were shipping and the sea. But Dad pursued many other interests throughout his life. He became a Justice of the Peace in his 30s and developed an expertise in family law. In his younger years, he refereed football at non-league level and retained a love of the game, supporting Charlton Athletic. On top of all this, he was a voracious reader and keen traveller.  
Dad grew up not far from Greenwich, in Lee, and attended John Roan School. He spent much of his spare time as a child down by the river and, after becoming a parent, loved to bring his family to the National Maritime Museum (NMM) and the riverfront whenever he could. His connection to Greenwich and love of all things maritime made the NMM the perfect place for a memorial. We scattered Dad's ashes on the Thames, in front of the Royal Naval College and the bench has a perfect view down through to that part of the riverfront. 
We wanted a physical memorial to Dad that family and friends could visit, but also something that would provide a practical benefit to the wider community.  
Before COVID-19 altered everyone's plans, we visited the bench as a family several times. Mum was keen to have somewhere to spend time, to remember Dad and days spent in Greenwich throughout their life together. Dad's sister, who now lives in Australia, is very grateful to have a place to reflect when she comes over too. And, once life gets back to something like normal, we plan to bring Dad's grandson down to Greenwich to see his Grandad's bench and the wonderful location. 
Alongside his other volunteering, Dad was a board member of Bexley Mencap and Chairman of Governors at a local SEND school, so we felt strongly that Dad would have liked his legacy [through this donation] to go towards providing opportunities for pupils with SEND at Royal Museums Greenwich."
The Matthews generous support given in memory of their Father is incredibly special and significant to the Museum. From all of us here at Royal Museums Greenwich, we thank the Matthews family for their generosity and feel privileged to have been chosen as a place to remember Mr Stephen Matthews.
Finding a meaningful way to remember someone is an important and personal choice and we can help you find a fitting tribute at Royal Museums Greenwich. If you would like more information, please contact Sarah Beaumont by emailing SBeaumont@rmg.co.uk or call 0208 3128 569 or visit: www.rmg.co.uk/support-us/commemorative-giving