20 Sep 2019
Since bringing two Asian caterers onto our approved catering list earlier in 2019, we have seen a surge in enquiries for Asian weddings. With a portfolio of five unique, quirky venues, three of which have wedding licenses, as well as over 10,000 sqm of outdoor space set in a UNESCO World Heritage Site, we were able to welcome these events with open arms.
Laguna Catering worked with us on the wedding of Laura & Eeswaran at Queen's House. The historic nature of the building as a Grade I listed former palace, coupled with the priceless artwork she houses including the 'Armada Portrait' of Elizabeth I, means we are enable to have naked flames inside the space. Therefore in order to accommodate a Mandap, the couple decided on incorporating an elegant marquee on our south lawns for the ceremony itself.   The glass panelling not only allowed sunlight to spill into the space but also the guests the opportunity to enjoy the stunning backdrop of Greenwich Park. MK Weddings styled the event, working with Lewis Marquees, All for Love florists and Exquisite Mandaps to create a spectacle from beginning to end.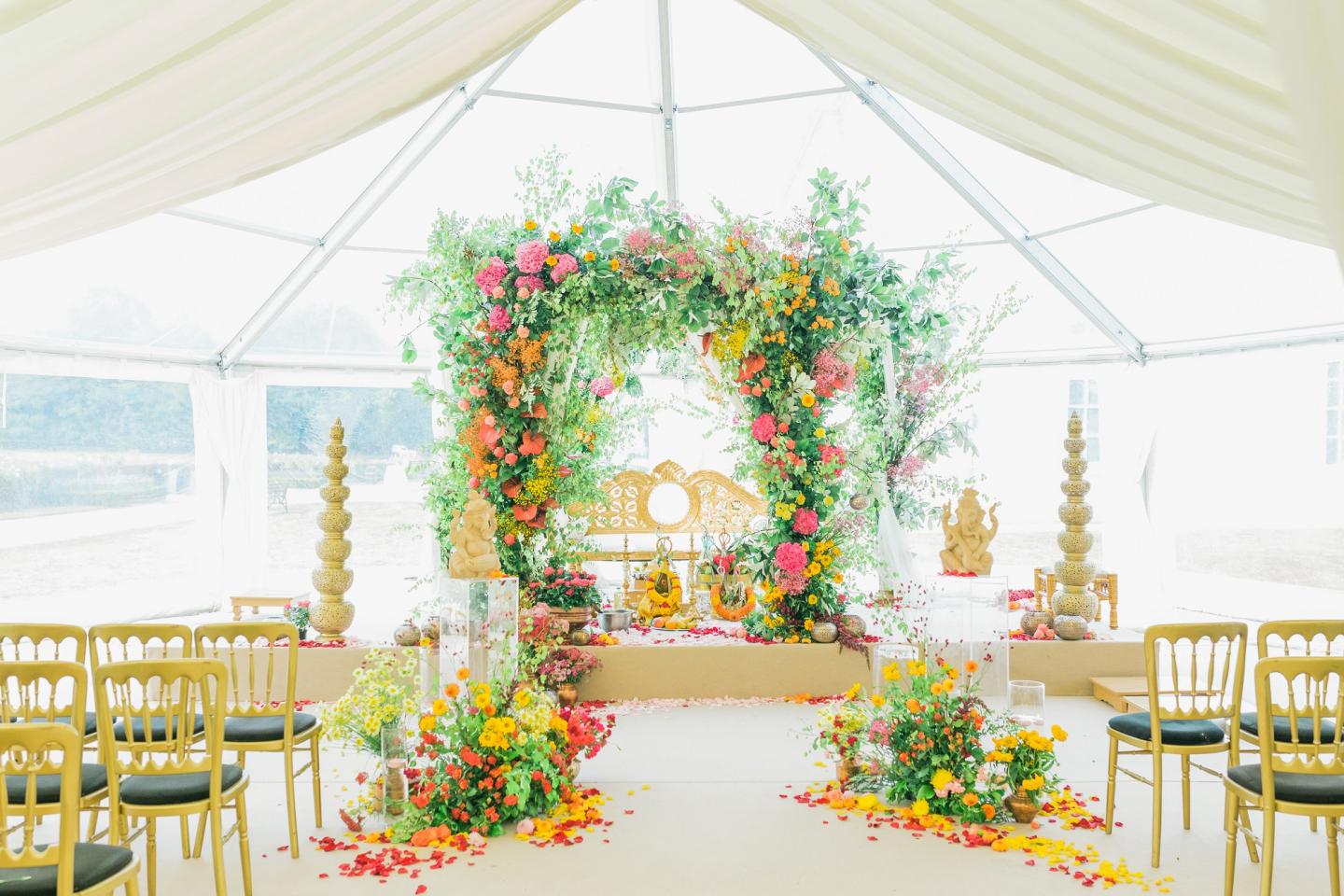 The dinner set up had everyone talking! Wrapped in the most wonderful display of flowers, the centre piece was a seven foot elephant from All for Love with guests dining on traditional Sri Lankan fare around it. The photographer on the day - Gyan Gurung – captured it all perfectly.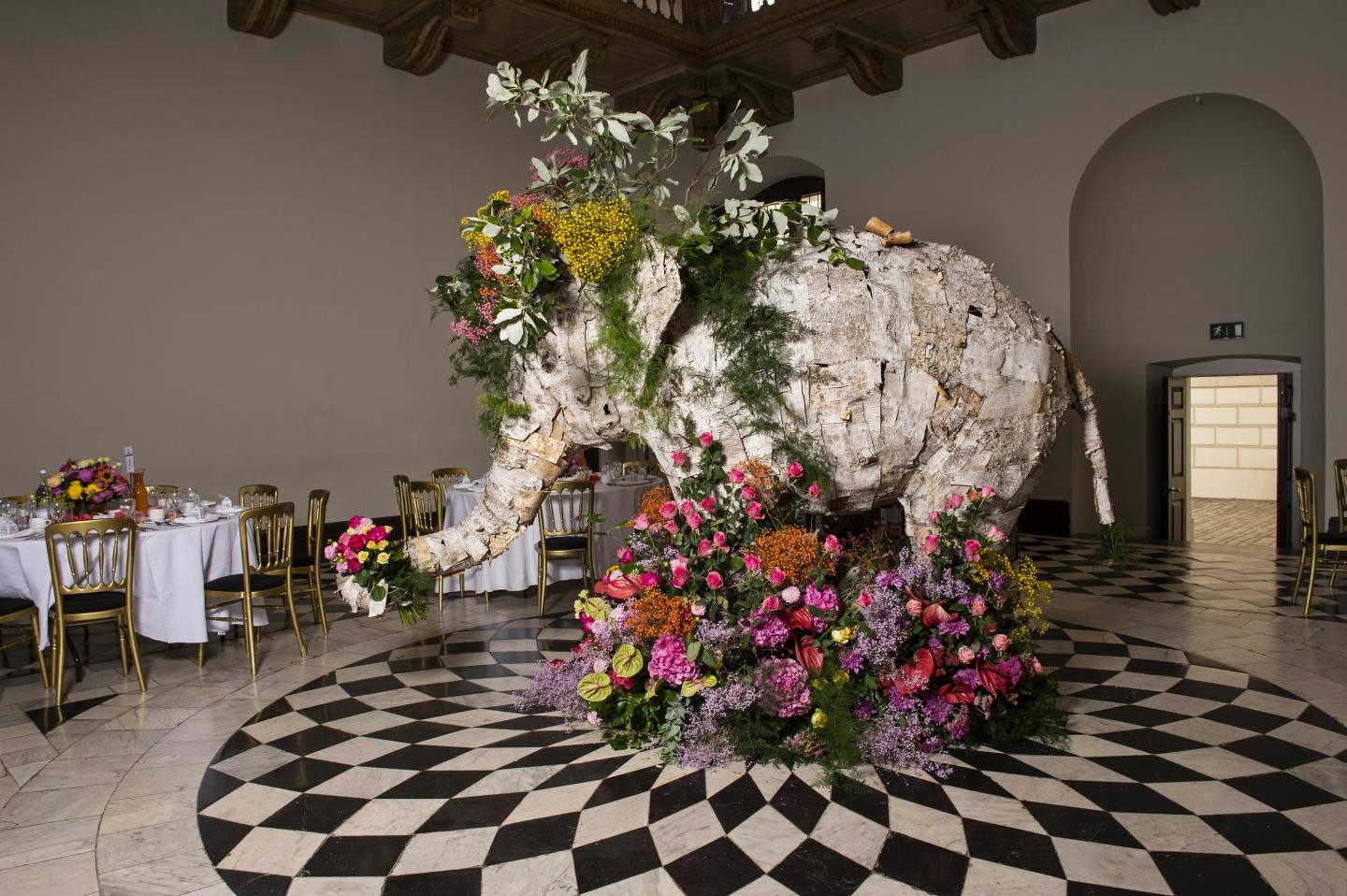 "We picked Queen's House for our intimate Hindu wedding, as we fell in love with the building and its setting. On the day, the ceremony outside with stunning views in every direction, and the indoor spaces; the orangery & the great hall offered the perfect setting for our "traditional Sri Lankan meets traditional English" day. The wonderful events team made our lives easy from the minute we enquired; and made the venue and day look and feel even more beautiful than we had dreamed of". (Laura and Eeswaran)

On a larger scale, we also hosted a Muslim wedding reception in the National Maritime Museum. This space is ideal for guest numbers over 500 and it can accommodate 550 for dinner and 1000 standing.The couple requested segregated areas for the male and female parties for both the dinner and drinks reception.  We were able to achieve this by working closely with our suppliers.  Greenleaf caterers, installed two separate bars and service areas, enabling us to invite men to one set of colonnades outside and women to the other. In our main dining space, The Great Map, production company SLX were able to build a vast draped divider to separate the room in half. The total guest number was 466 and we were able to successfully maintain the division between the sexes with enhanced staffing and clear signage across all spaces. The Bride and Groom, were delighted with the results and departed their wedding in style on a horse drawn carriage.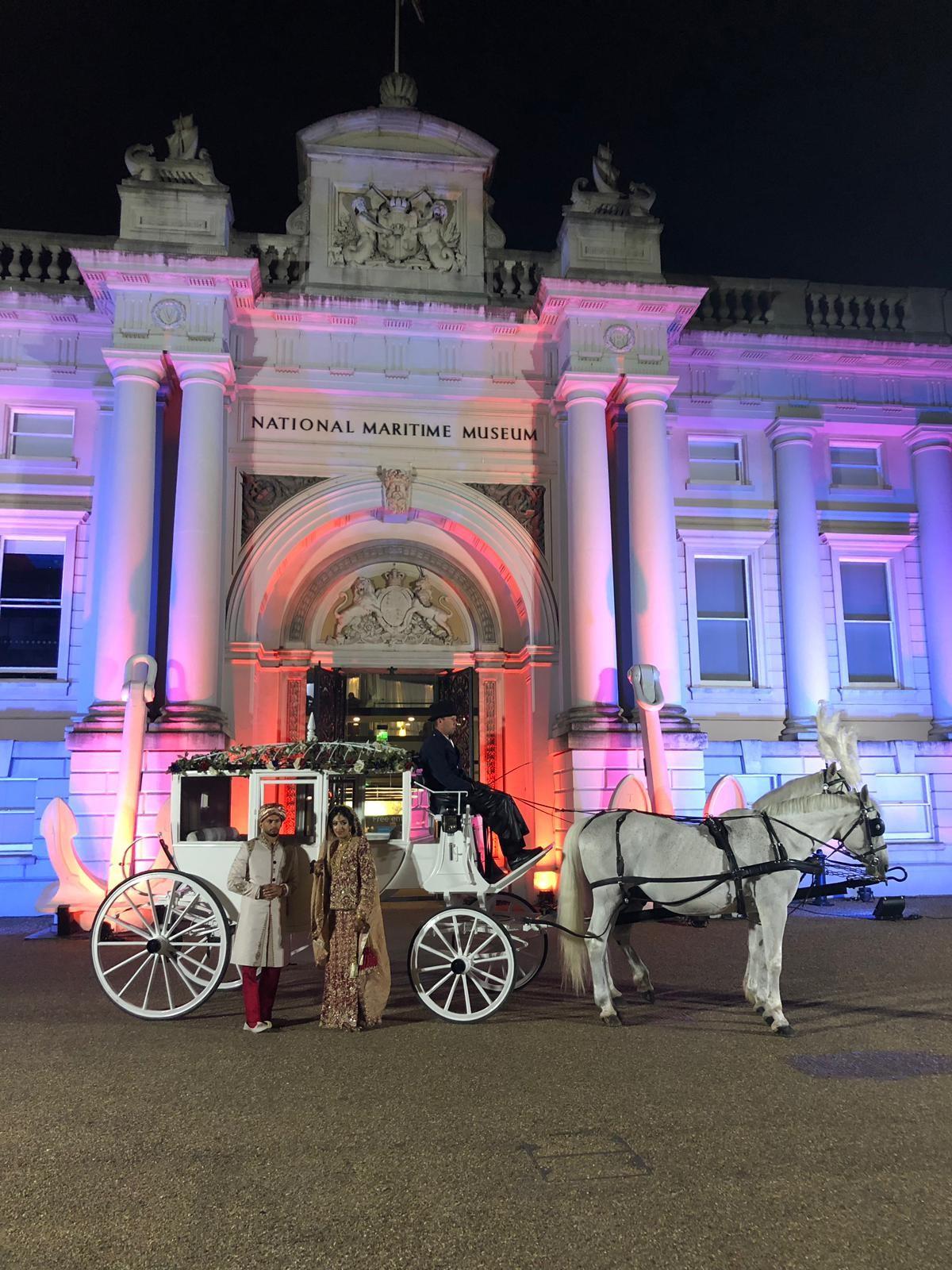 We manage each and every wedding enquiry with a bespoke approach and look forward to working with many more couples on making their special day unique and memorable in every way.  Call the Events Team at Royal Museums Greenwich today on 0208 312 8517.  events@rmg.co.uk