09 Sep 2021
Assistant Curator Alex Grover gives a brief insight into his ongoing research into this small but significant collection of polar photographs
Edward Augustus Inglefield was a naval officer and polar explorer involved in the search for the ships and crew of Sir John Franklin's 1845 British Northwest Passage Expedition.  
Inglefield led three expeditions to the Arctic: Lady Franklin privately sponsored his first in 1852 with the aim of searching for evidence of Franklin, as well as survey Greenland's west coast. 
Inglefield's next two expeditions in 1853 and 1854 were government funded. Their objective was to resupply the five-ship expedition led by Captain Edward Belcher, which had been in the Arctic since 1852. 
The Times newspaper article of 4 May 1854 announcing the expedition reported that Inglefield had decided to take a camera with him. This is a significant comment because Inglefield had not taken a camera on his first two expeditions. The reasons for Inglefield's sudden enthusiasm in photography is one of the avenues of research that I will be exploring.  
A pioneering photographic method
For someone who appeared to show no previous interest in photography, it is fascinating that Inglefield took the photographs using the wet collodion or 'wet plate' process, which had only been publicly available for two years. While this process was more complex than earlier photographic processes, it produced sharper images and had the ability to produce multiple prints from the same negative.
Inglefield had to bring a portable darkroom and all his photographic equipment to take photographs in one of the least hospitable environments on the planet. The fact that he was able to make successful photographs in these conditions and with such an involved development process is an astonishing achievement. Inglefield took a number of photographs on the west coast of Greenland before proceeding into Lancaster Sound.
Here, he ultimately rescued Captain Belcher's expedition and those from HMS Investigator, a ship abandoned by another Franklin search expedition under Captain Robert McClure.  
The Inglefield photographic collection at the National Maritime Museum
The National Maritime Museum holds the surviving glass plate negatives in its Historic Photograph Collection. They are not only some of the earliest photographs the museum holds, but are the first known negatives of the Arctic to be taken with glass plates.
The provenance of these negatives are unclear and requires further research, although we do have material donated by Lt. Cdr Aubrey Fitzmaurice Inglefield from the late 1950s and early 1960s, which is a good lead to start with. 
The 20 glass plate negatives can be split into three broad themes. The first focuses on portraits of Europeans, including Inglefield, Danish settlers and colonial officers.
The second features portraits of Inuit, singly and in groups. This is the earliest group of Inuit photographs that resides in our collection and possibly the world. An example from the collection is shown below, featuring three female and one male Inuit, the latter wearing European style clothing. This photograph records a longer-term cultural encounter and warrants further study by those specialising in anthropology and Inuit culture. 
The third focuses on landscape views, including the Danish settlements and the three ships of Inglefield's expedition at anchor.  
While the National Maritime Museum holds the surviving negatives, we know from other sources that a greater number of negatives once existed from this expedition. For instance, an engraving of one of Inglefield's negatives showing Robert McClure after his rescue by Inglefield was published in the Illustrated London News. The location of this particular negative is unknown.
A slightly larger group of photographic prints currently reside in the Royal Collection, gifted to Queen Victoria and Prince Albert by Inglefield in 1854. Inglefield possibly gave this album to the Royal Family as an act of self-publicity, although he knew that both were interested in photography and sympathetic to the searches for Franklin.
The Inglefield photographic collection yields significant opportunities for academic research in Arctic history, covering a variety of different fields. This post has only illustrated one of the current strands of research I am exploring. Once this takes on a complete form, however, I am sure that other avenues will present themselves and my aim is to collate all of this into a finished article.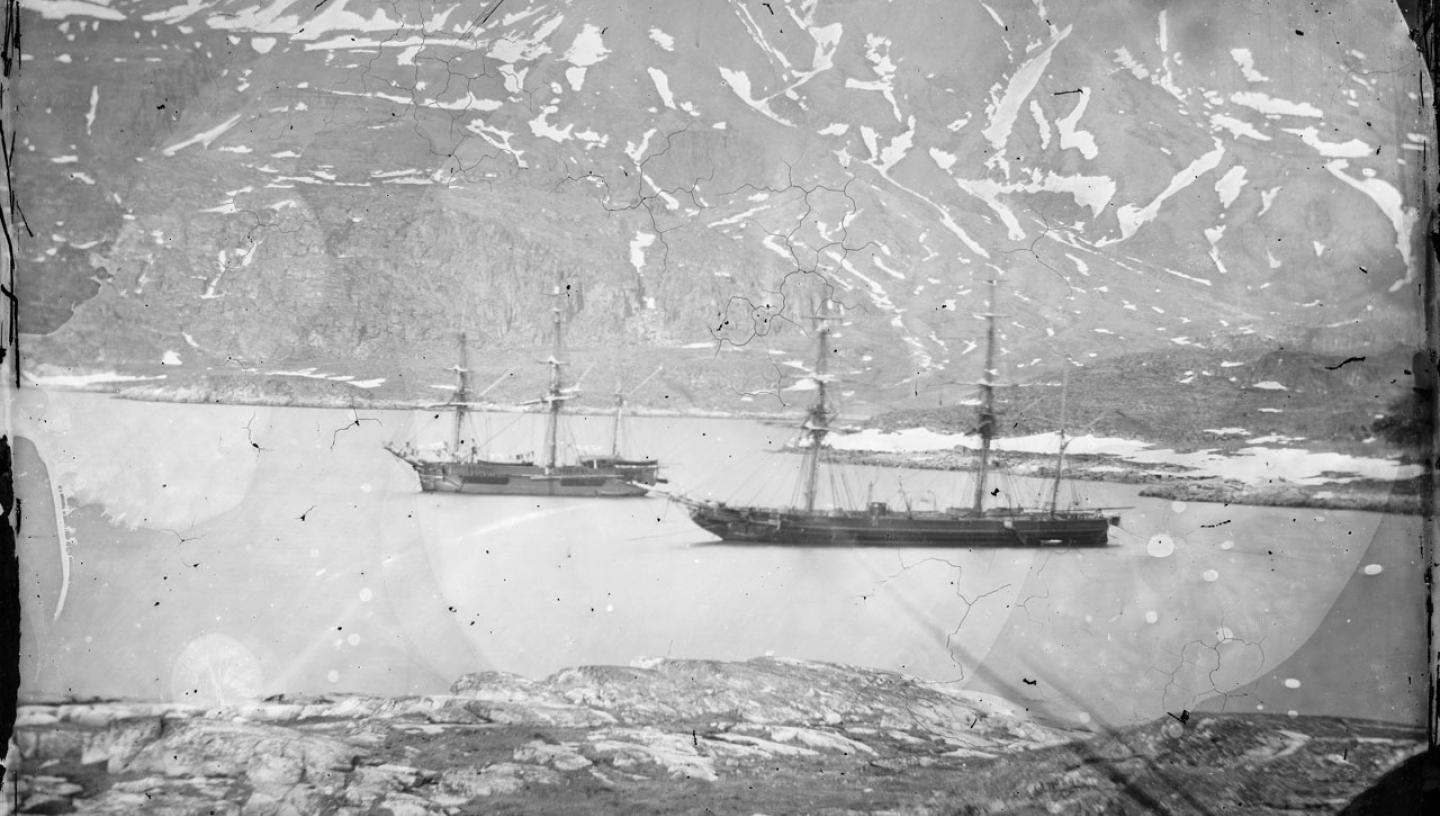 Explore our Collection
From polar relics and historic photographs to periodicals and manuscripts, find out more about the 2.5 million-plus items held by Royal Museums Greenwich