Essential Information
| | |
| --- | --- |
| Location | |
| | |
28 Feb 2010
Illustrations from a rare book showing Lieutenant Halkett's amazing inflatable 'boat cloak'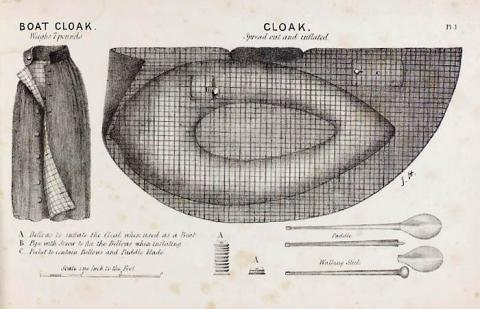 Constructed of macintosh India-rubber cloth with paddle, umbrella sail, bellows, &c. Also an inflated India-rubber cloth-boat for two paddlers. 
In the 1840s a Lieutenant in the Royal Navy invented an inflatable cloak or boat cloak. Illustrated in this rare book his portable boat, constructed of macintosh india-rubber cloth, with a paddle, umbrella sail and bellows are shown in all their glory. Lieutenant Peter Alexander Halkett (1820–1885), who was later promoted to Captain, also invented an inflatable cloth boat for two paddlers, both of which are shown in the book. Halkett provides explanatory notes on the care and use of the boat, along with instructions should it need to be repaired.
The boat was first tested by its inventor from his home in Kew to Westminster Bridge where 'Old Father Thames seemed to have taken him under his special protection, wafting him over his waves like a duck'. Trials were extended further afield, including the Bay of Dublin and the Bay of Biscay in November 1844 where he sailed from the Caledonia to the St. Vincent in the experimental squadron.
Halkett envisaged his boat cloak to be of assistance to those undertaking geographical surveys and in particular exploring parties and expeditions of discovery. Due to the portable nature and slight weight of the boat, it offered a useful way of navigating across rivers, bays and inlets. Halkett's vision became reality when Captain Sir John Franklin took one of the two-person cloth boats on his Arctic Expedition in 1845. The boat was taken on subsequent Arctic expeditions including those made by Sir George Simpson, Sir Richardson and Rae, Collinson and McClure. Sadly, apart from such selective voyages the boat cloak never came into general use. According to one source it was on show at the Great Exhibition of 1851.
Lieutenant Halkett, the son of John Halkett, one of the directors of the Hudson Bay Company, invented a few other tools including apparatus for lowering and raising ships and heavy objects submerged. He died 23 March 1885 in Torquay aged 65 years.