This event is the first iteration of The Line's Longitudinal Dialogues programme, which develops cultural conversations along the Greenwich Meridian and is being developed in collaboration with Royal Museums Greenwich.
Watch The Displaced
The Displaced is a film made by Serge Attukwei Clottey in 2015. The film powerfully captures a performance on the beach in Accra which Clottey developed with members of his GoLokal performance collective.
Through the film, Clottey explore his family's ancestral migration from Bukom to Labadi (both towns along the Atlantic Coast in Accra which belong to the Ga State) aboard a canoe on the ocean.
The film depicts the travellers preparing for their journey and families waving them off. We see participants perform as his forefathers, who traded in alcohol and beef. The boats are seen making the treacherous journey over waves crowded with plastic waste, fragments of objects that were manufactured in countries around the world and have found their way to these shores.
The ocean is a central part of my practice. It deals with migration, serves as a resource for food and income, is our future and our life.

Serge Attukwei Clottey
Clottey believes his work has the potential to empower people by engaging them in their environment and increasing education and understanding. His provocative performances and films are often intended to make the viewer feel uncomfortable and he hopes might lead to greater connection with the crisis facing our oceans and our shared responsibility to take action.
Following the screening of The Displaced, watch a film of the artist in his studio in Accra as he introduces his approach and discusses issues raised in his work.
Inspired? Create your own sculpture from used objects
For World Oceans Day 2020, Clottey shared ideas for ways in which children and families can create sculptures from used objects found around the home, especially plastics, repurposing and transforming these to address issues of consumerism. This offers a chance for children to share their creativity and ideas.
Share your creations on social media (Twitter, Instagram and Facebook) to @TheLineLondon #TheLineLondon or email info@the-line.org.
Image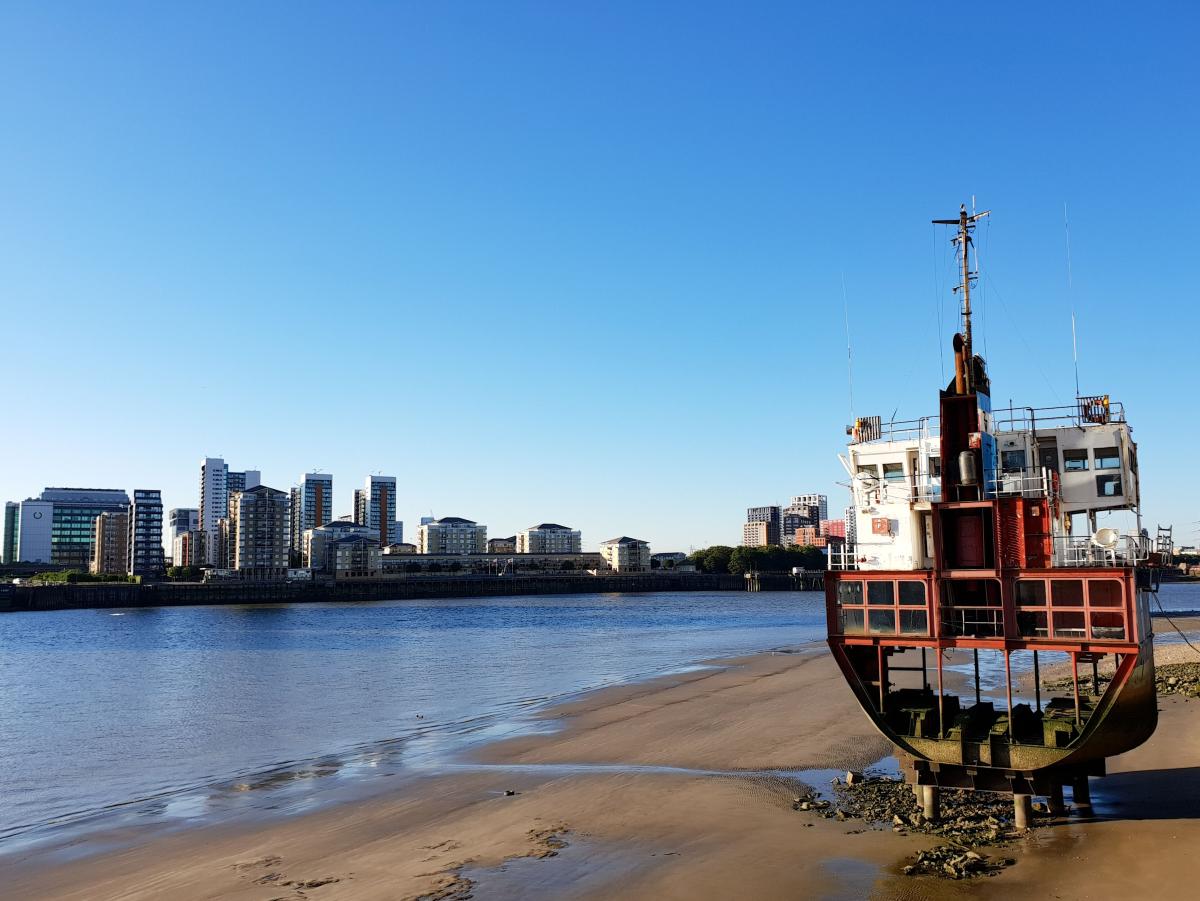 About Serge Attukwei Clottey
Serge Attukwei Clottey (b. 1985) is an artist preoccupied with the potency and potential of everyday interactions and objects. Working across installation, performance, photography and sculpture, Clottey explores personal narratives within his own family history as well as community experience relating to trade and migration. Based in Accra and working internationally, Clottey developed Afrogallonism, an artistic approach that reflects on consumption within modern Africa through the utilisation of yellow gallon containers. The containers, historically used to import cooking oil from the west and now providing water storage for communities, are cut into small tiles, shaped over an open flame and bound with other materials like copper. These large assemblages are then draped onto buildings or, in case of The Yellow Brick Road, provide a streetscape and dramatic surface for ongoing performances and events in Accra with local communities. As the founder of Ghana's GoLokal performance collective, Clottey sees art as a way to transform society.
About The Line
The Line is London's first dedicated public art walk and its outdoor exhibition programme illuminates an inspiring landscape where everyone can explore art, nature and heritage for free. 
The route runs between the Queen Elizabeth Olympic Park and The O2, following the waterways and the line of the Greenwich Meridian. The Line was co-founded by Megan Piper and the late regeneration expert Clive Dutton OBE (1953-2015) whose life's work was rooted in a commitment to improving the quality of life for people in urban environments and putting art and culture at the heart of regeneration. 
The Line currently includes works by ten artists. The majority of these are loans from artists, galleries and private collections but The Line also highlights a number of pre-existing works along the route, including Antony Gormley's Quantum Cloud and Richard Wilson's A Slice of Reality. In 2020, The Line celebrates its fifth anniversary with the extension of its route into Queen Elizabeth Olympic Park, to include Anish Kapoor's ArcelorMittal Orbit and Carsten Höller'sThe Slide, the launch of a new website and, for the first time, site-specific projects, commissions and cultural collaborations. The Line is a Finalist in the Urban Land Institute Europe Awards for Excellence and has recently been listed in Condé Nast Traveller's Best Walks in London.
About Bloomberg Philanthropies
Through innovative partnerships and bold approaches, the Bloomberg Philanthropies arts programme works to increase access to culture and strengthen arts organisations. Through a wide range of dynamic partnerships with visual, performing and literary arts organisations, Bloomberg Philanthropies is committed to supporting the arts. The philanthropy works in 120 countries and focuses on creating lasting change in five key areas: the Arts, Public Health, Environment, Education and Government Innovation. For more information, please visit bloomberg.org or follow on Facebook, Instagram and Twitter @BloombergDotOrg.