What were Nelson's last words?
Nelson was killed by a fatal gunshot wound at the Battle of Trafalgar on 21 October 1805. Read more about the circumstances of his death and the debate surrounding his final words below.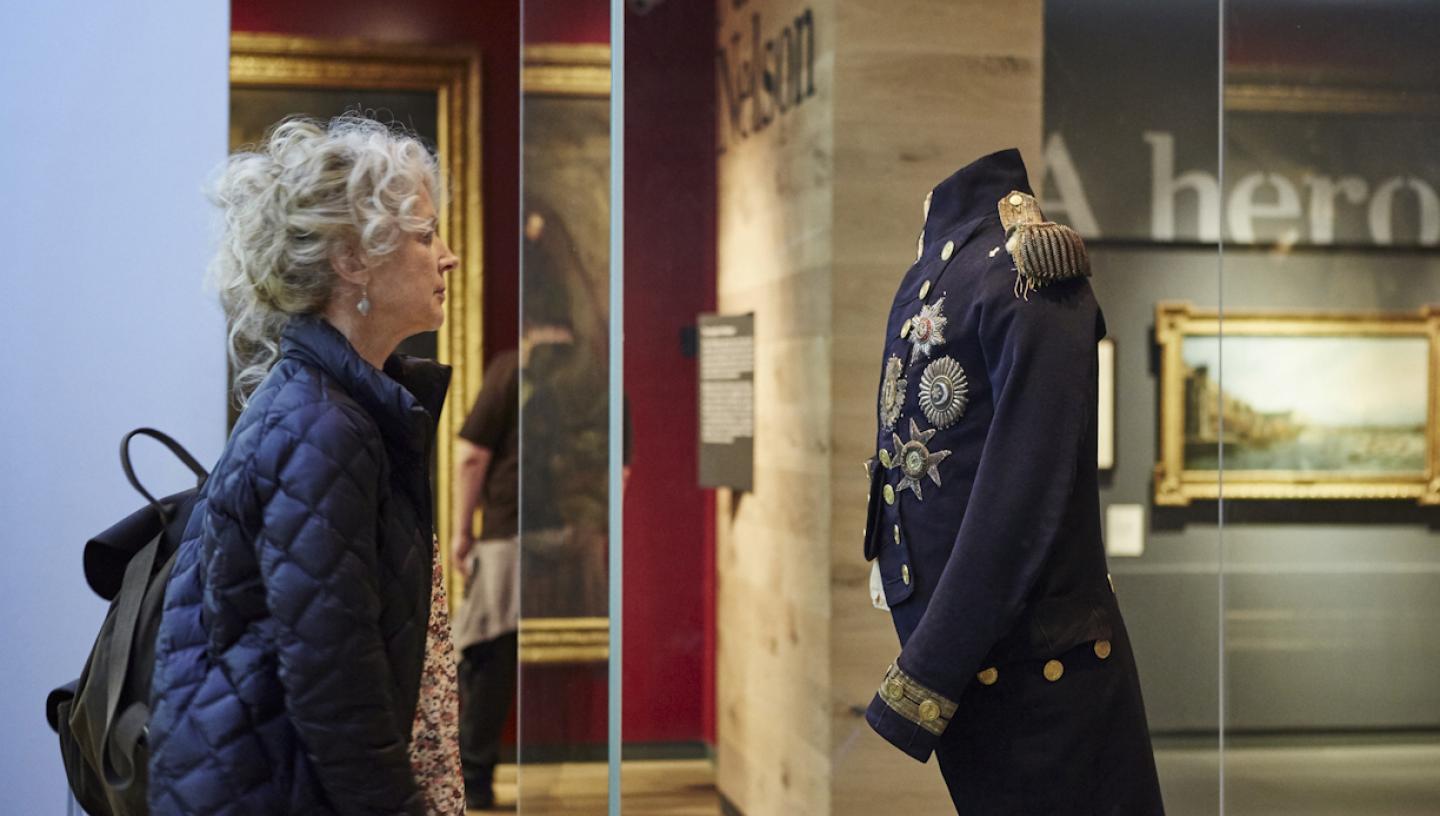 See Nelson's Jacket at the National Maritime Museum
See the jacket Admiral Nelson was wearing when he was fatally shot at the Battle of Trafalgar in the Nelson, Navy, Nation Gallery at the National Maritime Museum.
How did Nelson die?
Vice-Admiral Horatio Nelson (29 September 1758 - 21 October 1805) was an English sea captain and one of Britain's greatest naval heroes. Nelson commanded the British fleet during the Napoleonic Wars, fighting against the French and Spanish and securing a series of decisive naval victories. 
Nelson was shot by a French sniper during the Battle of Trafalgar on 21 October 1805. He was struck while pacing the quarterdeck of his ship HMS Victory with Captain Thomas Hardy, at about 1.15pm.
According to accounts of his death, the musket shot struck Nelson down through his left shoulder, with a force that threw him to his knees. It smashed two ribs and tore through his left lung, severing a major artery on the way. The bullet lodged beneath his right shoulder blade.
Nelson was carried below deck to receive medical attention but nothing could be done. He survived for three hours, long enough to hear from Hardy that the British had achieved a great victory. With Chaplain Alexander Scott, Surgeon William Beatty and Purser Walter Burke attending, Nelson gave Hardy final directions for the fleet and left affectionate messages for his lover Emma Hamilton and their child, Horatia.
Nelson died at 4.30pm on 21 October 1805. He was 47 years old.
Nelson's death became the central event of the Battle of Trafalgar. Even at the time, it overshadowed the triumph of the great victory. Ordinary seamen broke down crying when the news spread through the fleet and when the news reached Britain, the nation went into mourning.
Read more about Nelson's funeral
See curator Jeremy Michell face the curators against the clock challenge
What were Nelson's last words?
There has been extensive debate over Nelson's final words to Captain Hardy on board HMS Victory.
At least three surviving eyewitness accounts declare that Nelson said "Kiss me Hardy" prior to his death. Surgeon William Beatty, Chaplain Alexander Scott and Purser Walter Burke all noted the moment of tenderness between Nelson and his flag captain.
He [Nelson] then told Captain Hardy, "he felt that in a few minutes he should be no more;" adding in a low tone, "Don't throw me overboard, Hardy." The Captain answered: "Oh! no, certainly not." — "Then," replied His Lordship, "you know what to do: and," continued he, "take care of my dear Lady Hamilton, Hardy; take care of poor Lady Hamilton. Kiss me, Hardy."
The Captain now knelt down, and kissed his cheek; when His Lordship said, "Now I am satisfied. Thank God, I have done my duty." Captain Hardy stood for a minute or two in silent contemplation: he then knelt down again, and kissed His Lordship's forehead. His Lordship said: "Who is that?" The Captain answered: "It is Hardy;" to which His Lordship replied, "God bless you, Hardy!" After this affecting scene Captain Hardy withdrew, and returned to the quarter-deck, having spent about eight minutes in this his last interview with his dying friend.
The Death of Lord Nelson, by William Beatty
Nelson's final words (as related by all three written accounts) were, "Thank God I have done my duty." He is said to have repeated this statement until he became unable to speak. Although Surgeon Beatty records this, he was not present when Nelson became unable to speak and returned just before Nelson died.
Visit the Nelson, Navy, Nation gallery at the National Maritime Museum
Kismet Hardy?
Many in the Victorian era believed "Kiss me Hardy" had been misheard. They suggested instead that Nelson had been speaking Turkish, declaring "Kismet Hardy". 'Kismet' means fate or destiny.
However, contemporary historians argue that this explanation is a Victorian invention, since the earliest recorded use of the term 'Kismet' in the English language does not appear until after 1805.
Others also claimed that Nelson had said "Kiss Emma, Hardy", referring to his mistress and lover Lady Emma Hamilton.
Find out more about Emma Hamilton and Lord Nelson
Who was Thomas Hardy?
Sir Thomas Masterman Hardy (1769 – 1839) was a key figure at Trafalgar and one of the most famous figures in British naval history. Starting his life in the navy as a captain's servant at the age of 12, he rose through the ranks to serve as flag captain on HMS Victory alongside Nelson.
In later life, he was promoted to commodore while in command of fleets in both the South and North American continents, and became First Naval Lord in 1830, the highest position awarded in the royal navy. He died at Greenwich on 20 September 1839, aged 70. Hardy is buried in the officers' vault in Greenwich Hospital Cemetery, west of the National Maritime Museum.