Ticketed
Free for members
Essential Information
| | |
| --- | --- |
| Location | |
| Price | Included with entry to Cutty Sark |
Nannie the figurehead is one of the most recognisable parts of Cutty Sark.
Anyone looking up at the ship can see her angry stare and the horse's tail hanging from her hand.
But Nannie is about to be transformed. Watch the videos below to find out more.
A new figurehead for Cutty Sark
The figurehead you can see on the ship today is actually a replica, made in 1957. 
The original figurehead, created by the legendary ship's carver Frederick Hellyer, was damaged in a storm in the late 19th century.
Now a new figurehead has been commissioned, aiming to reflect the beauty of the original figurehead designs and celebrate the art of ship's carving.
Figurehead carver Andy Peters has been tasked with bringing the new figurehead to life. Follow his progress so far, and subscribe to our newsletter to receive more update about the project.
Follow Nannie's story
Sign up to our newsletter to be the first to hear when Cutty Sark's new figurehead arrives at the ship.
What is a figurehead?
Figureheads are carved wooden sculptures that decorate the prows of sailing ships. In the perilous life of ship at sea, figureheads were seen as lucky charms: they represented the spirit of the ship, protecting the crew from harsh seas and helping to guide them safely home.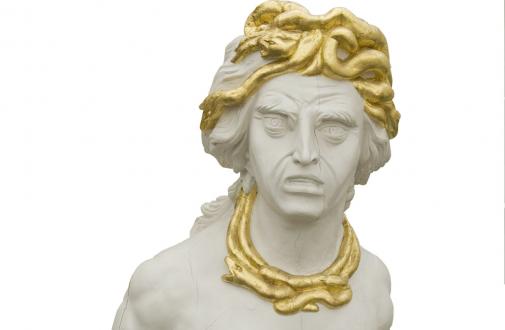 Why is Cutty Sark's figurehead called Nannie?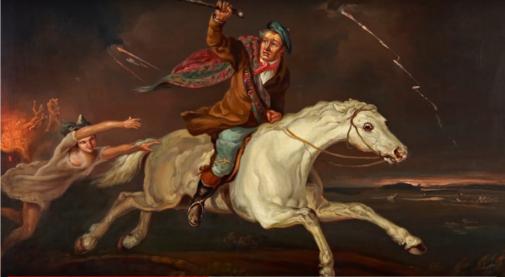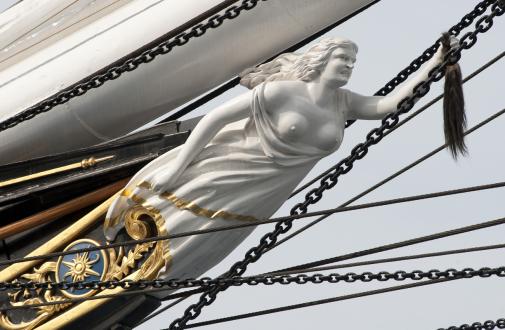 Who was Nanny?
The poem tells the story of Tam the farmer, who encounters a group of witches in Alloway Kirk - including the beautiful witch Nannie...
Nannie is scantily clad, dressed only in a 'cutty sark' - an archaic Scottish name for a short nightdress. The ship is named after this dress.
Why is the figurehead holding a tail?
In the poem, the witches chase Tam after he calls out to them during a dance. He makes his escape on his horse Meg, but just as he reaches safety Nannie grabs the tail of his horse and pulls it clean off.
This is why Cutty Sark's figurehead is holding a horse's tail.