Learn about the creation of The Sea Deity at the National Maritime Museum.
By Eve Shepherd 
Discover more about Refugee Week
Look around the National Maritime Museum, in fact just thinking about it, any national museum within the UK and there will be an over abundance of busts and painted portraits depicting white, upperclass men.
That is why I accepted this groundbreaking challenge thrown down in the once dusty museum halls of colonial power. 
The National Maritime Museum, an ever changing wave of accessible and approachable learning, aims to welcome and engage its visitors by saying we will, when we can, tell your story as well.
The commission was for me to sculpt a bust depicting not just one person, but to create a portrayal of an entire community. To depict, not my view of a community, but to attempt to see a social group through their own eyes.
Not an easy challenge by any stretch, but I knew that this community had been so silenced and underrepresented by history, that I was determined to do whatever it took to make a powerful legacy piece which would hopefully stand the test of time.
To understand the experiences of forced migration, we worked closely with children aged six to nine and their families within the organisation Action For Refugees in Lewisham (AFRIL). This group was made up of refugees from all around the globe.
We held a couple of creative workshops at the museum with the kids and their families. As a group they were challenged to create a clay life-size bust of what or who they thought would be important to them.
The kids, brimming with enthusiasm, imagination, openness and spirit, brought such an honesty and richness to the concept of their bust. It was my job to then understand the essence of what the kids wanted or possibly even needed to see in a bust.
Here is an image of the piece that the kids made in the workshop.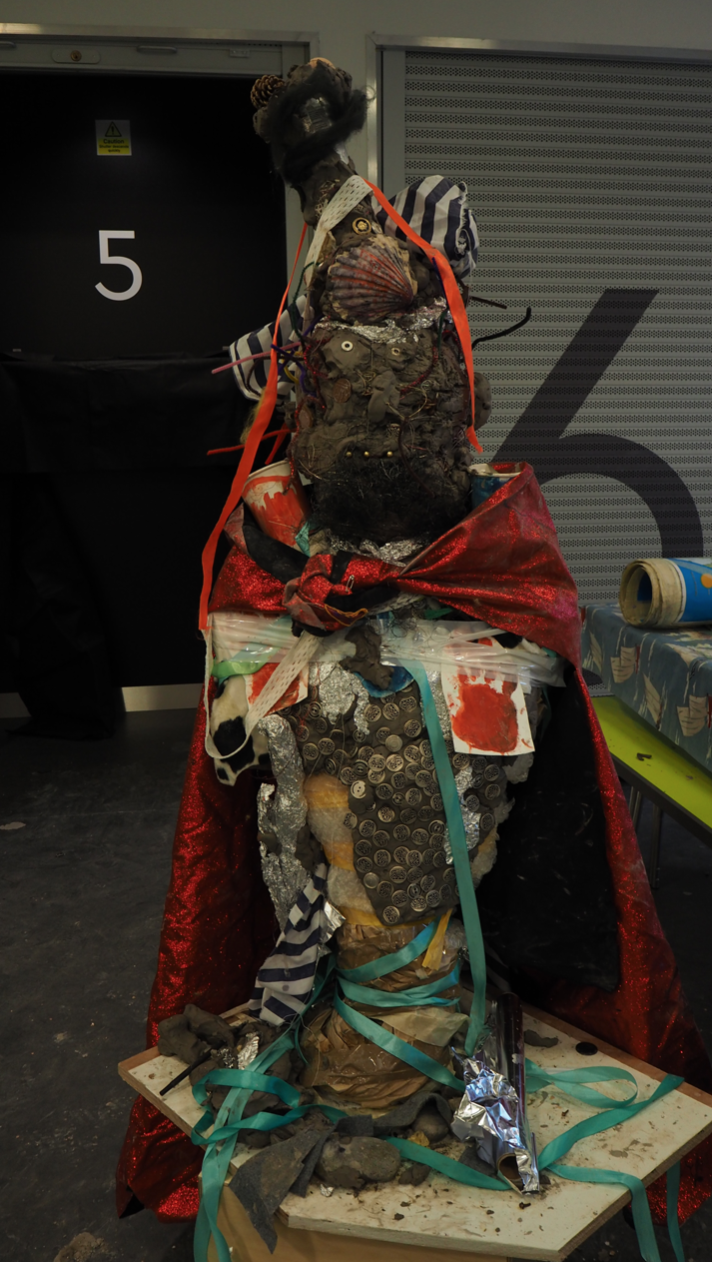 By working closely with the children and asking lots of questions, it transpired that they were asking for a kind of superpower, a 'timeless protector' a 'defender', 'a benevolent, all powerful being', someone or something who was on their side, and could look after and provide for them if needed. It seemed that were requesting a deity, someone who they could look up to and believe in.
The kids made their bust wearing armour, with Taser hair, and a water cannon or pepper spray crown. They infused their clay 'Being' with the belief that it/they could provide them with food, education, clothing, money, safe travel, community, spiritual belief and family.
In order to make a legacy piece I needed to make sure that the sculpture fitted, yet stood out within the museum's collection. I therefore gathered reference from the museum's collection along with other reference of non-Western gods, goddesses, deities, totems and other emblems of ephemeral power.
This bust is an amalgamation of all this reference and influence, distilled down and made into something of significance.
I would like to draw your attention to some of the key features within the AFRIL bust.
Taser hair 
The children were adamant that their 'Being' should have hair made out of a Taser. This hair could 'grow longer to keep bad people away.'
The Crown
The Sea Deities crown is made up of a can of pepper spray, which was featured in the children's original work, a tray of rice and other foods and a tray of money. Maybe these items were offerings towards the deity or gifts from the deity to their community in times of need.
The Body Armour
This was my translation of armour from the children's bust and other references. The body armour is made up of a weathered blanket and a section of a lifejacket, and coloured to look as though the whole piece could be a now discovered, once lost, or hidden relic of the sea.
The lifeboat
In the bottom section of the piece is a diorama featuring the depiction of an overcrowded lifeboat sheltered within the body of the sculpture. I drew inspiration for the structure of this section from a painting entitled 'Dutch Men-of-War off a Craggy Coast' shown within the collection housed at the Queen's House.
The Age of the Deity
I had read several books about refugees, and one in particular stood out: The Bone Sparrow by Zana Frallon. This book shows a fictitious betrayal of children within a detention camp.
From this I decided to make the piece be the age of an older child. This would allow children, teenagers and adults a chance to connect to the piece, as this age group could be considered a bridge to both child and adult worlds.
Ethnicity
The ethnicity of the piece is key and is purposefully ambiguous, with features from many regions throughout the world. This allows The Sea Deity to represent and welcome all the people affected by this historical global issue of communities fleeing or being forced from their homelands.
Gender
I tried to create the piece with no specific gender, though the children in AFRIL decided that to them the piece was female, and they named her 'Olympia'.
The children from AFRIL where so inspired by being part of this commission and working with the National Maritime Museum that they wrote and recorded a wonderfully inspirational and moving song. 
It was a true blessing, honour and joy to be part of such a groundbreaking project. Thanks to the generous spirits of the children and their families from AFRIL, Royal Museums Greenwich's amazing collection and the visionary staff at the National Maritime Museum, who have brought this piece to life.
Long may The Sea Deity live to tell their tale.