Today's blog was written by Amy Miller, our Curator of Decorative Arts & Material Culture. On Armistice Day, Amy reflects upon Rozanne Hawksley's piece 'Pale Armistice' and the meaning of commemoration.
Poignantly, this year's Remembrance Day marks the centenary of World War I commemorations.  It is fitting that on display at the Queen's House is a piece created in 1987 in part, in response to the First World War – Rozanne Hawksley's iconic memorial wreath Pale Armistice.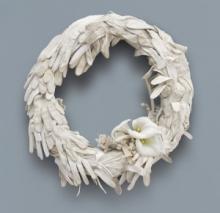 Pale Armistice
by Rozanne Hawksley
Fashioned out of gloves – those that are worn, or brand new, wedding gloves and those worn by officers -- they represent all those who have been touched by war. Pale Armistice is perhaps one of the artist's best known works.  It is also a piece that subverts a traditional symbol of commemoration and makes us question what it is that we are actually commemorating.  Particularly as the events of the First World War move from the realm of living memory.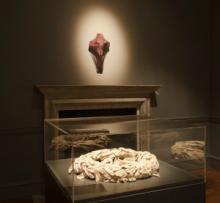 Pale Armistice
on display in War and Memory
We caught up with Rozanne during the installation of her exhibition to talk about Pale Armistice and what it meant to her.
"It started out being hopeful because of shaking hands and the sign of peace. Then I thought it was hypocritical because you can shake hands on a bargain and then ignore it. Hands are so symbolic to me of the loving kindness that can be given by man, the nurturing but also the cruelty – you can hold a gun, you can hold a sword, you can slap someone.
Rozanne Hawksley with her new commission 'Full Fathom Five'
Then when I was making it something was in my mind like 'in death only are we united' which is why they are gloves of every single class and rank. There are officer's gloves, there are little children's gloves, cheap nylon gloves, and I called it Pale Armistice after a bit. Pale meaning brief. You know 'an armistice will be signed sometime today, a treaty will be signed sometime today' and then someone the other side will go and start something else". 
War and Memory is now in its closing week. You can see the exhibition for free until Sunday 16 November.