From maps and boats to badges and portraits, discover some of the items in Royal Museums Greenwich's collections with connections to India. 
Portrait of Jamsetjee Bomanjee Wadia (c. 1830)
This imposing full-length portrait of an Indian shipbuilder is on display in our gallery Traders: the East India Company & Asia, where you will find many objects with South Asian connections. Jamsetjee Bomanjee Wadia (1754-1821) came from a powerful Parsi family based in Bombay (now Mumbai). He is shown swathed in a golden pashmina, sat in an ornate chair and framed by a heavy red curtain.
The half-built ship Minden can be seen through the window and is also represented on the plan in his right hand. Like many Bombay-built ships, this vessel was made from teak, a strong and durable wood that was often grown in India and popular with shipbuilders. The Admiralty sent Bomanjee a letter of appreciation when Minden was completed and subsequently commissioned him to construct more ships for the Royal Navy.
Cutty Sark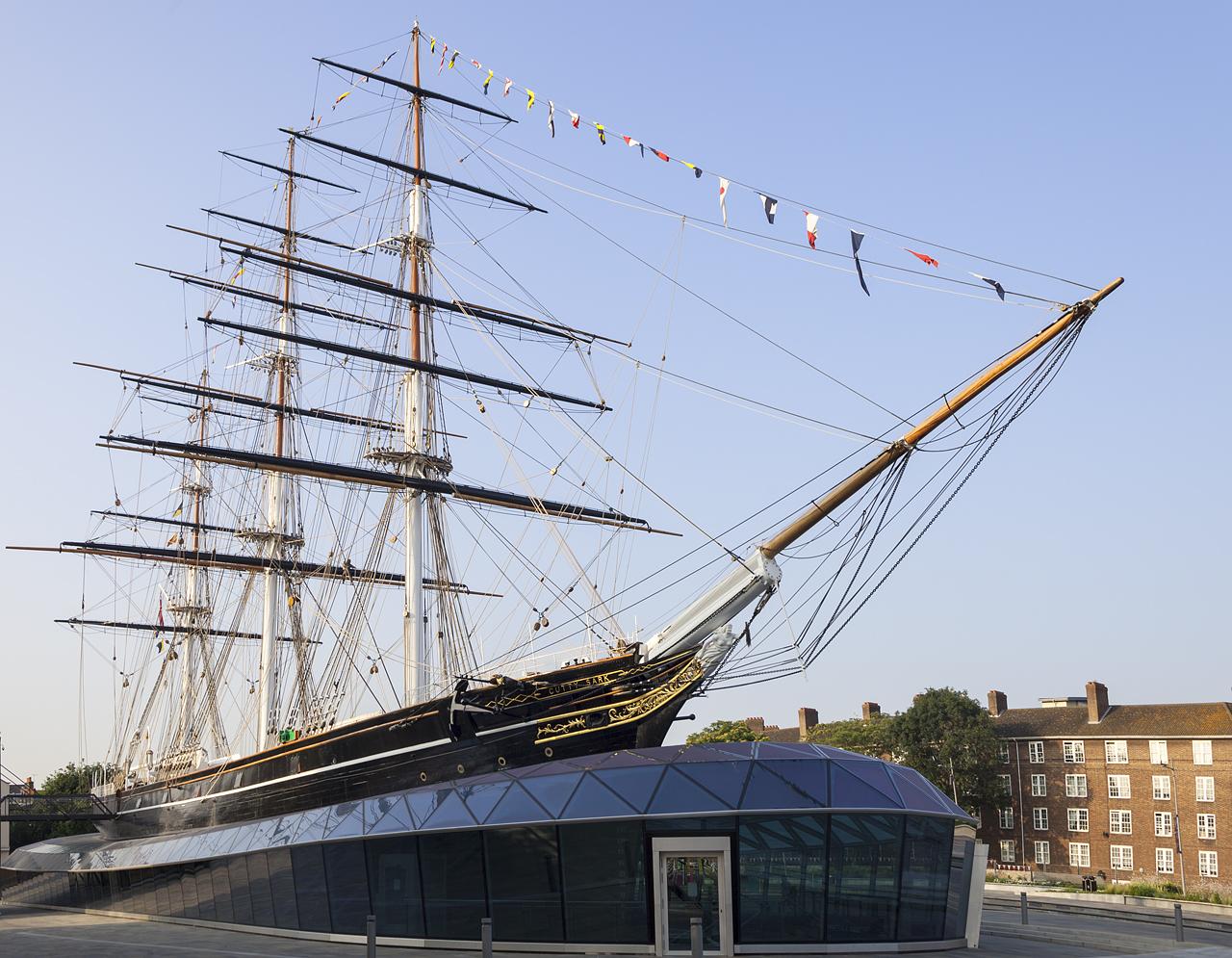 Cutty Sark, our famous tea clipper, is known to have visited India at least twice. A sailor called Charles Sankey described one of these trips, claiming that Captain William Bruce became very anxious as the vessel crossed the Bay of Bengal in 1880.
Bruce would apparently lecture the crew 'against intemperance and all sorts of vices liable to befall sailors' and, as they were nearing the mouth of the River Hooghly, was 'possessed with […] the dread of a cyclone', keeping his men alert even in the best of weather.
The ship returned to India in 1882 and stopped at various ports on the subcontinent's southeastern Coromandel Coast. Amongst the various products loaded was a cargo of jaggery.
This delicious dark sugar is used in many sweet Indian dishes but your dentist wouldn't recommend eating 3,310 bags of it, as were loaded at Madras (now Chennai) on 7 November. 
Map showing Gulf Sea to Gujarat coastline (1555) 
India features on many maps in Royal Museum Greenwich's huge cartographic collection. This map was made by cartographer Angelo Freducci in Ancona on the Italian peninsula. 
It was clearly produced for a luxury market and was not intended as a practical navigational document since it is too extravagant in its decoration and too detailed in its inland features. Each hill is edged with gold, and each river and lake is carefully coloured in a rich blue.
Oriented with north at the bottom of the map, it shows the coastline from the Gulf Sea to Gujarat, at the northwest of the Indian subcontinent. Gujarat was an important trading centre and its merchants were known in many Indian ports at this time. The region exported spices, fine cottons, hardwoods and precious stones to western Asia and also into the Mediterranean.
Watercolour of a Himalayan Scene (1877) 
Many British artists travelled to South Asia in the wake of colonial officials, merchants and soldiers. They were keen to capture the subcontinent's unique peoples, landscapes and buildings. This watercolour of a peaceful Himalayan scene was made by Matilda Rose Herschel, who spent much of her adult life in India. 
HMS Delhi badge (after 1919) 
In the days of wooden, sail-powered ships, many large vessels had a carved statue at the bow (or front) for decoration. These figureheads were impractical for modern vessels so shipbuilders switched to smaller plaques, known as a ships' badges, instead. This brass badge is from a warship named after the city of Delhi.
It shows an elephant robed in gold with a howdah (or carriage) on its back and a lotus flower beneath. You can see a large selection of both figureheads and badges on display at the National Maritime Museum and Cutty Sark. 
Model of an Indian surf boat (1800s)
Masula surf boats like this were used to transport people and cargo to Madras (now Chennai) during the 1800s.
The port had no natural harbour so large ships had to anchor half a mile away from the shore. Oarsmen would perch on the beams running across the boat and the man who steered sat in stern (at the back). Surfboats sometimes capsized as they neared the beach with the result that everyone got soaked to the skin.