19 Sep 2017
Featuring polar bear and hedgehog sightings, our 2017 astrophotographers share their tales of freezing temperatures, far-flung travel, and police encounters
Visit the Insight Astronomy Photographer of the Year 2017 exhibition
Winter camping
"In all I spent 15hrs in that cold tent for those 10 minutes of images"
by Kris Wiliams
As a lover of winter conditions and dark skies, I quite often have to endure some extreme conditions in order to get the images that I want. Living on the edge of the Snowdonia National Park I enjoy wild-camping in the mountains a lot as this is ideal for being out to shoot the sunset, dark skies through the night and then into sunrise. I also do a lot of time lapse films, so this entails staying in the same spot for many hours on end.
For my shortlisted image I camped on the summit of one of our 3000ft peaks in Snowdonia in the middle of winter with -15 degree temperatures and snow on the ground. Even though I was completely in cloud the forecast had promised clear skies overnight, so I got in my tent after sunset at 5pm and began the cold wait…
I managed to finally get some clear skies around 1am for 30 minutes or so, although within 10minutes of setting up my camera it had a layer of ice forming over it, but it was enough time to get the images I'd always wanted from there of the Castell-Y-Gwynt (castle of the winds) rock formation surrounded by snow and a starry sky above. It was 8am before the sun rose (in cloud again), so in all I spent 15hrs in that cold tent for those 10 minutes of images, but it was worth it and I'd do it again tomorrow if I could.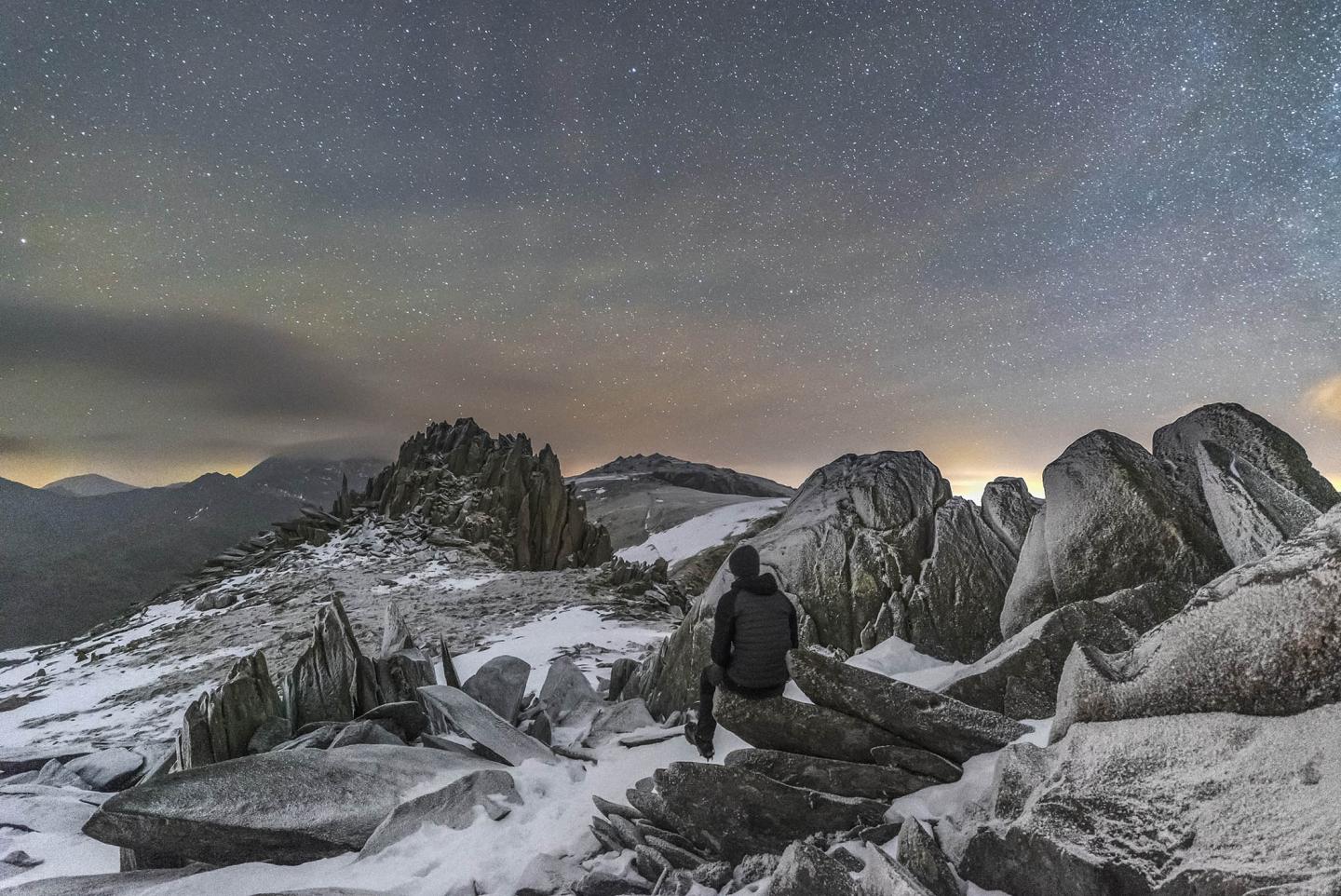 On the road
"Looking in my mirror I was disappointed to see the flashing lights of a police car"
by Ian Griffin
I'll do pretty much anything to get a decent shot. Possibly the silliest thing I've done recently was to try and photograph a particularly favourable transit of the international space station across the disc of the sun. I had to drive for nearly 4 hours, and then set up and align a pretty large telescope at a fairly precise position in central Otago. The solar transit lasted less than one second!
One of the funniest things that happened to me was during the great St Patrick's Day auroral storm of 2015. My normal observing location on the Otago Peninsula was clouded out, so with the prospects of an amazing auroral display I threw my kit into my car and drove as fast as I could south along the coast road seeking clear sky.
Looking in my mirror I was disappointed to see the flashing lights of a police car on what is a relatively remote road. When I pulled over, the officer asked me "what's the hurry?" I noted there was an aurora going on, and pointed to the bright beams visible between clearing clouds. "Oh wow that's amazing," said the officer and I spent several minutes explaining the phenomenon to him.
Despite this he still issued me a speeding ticket and followed me for the next 10 miles until I found a decent spot to watch what became an amazing display.
Skin deep
"I have a tattoo on my arm which is testament to my love of Aurorae"
by Jo Hunt
Late nights, alarms at stupid o'clock, hourly sky checks, no sleep, cold fingers, toes and bottom all in hope to capture something that you can never guarantee will appear.
Pursuing the Aurora will never be an endurance to me it's a passion and so worth it for that image and endless treasured memories. I have a tattoo on my arm which is testament to my love of Aurorae, it's the old Icelandic word "Braga" which is said to be a descriptive word for the dancing of the northern lights. It also means 'panties' in Spanish, hence a decision to get it spelt in runic.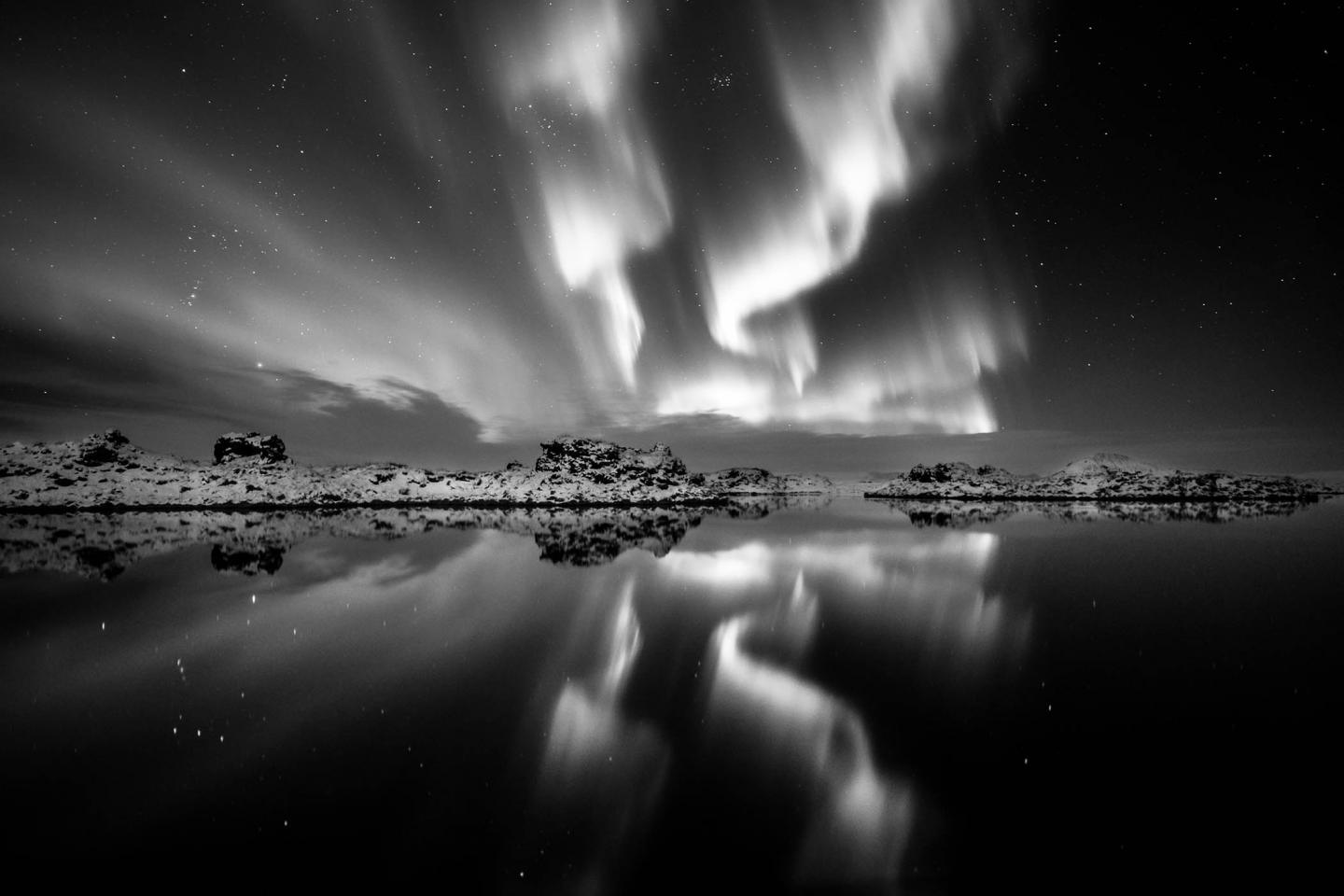 Creature comforts
"a lot of funny or awkward situations can happen"
by Lionel Majzik
When you are in total darkness to do astronomy, a lot of funny or awkward situations can happen. My favourite was in recent weeks, when I was sitting silently at the telescope and a complete hedgehog family wanted to go through the telescope mount. I changed their direction because there were a lot of electronic cables in their planned way.
Shut eye
"Lack of sleep is a given"
by Brandon Yoshizawa
I've endured a lot trying to capture astrophotography images. Lack of sleep is a given as you need to wait until the sky becomes dark in order to shoot the core of the Milky Way.
It also takes a lot of preparation and planning using apps to visualize where the Milky Way will line up with any given composition.
Compositing images are also common so a lot of time is spent shooting a foreground during twilight and then leaving your camera in place and waiting a few hours until the sky gets dark.
Hiking and enduring harsh weather environments can also be a factor in seeking out unique compositions that have not been shot before.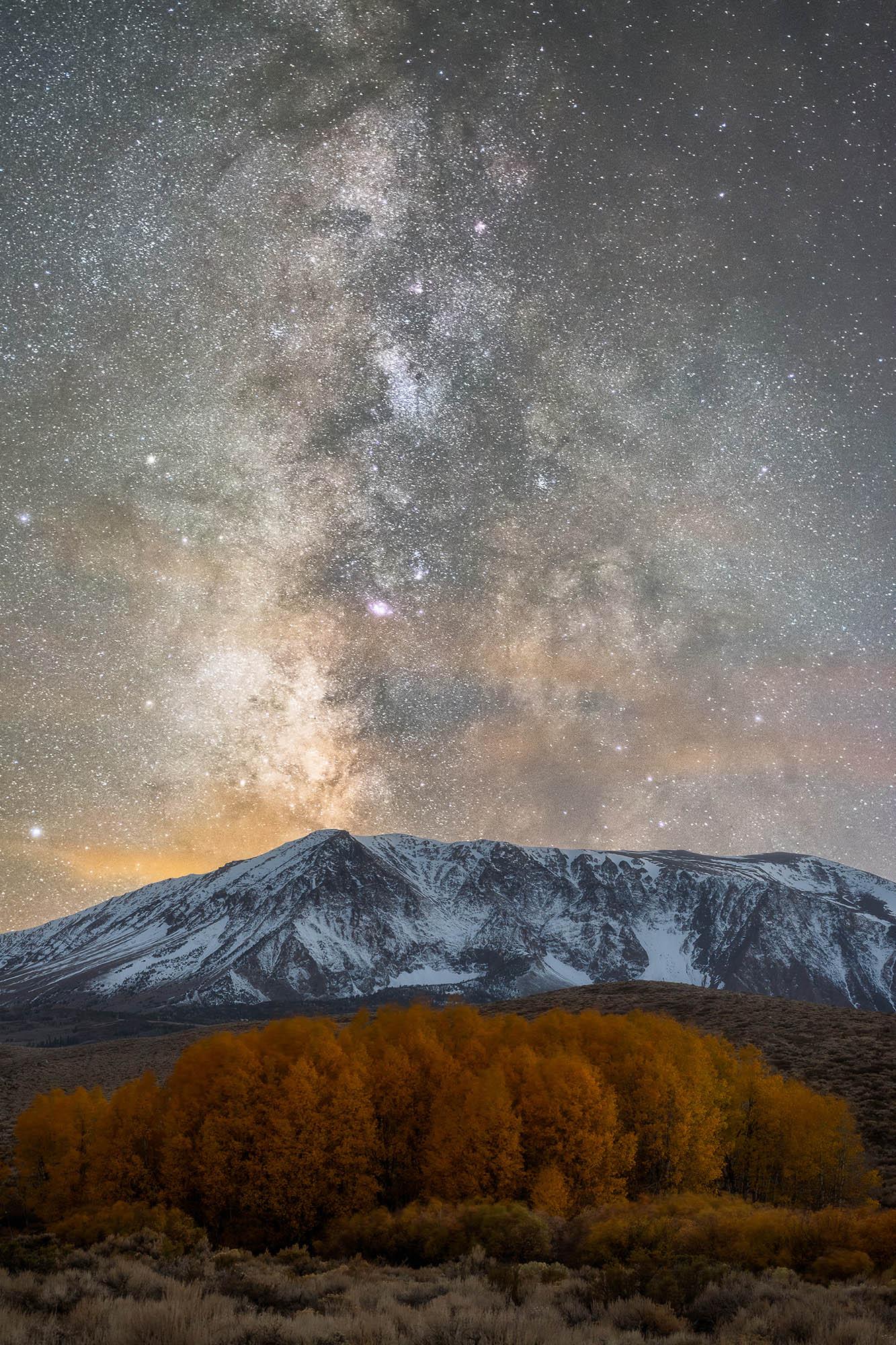 Encounters in the forest
"Once I was told that traces of wolves and lynx had been seen in the forest"
by Yulia Zhulikova
I flew to the other end of the Earth, in Chile, to see and photograph the Magellanic clouds and the Southern Cross, which are not visible in the Northern Hemisphere. It rose 5 thousand meters, and I photographed the stars against the background of snowy peaks of volcanoes and geysers.
In the polar region, I see the Aurora and shoot the time lapse at a temperature of -40 (degrees Celsius). Before night shooting, I carefully look at the place during the day. Once I was told that traces of wolves and lynx had been seen in the forest, but this did not stop me from going photo-hunting for the zodiacal light. I did not meet wild animals, but I met tourists who were surprised by my appearance at night in the forest, with a camera.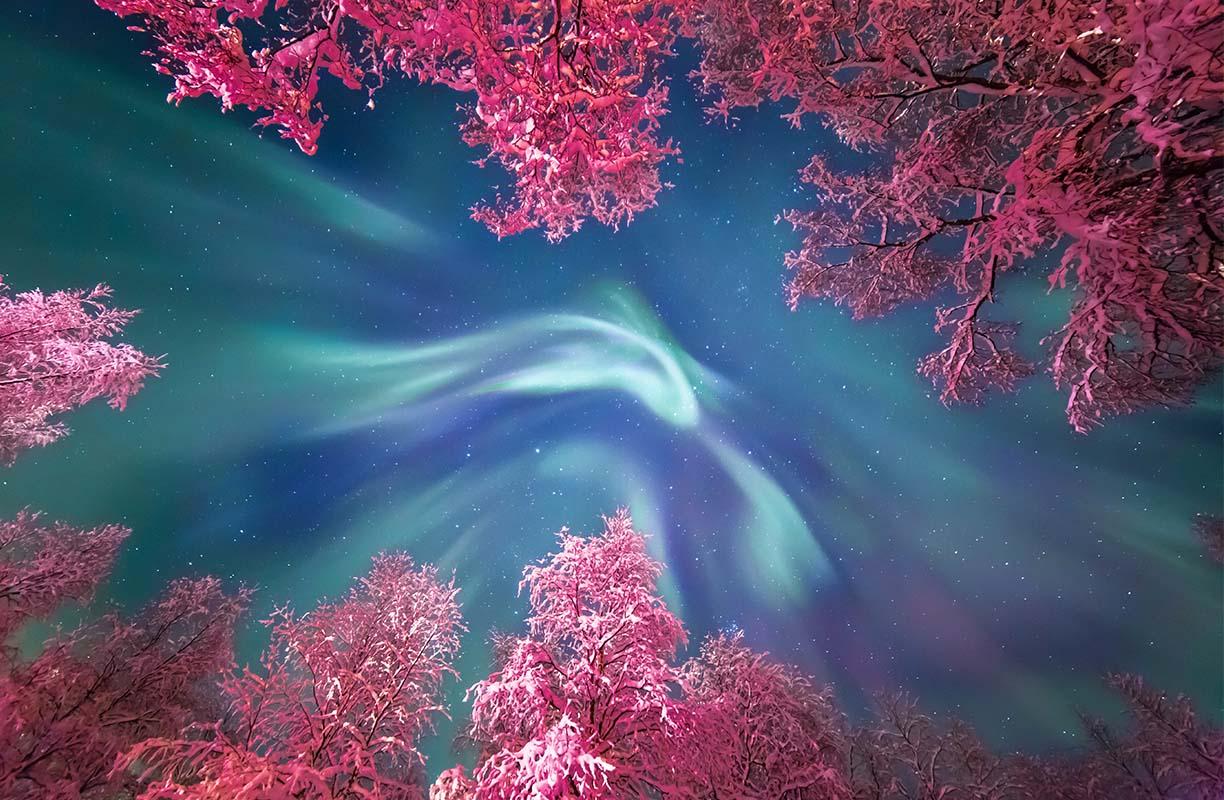 Living in the extremes
"I leave at midnight despite a frost"
by Kamil Nureev
As I was born and I live in Siberia, I have got used to severe climatic conditions. I can adapt to different situations without a problem, such as frost, long walking, or long sleepless night. A good photo can't turn out well without overcoming difficulties, so it is necessary to be ready for various conditions.
I love grabbing a backpack and heading into the wood at night to the tundra to shootings of the Polar light - the most unforgettable impression! And before these impressions I leave at midnight despite a frost. It is necessary to get used to very extreme conditions, where I live in my region (Russia, the city of Novy Urengoy) frosts reach a mark of -40 degrees Celsius in the winter, you will never forget it.
Paws for thought
"You feel how big nature is"
by Agurtxane Concellon
In that particular image of the Northern lights I remember as a strong moment. I was enjoy the amazing Northern lights that were covering the whole sky but at the same time I could not stop to be worried because very closed to where we were standing there had been a polar bear sighting during the day. In the moment, with the sky dancing with lights and the fear of a polar bear close by, you feel how big nature is.
Top image: Aurora Over Svea © Agurtxane Concellon
Insight Investment Astronomy Photographer of the Year 
Every year we invite astrophotographers from around the world to send us their best images as part of the Royal Observatory's Insight Astronomy Photographer of the Year competition. These pictures capture all manner of celestial spectacles: moons, stars, planets, galaxies, nebulae and some of the great astronomical events of the last year.