Giovanni Antonio Canal, commonly known as Canaletto, is synonymous with Venice. 
From festive scenes to busy market squares, the 18th century artist captured the daily life of his native city in exquisite detail. 
As a new exhibition at the National Maritime Museum brings together 24 of Canaletto's Venetian views, discover more about the life and work of the influential painter. 
Canaletto's art and style
Canaletto was born in Venice on 18 October 1697.
He came from a family of artists, and under the guidance of his father Canaletto began his career as a theatrical scene painter. However, a visit to Rome in his teenage years expanded his artistic horizons, introducing Canaletto to a style that would define the course of his career.
This style is known as veduta, or 'view painting'. It emerged during the 17th century, and involves depicting cityscapes and urban landmarks in remarkable detail.  
Inspired by the vedute paintings he had seen in Rome, Canaletto turned his hand to the genre, moving away from theatrical scene painting to capture everyday Venetian life.
Image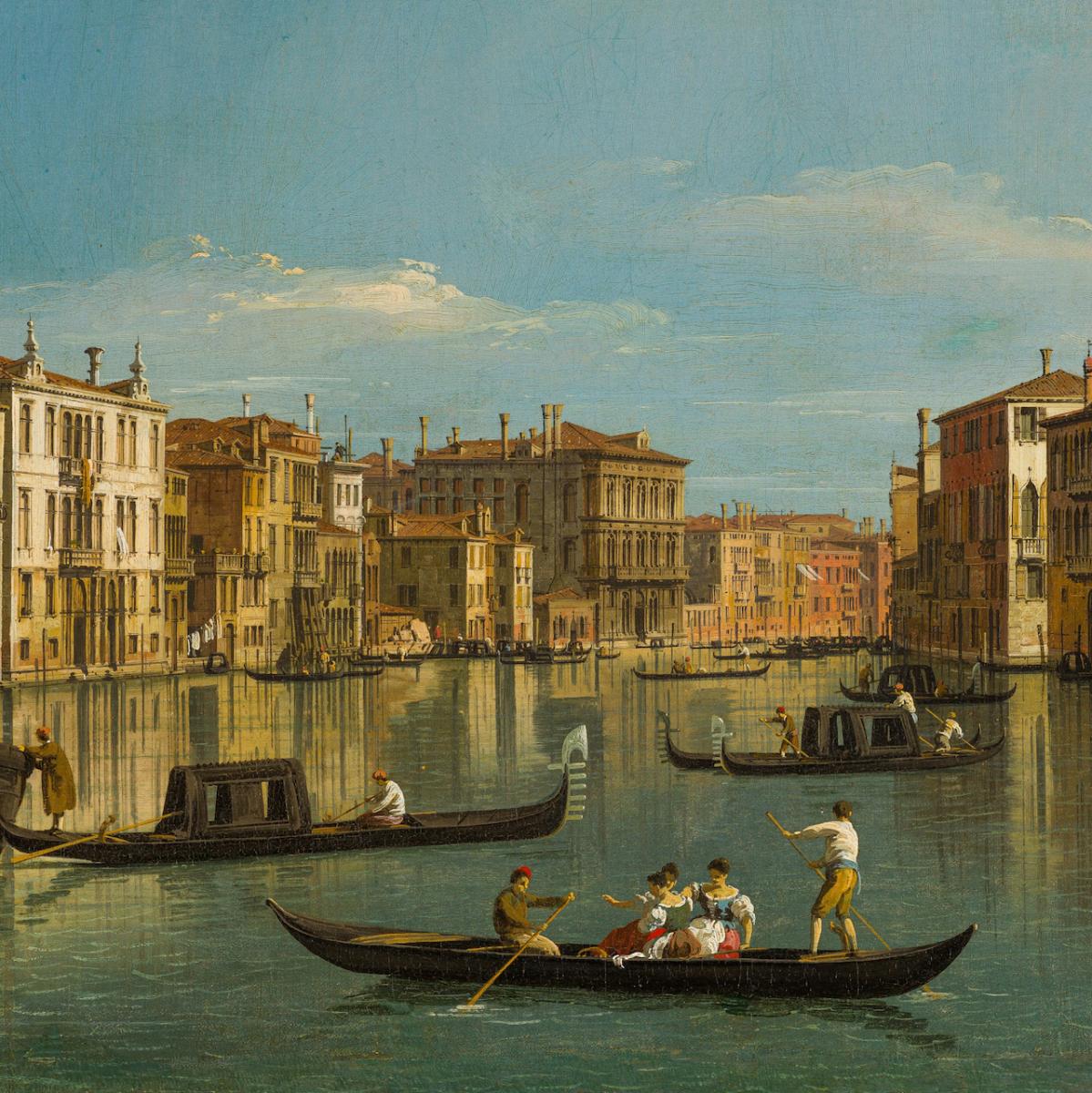 Canaletto's Venice
Venice at the time of Canaletto was a cultural hotspot, and a centre for luxury crafts such as lace and glassmaking. Canaletto was part of a generation of leading Venetian creatives, which also included the composer Antonio Vivaldi and the Rococo painter Giovanni Battista Tiepolo.
Famed for his precise and topographical depictions of Venice, Canaletto showcases the city's varied cultural life in his works, from the bustling traffic on the Grand Canal to lavish Ascension Day festivities. 
Canaletto's meticulous attention to detail remains part of his appeal according to Katherine Gazzard, Curator of Art at Royal Museums Greenwich.
"This is particularly evident in how he uses people: all his figures are completely individualised, with different classes and activities represented," she says.
"Venice is almost set up to be a theatrical city, with the Grand Canal as a stage, the buildings as the curtains and the architecture as the scenery."
How accurate are Canaletto's paintings of Venice?
Canaletto's harmonious views of Venice established his reputation as a leading view painter. He would travel around the city making pencil sketches, which he would later work up in his studio.  
"Canaletto would often sketch out his scenes in a mathematical way," Gazzard explains, "drawing the lines of the architecture in pencil with rulers before going over it in pen." 
However, he would also play with perspective and key landmarks within his works, in order to create 'idealised' versions of his native city.
"In his Venetian views he manipulates the details to make the most appealing compositions: shifting church towers so they form a vista along a canal, or painting from an elevated position in the middle of the Grand Canal," Gazzard says.
For Gazzard, it is this paradoxical nature of Canaletto's work – creating remarkably detailed views of his city, while also cleverly manipulating the scenes he depicts – that is particularly fascinating. 
"On the one hand, Canaletto is committed to going out into the city and recording it in accurate detail. However, he massages these details in a way that seems completely real, to create an idealised, perfect Venice." 
Sign up to our newsletter
Keep up to date with Canaletto's Venice Revisited and get the latest news about art, exhibitions and events at Royal Museums Greenwich
Canaletto and the Grand Tour
One of the major influences on Canaletto's artistic style was the growth of the Venetian tourist industry.  
At the time Canaletto was operating, the city was a major stop on the so-called 'Grand Tour'.  
A rite of passage for mainly young, aristocratic English men, this extended journey through Europe and beyond was designed to provide an education in classical learning and foster independence. Venice's reputation as a place of pleasure, with gambling houses and opportunities for drinking and partying, was another reason behind the city's appeal. 
Canaletto realised that tapping into this lucrative industry could prove fruitful. 
"The core of his market were English Grand Tourists looking to buy souvenirs to solidify their social status when they returned home," Gazzard says. "The Grand Tourists had the means and the incentive to buy his work." 
Canaletto, in turn, tailored his works to suit his audience.  
"Canaletto starts getting into the tourist market in the 1720s and he changes his artistic style, moving away from flickering brush strokes and stormy skies to a clearly defined painting style and sunny skies," Gazzard explains. "He also adopted a smaller size for his canvases so they could be rolled up and shipped easily." 
A special commission: Canaletto and Woburn Abbey
In 1731 Lord John Russell, the future 4th Duke of Bedford, commissioned Canaletto to create 24 Venetian views following his visit to the city. It was the largest single commission Canaletto ever received. 
Lord John Russell is known to have paid at least £188 for the set. This sum was over five times the annual earnings of a skilled tradesperson at the time. 
These detailed works, now part of the world famous collection at Woburn Abbey, form the centrepiece of Canaletto's Venice Revisited at the National Maritime Museum. 
Canaletto's death and legacy 
Canaletto died in Venice on 19 April 1768. More than 250 years after his death, his work continues to capture our imagination.
While his commercially focused paintings were looked down on by leading figures of Venice's art world – Canaletto was only admitted into the Venetian Academy in the final decade of his life in the 1760s – his work became a window into his beguiling, vibrant city.
It's true that Canaletto's entrepreneurial spirit was one of the reasons behind his success, says Gazzard: "Canaletto's work was portable, collectible, and his customer base of elite figures ensured that his work was spread around Europe during his lifetime."
However, while visitors to Venice today are a world away from the Grand Tourists of the 18th century, Canaletto's influence has endured.
"Canaletto remains synonymous with Venice," Gazzard says. "He's played a huge role in defining the iconography and visual image of the city, which has secured his reputation."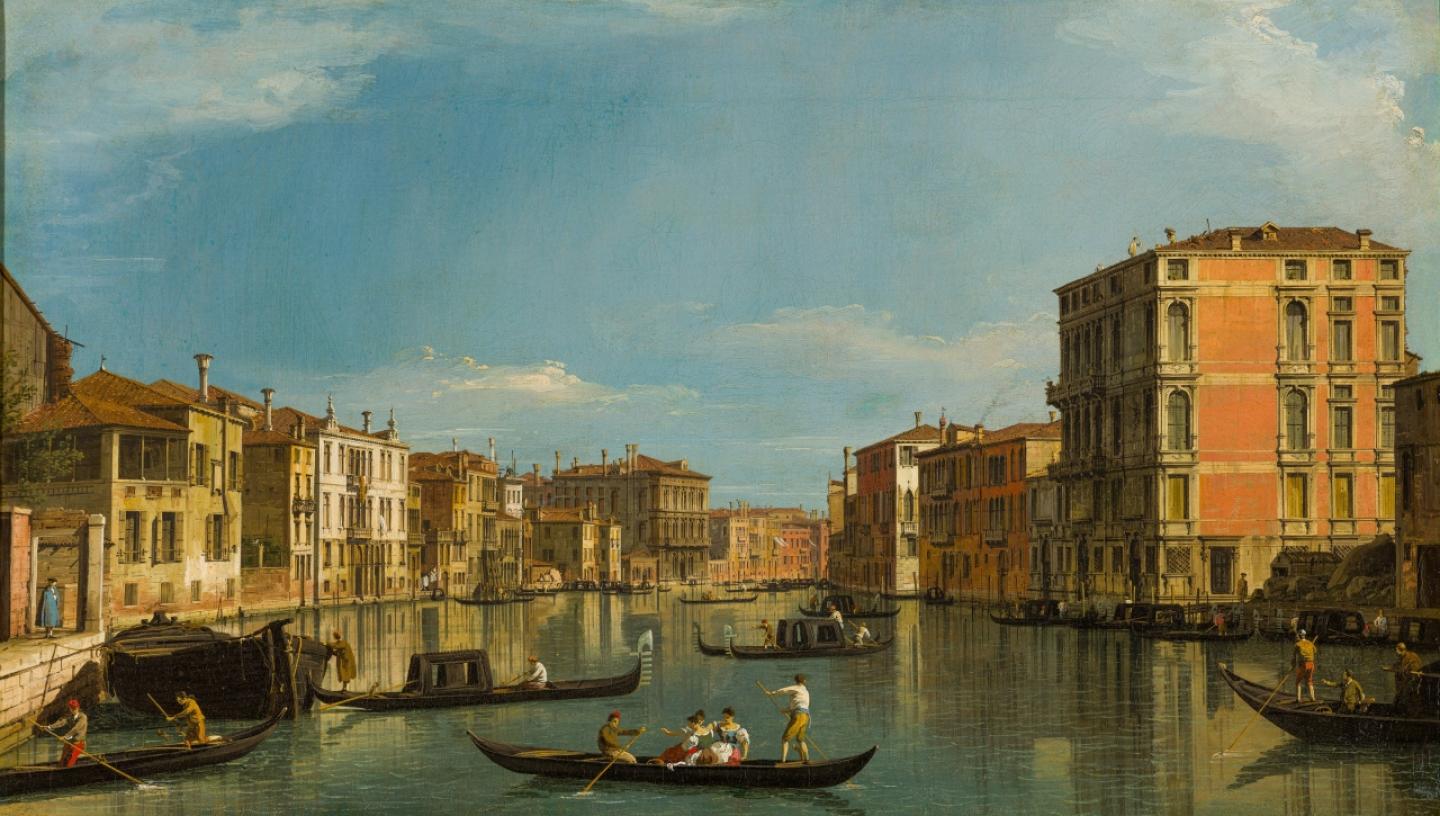 Canaletto's Venice Revisited
A dynamic history, a precarious present: navigate Venice's iconic waterways at the National Maritime Museum Article by Elizabeth Oliver, digital content producer at Royal Museums Greenwich