Essential Information
| | |
| --- | --- |
| Type | Access events |
| Location | |
| Date and Times | Fridays during term time | 11.00am – 12.00pm |
| Prices | Pay what you can |
| | |
Join in a different creative adventure each week inspired by the vast collection at The Prince Philip Collections Centre. This online club is designed to support participants with Special Educational Needs and disabilities engage into social activities.
The SENsory Social Club Online is a weekly club for adults and young people with SEND to meet and engage with the collection in a fun and interactive way. No matter where you are from, engage in the collection and have fun with new friends.
Join us as we make new friends, have fun and learn new skills through a wide range of activities from story-telling, music, acting, craft and games. You can logon each week either at home or part of your community group/college class.
The SENsory social club is a place where our members can develop friendships and social skills through creative response of the collection.  These following videos were made during 2020 and 2021 as part of the SENsory social club . The SENsory Social Club online wouldn't work if it wasn't for the support of the following stakeholders: Bexley Mencap, Smerdon Day Centre, Marjorie Mcclure School and The Loyne Specialist School.
How to make a ship's biscuit
The SENsory social club teach Silly Simon how to make a ship's biscuit. 
Lethal Mermaids
Come to Morecambe
To help us create a fun experience tailored to your needs, please email us in advance.
Important information 
Booking a workshop
This workshop is offered as a pay what you wish basis, but numbers are limited so please book in advance.
If you book and are unable to take part, please let us know so we can offer your place to someone else. 
About the workshops
These workshops are aimed at adult participants (14+) with Special Educational Needs.
We advise that support staff/ guardians/ family members offer support to the participant during the session from logging in to the Webinar to closing the programme.
We have staff monitoring every session and will eject participants behaving inappropriately. 
Sessions will be held via Zoom, a 3rd party software application which is not affiliated with the Museum. 
We advise that you take the time to read the terms and conditions on Zoom's website for your own information and safety. 
Book your place on a workshop.
Once you have booked your ticket, you will receive an email confirming your place on your chosen live online workshop. The email will contain a link and password to the prescheduled workshop.
When it is time for your scheduled event, click the link on your email. This will take you to your chosen event which is being hosted through an application called Zoom. You will be asked for your meeting ID and Password. These should come up automatically, but if not they can be found on your original email.
Once you're in the workshop, you will be asked to choose to connect audio in three different ways. We recommend using computer audio.
If you sign in before the workshop begins you will be asked to wait in a virtual waiting room.
When the workshop begins you can choose to have your video on or off. We will only interact with participants who have their camera on. If you do not want to be interacted with please switch off your camera.
When the session starts, have your camera pointing at eye level and your microphone on mute. You can control your microphone and video on the bottom of the Zoom page.
The facilitator will ask questions and if you would like to answer a question, the host will unmute your microphone for you to talk directly to them. Please note that you are in a session with many other participants, so be considerate of others.
There is a chat room attached to the workshop room. Please use this for technical questions such as my audio is not working etc. Our host will assist you as best as they can.
If you are planning to keep your video on please be mindful of what's behind you. Think about having a solid wall behind you or turning on the virtual background if you would like some privacy.
These sessions are monitored at all times. Any behaviour deemed to be inappropriate will result in participants being removed from the session and being reported to the appropriate authorities where necessary.
We support independent learning for all but we hold the safety and well-being of young and vulnerable people in higher regard. Therefore we ask that a support worker/ guardian/ family member is present when particpants are partaking.
Extra activities may be suggested at the end of the session. Links for additional tasks will be put in the chat room for further learning. Your host will inform you when the session is finished. When you have finished, close your tab and sign out of Zoom if you signed in at the beginning.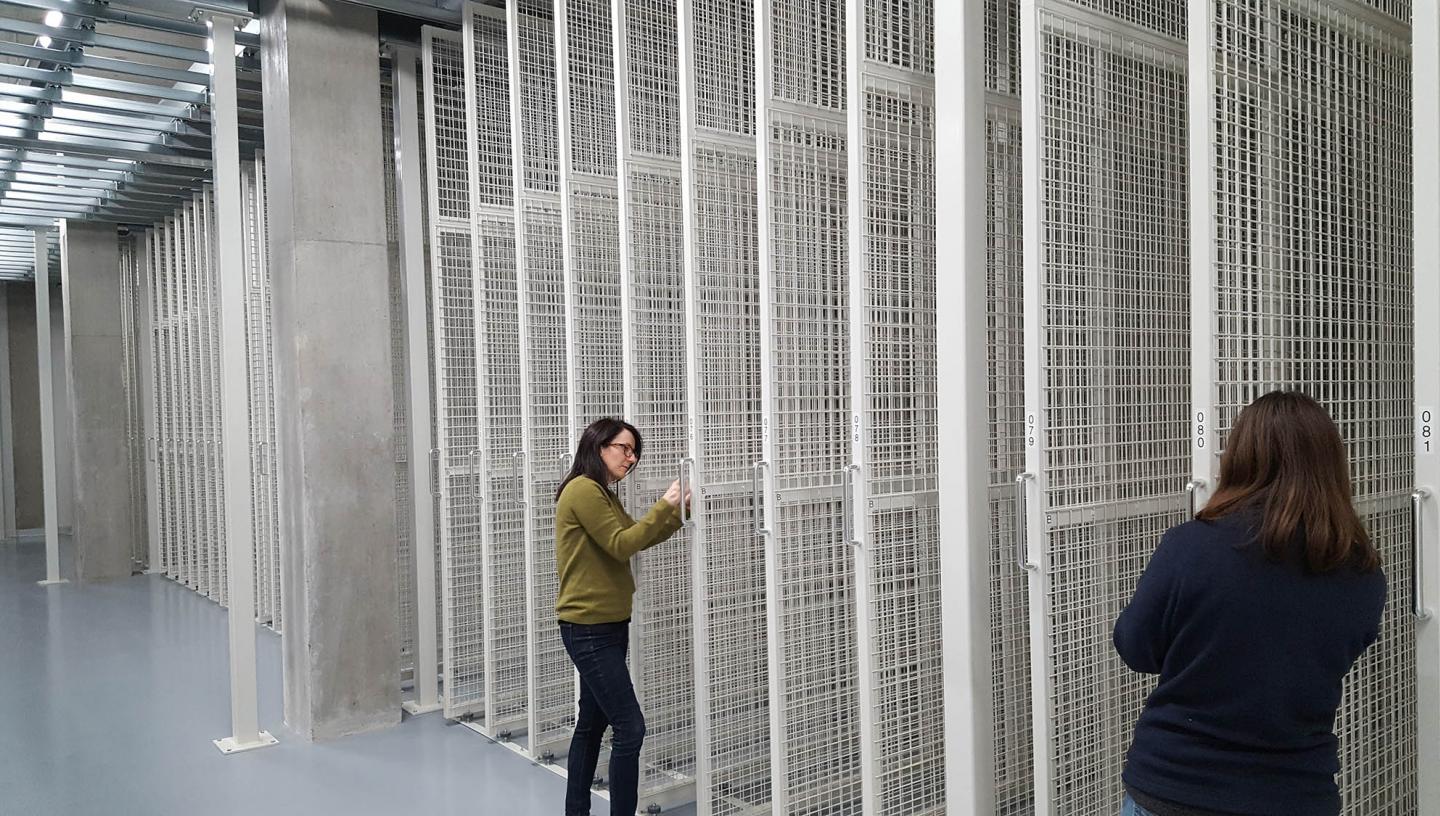 Go behind the scenes
The Prince Philip Maritime Collections Centre is home to the Royal Museums Greenwich stored collections and state of the art conservation studios