03 Dec 2021
Natasha Lambert is the first person to skipper a boat across the Atlantic using 'sip-and-puff' technology. At the National Maritime Museum we are honoured to welcome her helmet and gloves into our collection, and be able to share Natasha's story.
by Laura Boon, Lloyd's Register Foundation Public Curator of Contemporary Maritime
Natasha Lambert first went sailing aged just nine years old. Having fallen in love with being at sea, Natasha was determined to be able to skipper the boat herself rather than just be a passenger. 
Natasha was born with quadriplegic cerebral palsy, so to make this dream possible, Natasha's dad Gary Lambert developed a specially adapted 'sip-and-puff' system, which would enable Natasha to skipper the boat. 
Gary taught himself coding in order to create this bespoke system for Natasha. Initially Natasha used the sip-and-puff controls for a model boat on a boating lake before graduating to skippering a real sail boat.
The set-up enables Natasha to control the boat using just her breath. By sipping on the straw, held in place by the helmet, the boat is steered right (starboard). By puffing, the boat is steered left (port).
Natasha is also able to trim (adjust) the sails. To switch between the sail and steering function, Natasha uses a light-beam switch controlled by her tongue.
For her first charity challenge, in September 2012, Natasha sailed MissIsle Too around the Isle of Wight, raising more than £17,000 for charity. 
Natasha has taken part in several challenges since. Her greatest to date was sailing across the Atlantic. In 2020, Natasha achieved this dream and became the first person to skipper a boat across the Atlantic using a sip-and-puff system. 
I am unable to walk across a room, but with sailing I can cross oceans. I love being in control. The biggest challenge when planning to cross the Atlantic was convincing my parents, but I was determined to do it

Natasha Lambert
Natasha loves the freedom that sailing gives her, and set up the Miss Isle School of Sip and Puff in order to make sailing possible for those who would benefit from this method of sailing. 
In November 2021, the National Maritime Museum acquired the helmet and gloves Natasha used when crossing the Atlantic. The objects have been placed on display in the Sea Things gallery as part of the Museum's activities for UK Disability History Month. You can visit the objects in the Sea Things gallery until summer 2022.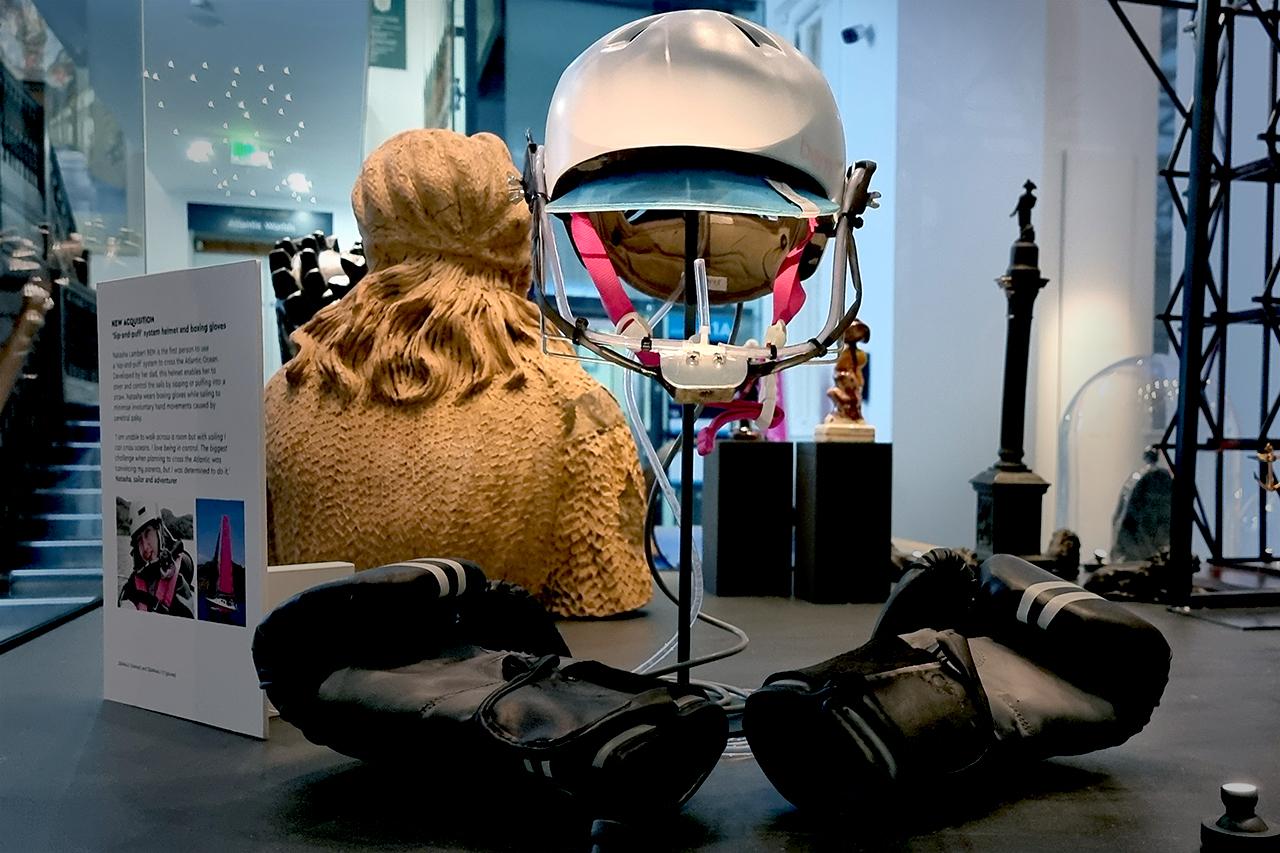 The objects were acquired for the Museum's permanent collection as a record of Natasha's place in the history in sailing. Natasha is not just an accomplished and pioneering sailor, but is also a role model supporting the next generation of 'sip-and-puff' sailors via her sailing school.
Main image courtesy of the Lambert family