Explore our online display of objects in the collection that demonstrate the historic and contemporary stories of refugees.
Migration has and continues to be an intrinsic part of the human experience, with people leaving their homes for political, environmental, social and economic reasons.
This display showcases the achievements made, struggles endured and the identities of refugees that have been forced to leave their homes.
Image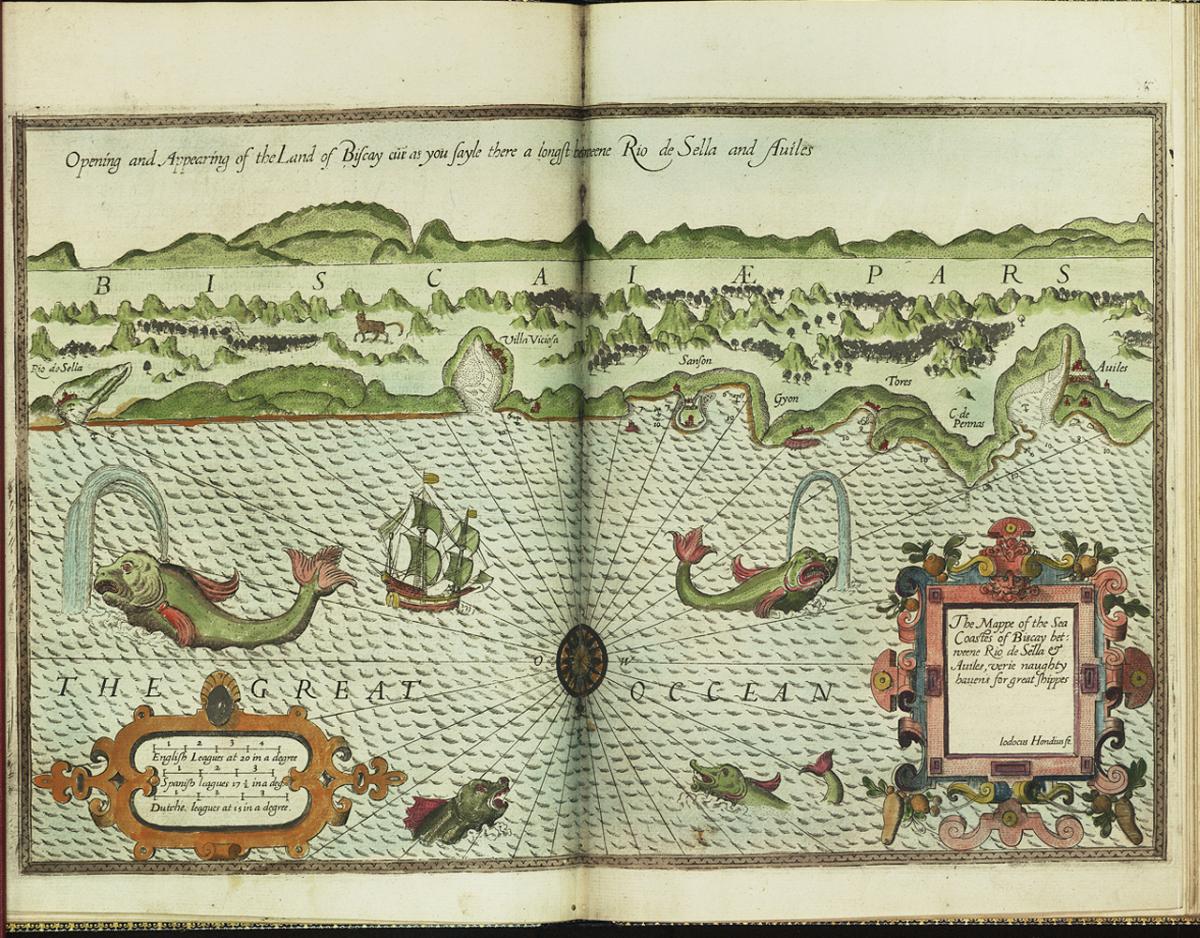 The mappe of the sea coastes of Biscay betweene Rio de Sella & Aviles, 1588

 
This sea atlas was published in London in 1588 and was engraved by a highly skilled artisan, Jodocus Hondius, who arrived in England from Ghent in 1583-84 as a refugee. 
16th-century Europe was wracked by religious conflict which led to the displacement of a huge number of people.
In England Hondius settled in Southwark. Already an engraver of some renown, he cut type and worked on maps and portraits. Hondius brought acute engraving skills with him to England and engraved not only several of the plates in the sea atlas, like that pictured here, but also the plates for what are recognised as the earliest English globes, two of which are now at the Middle Temple library. 
Sheet from 'An Exact Survey of the cities of London and Westminster', by John Rocque, 1745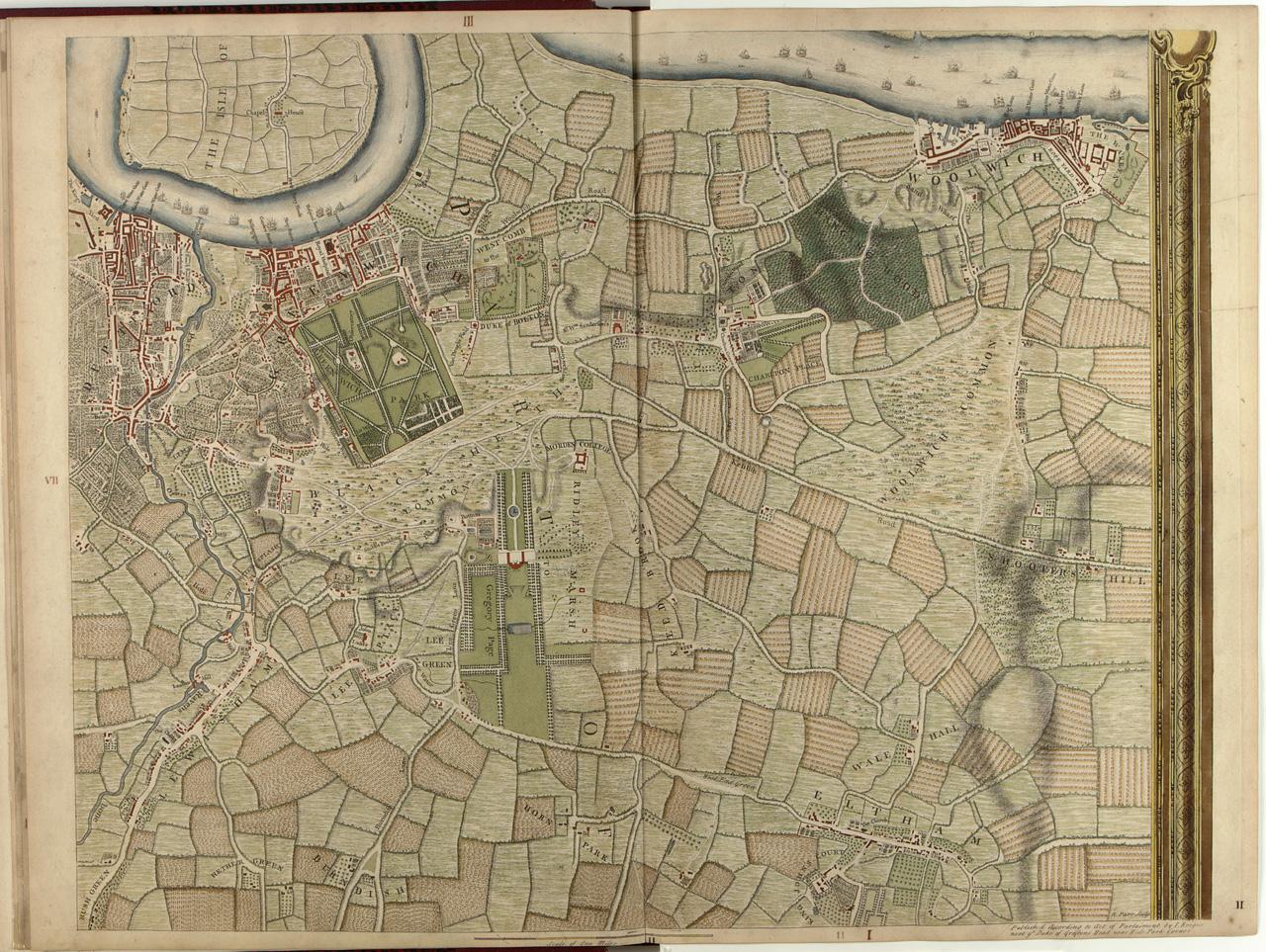 Jean Rocque arrived in London as a young child in 1709. His parents had left France as Huguenot refugees, going first to Switzerland, where Jean was born, and then to England. A talented draftsman and mathematician, he carried out an accomplished survey of London, published in 1745. It was the most extensive survey of London made to that date.
Image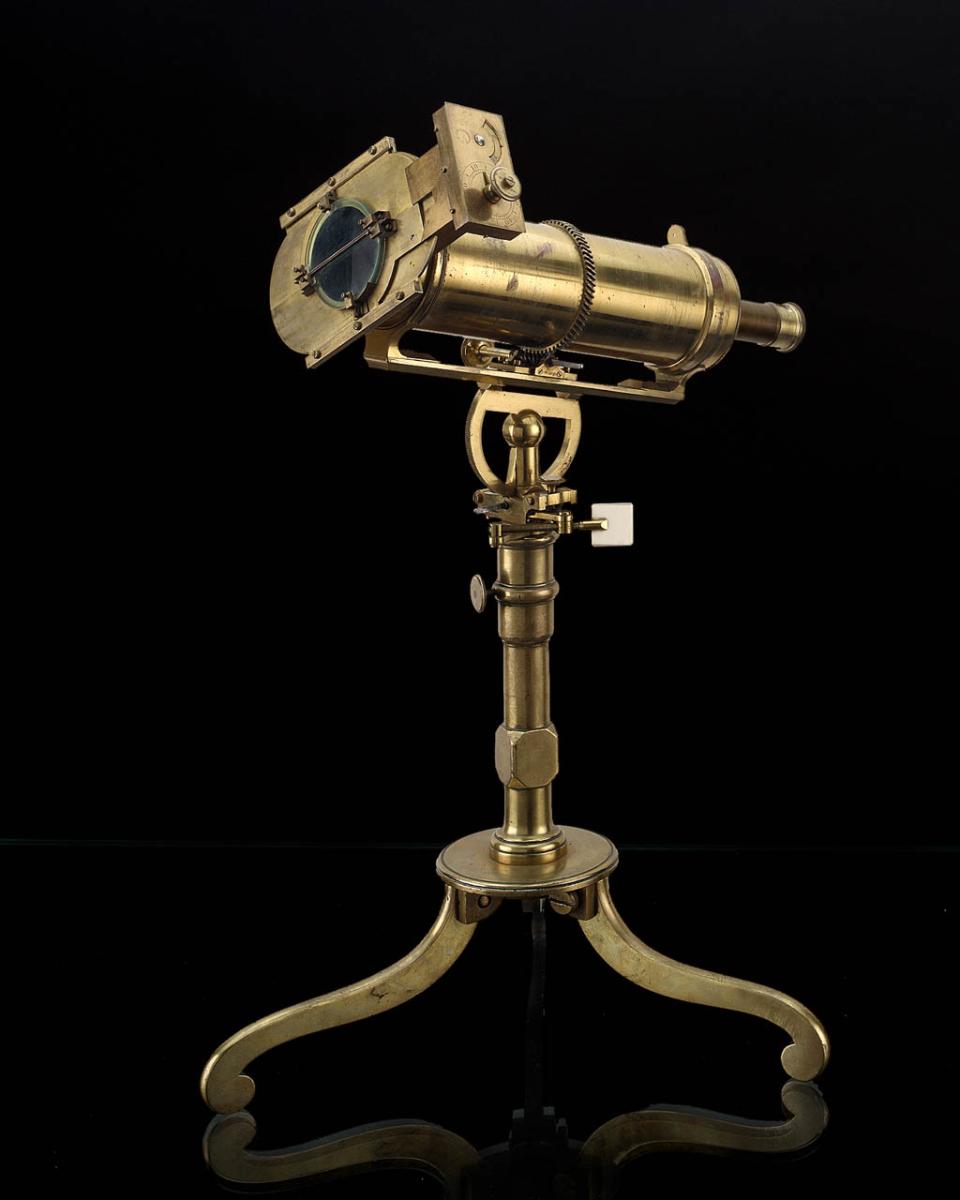 Portable heliometer by John Dollond, c.1755
John Dollond was the son of Huguenot refugees who had arrived in London following the 1685 revocation of the Edict of Nantes (ending religious toleration of Protestants which had lasted for nearly a century). Along with his son, Peter, he started a firm which became the most important producer of telescopes in 18th century London.
Trafalgar Tavern, Greenwich by Jacques-Joseph Tissot, 1878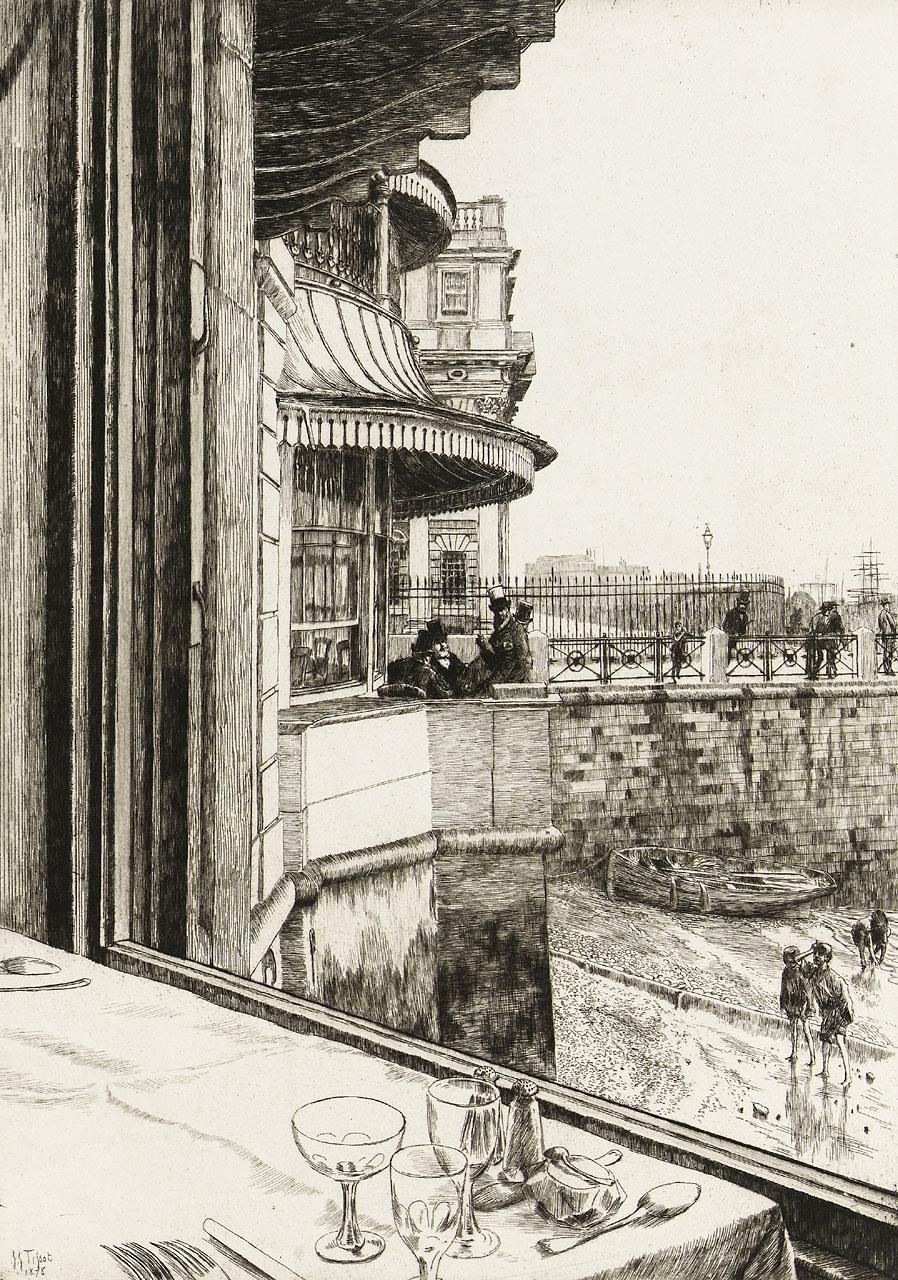 Artist Jacques-Joseph Tissot fled to London in 1871 following his involvement in the Paris Commune, and quickly became known for the images he made of fashionable London life.
Image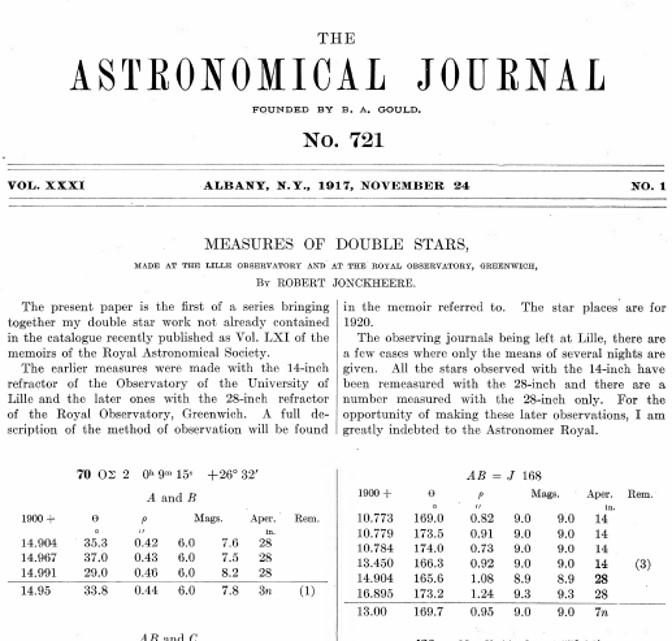 Article by Robert Jonckheere, 1917
During the First World War, the Royal Observatory welcomed astronomer and refugee Robert Jonckheere, who was able to work at the Observatory during his time in England. This article, on his research on double stars, was completed during his time in Greenwich. Jonckheere wrote that he would "never be able to thank Sir Frank Dyson [the Astronomer Royal] and Mr T Lewis [Observatory Assistant] sufficiently for their kindness and support".
Image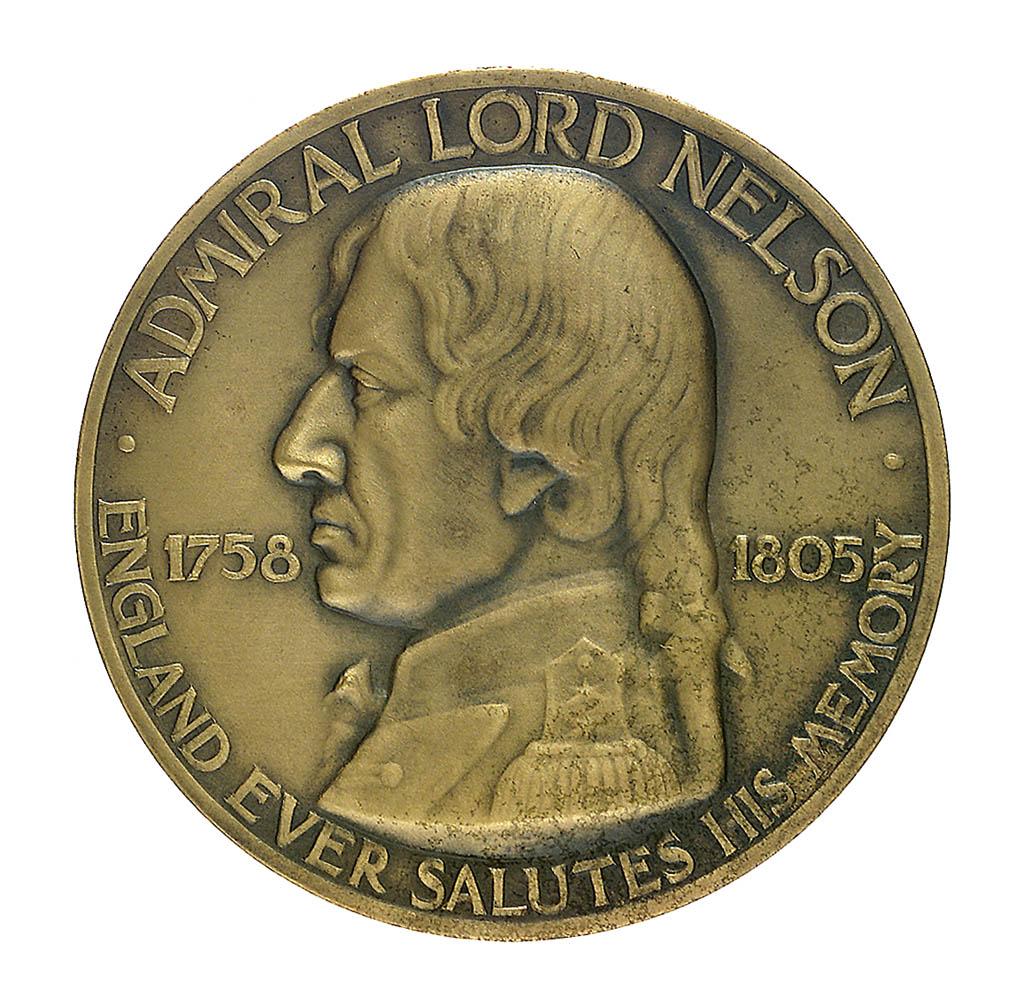 Trafalgar commemoration medal by Paul Vincze, 1955
Paul Vincze, artist and internationally acclaimed medallist, fled Hungary and arrived in England in 1938, where he set up a studio. He made many commemorative medals, including this one relating to the Battle of Trafalgar.
The Road to Germany, circa 2015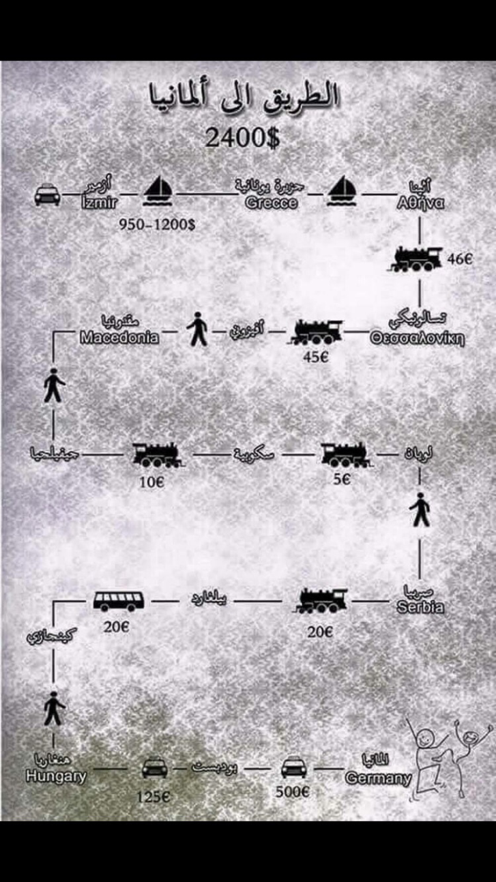 This map depicts different stages of a route from Izmir in Turkey to Germany, which was one of the main routes to Europe used by refugees from Syria and the Middle East in 2015. It is a diagrammatic representation of the so-called Western Balkan route – from Turkey to Greece, Macedonia, Serbia, Hungary and into Western Europe. Each stage of the route is represented by a graphic depicting the relevant mode of transport, accompanied by the likely cost and the currency. The destination is marked with two dancing stick figures.
In 2015 this map was frequently exchanged over WhatsApp, and other social media applications, between Arabic-speaking refugees. The map is an example of the sort of ephemeral information people can end up relying on if a journey they are making is deemed illegitimate. When border fences in Hungary were erected in late 2015 early 2016, the route as depicted in this map became less relevant to those trying to reach Europe.
Image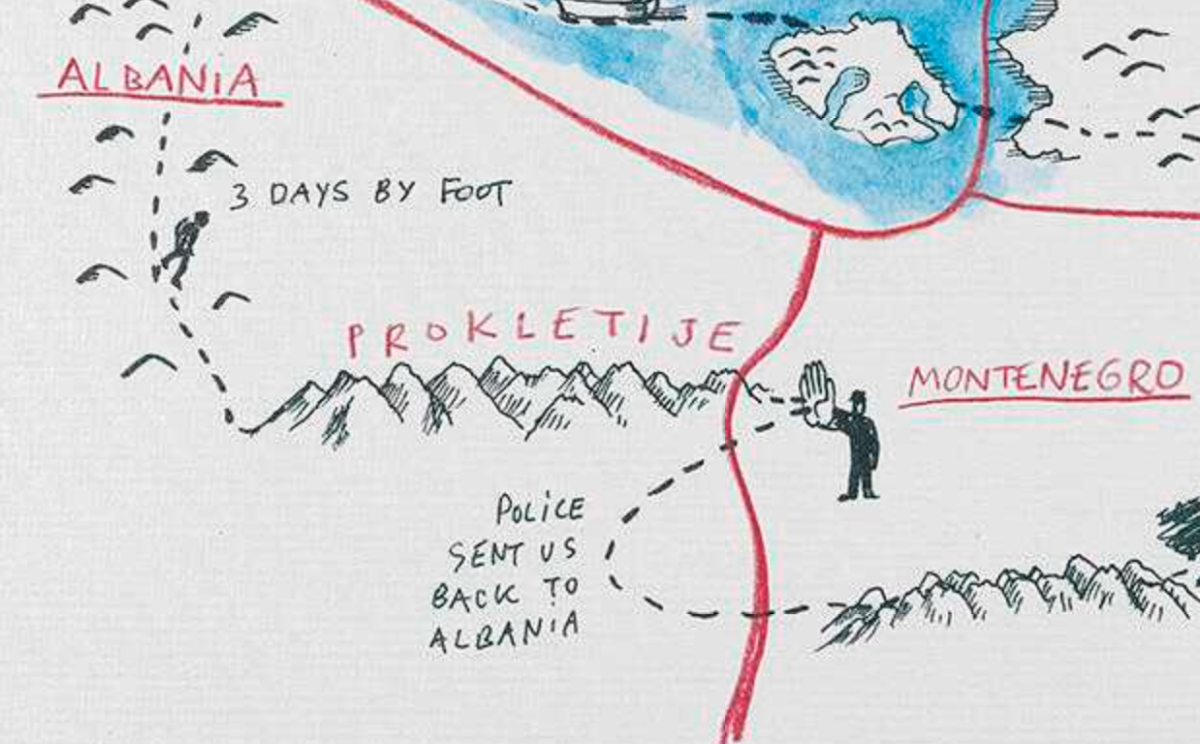 Series of narrative maps documenting the journeys of individual refugees to Serbia by 

Djordje Balmazovic
Royal Museums Greenwich recently acquired a series of works by Djordje Balmazovic, acquired with the help of Art Fund.  
These works are narrative maps, illustrating the journeys made by people who have experienced displacement and the difficulties they faced at heavily policed borders. These people arrived in Serbia from a range of places and by various routes, including Syria and Sri Lanka.  
Balmazovic aimed to make the maps as factual as possible. His aim was to highlight the lack of humane asylum policy in Europe.  
Lesvos and the Aegean Sea, 2015

This map was made as a banner, to give local information to refugees arriving on the Greek island of Lesvos, by Internews. It was designed as one low-tech way to meet basic information needs of people when they first arrived on the island, often disoriented.
The English text reads:"Welcome to the Greek island Lesvos. You must register with the authorities first on the other side of the island. By bus takes about 90 minutes. Walking takes two days. Please stay with your traveling group, and don't get into separate vehicles. Keep your luggage with you at all times. Beware of over-pricing. Do not sleep or rest on the roads."
Kite made from a Road Map, 2016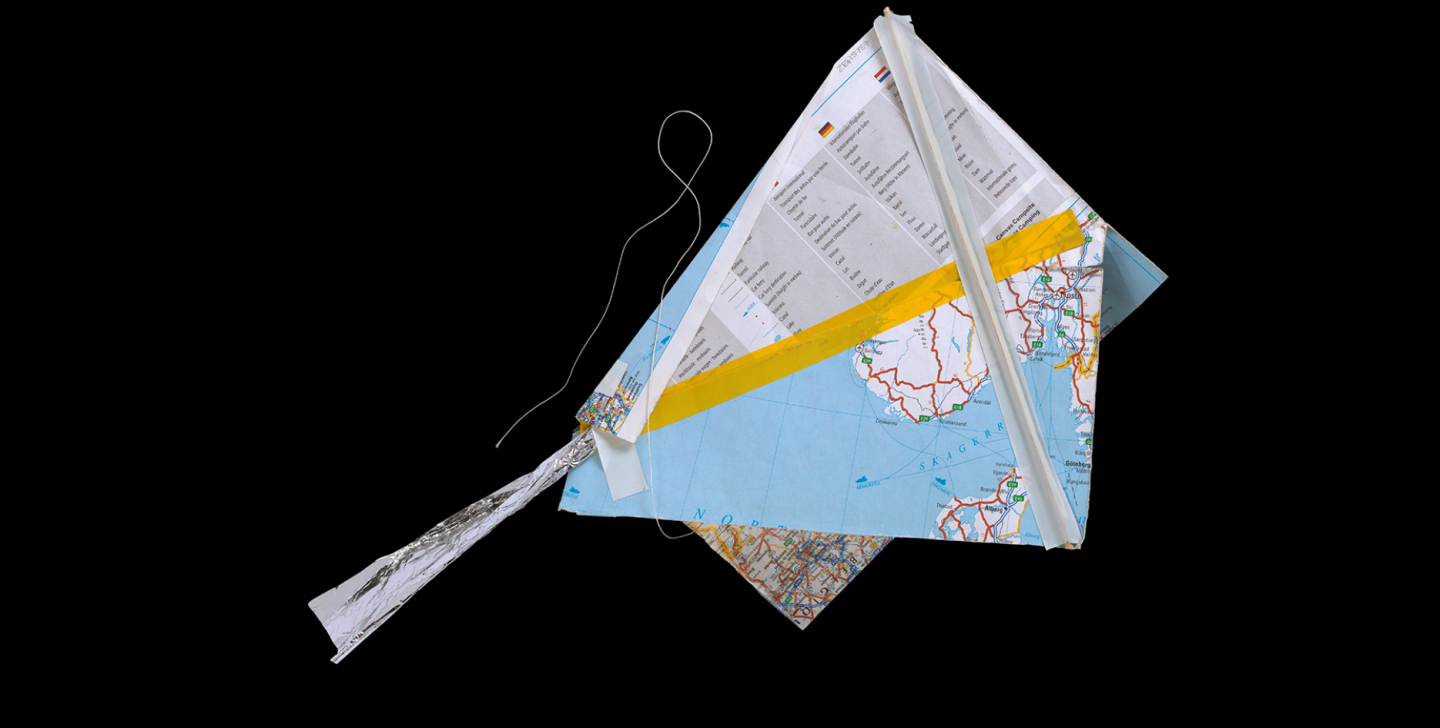 This kite was made in the Calais camp known as The Jungle in March 2016 as part of a session facilitated by Art Refuge UK, an art and art therapy organisation with sustained engagement with refugees living in Calais. Making use of the limited infrastructure of the camp, Art Refuge UK started to facilitate kite making begun by Afghan residents of the camp. As an activity, kite making gave opportunities for play and creativity, problem-solving and working together, in a context where people's traumatic experiences, both past and present, can lead to an acute sense of psychological unsafety.
In March 2016, as the southern part of the camp was destroyed, maps were used to make kites. This was pragmatic, and perhaps also symbolic. Pragmatic, because the maps were readily available - pages from road atlases provided large sheets of robust paper which could withstand the Calais wind. Symbolic, because in a context when people's movement across borders is prevented, kites can become a symbol of hope (one can still go up, even if not across). Made from maps, primary expressions of political borders, the kites were perhaps also a symbol of resistance to contemporary border regimes.
Image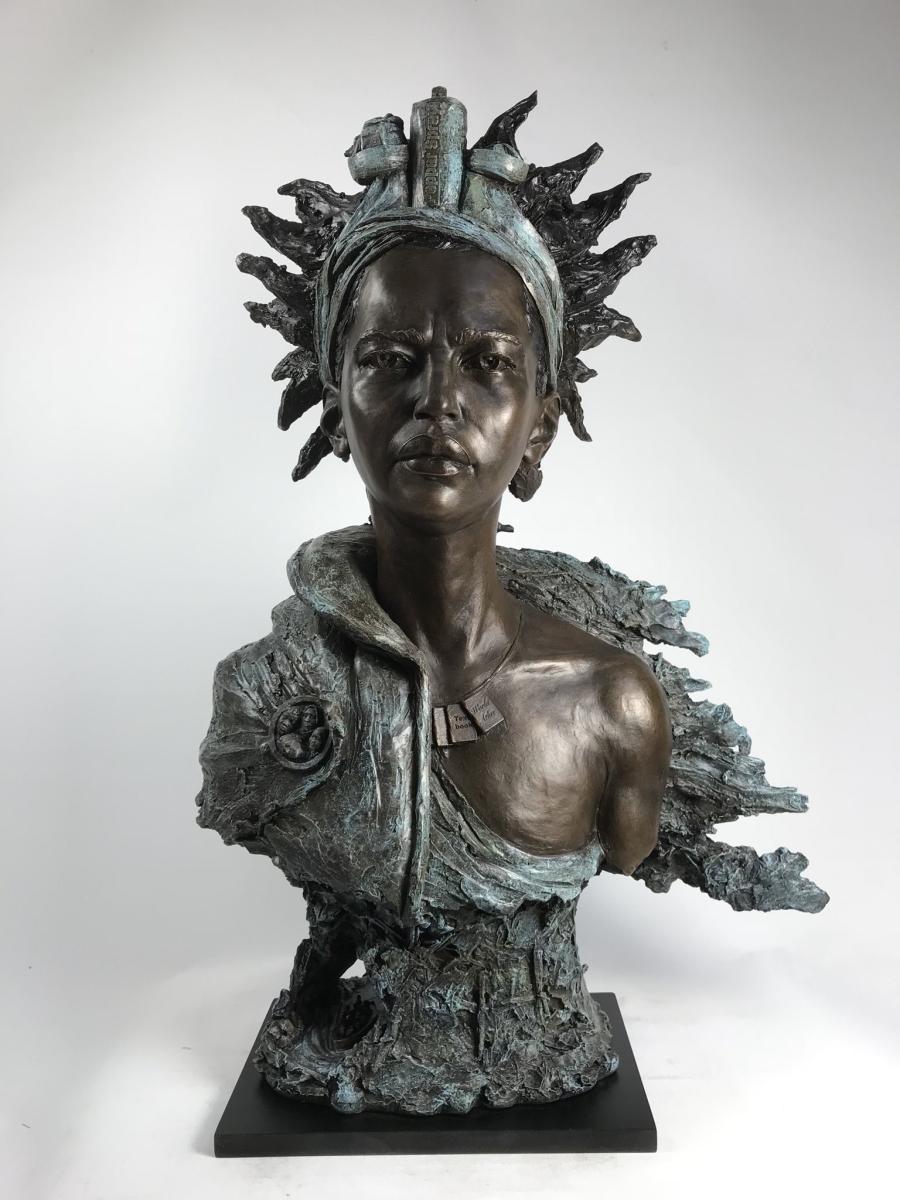 Sea Deity by Eve Shepherd, 2017
Sea Deity was made by sculptor, Eve Shepherd, and local families from Action for Refugees in Lewisham. Shepherd worked closely with the families to develop a figure that was a 'timeless protector', a 'defender', 'a benevolent, all powerful being'. The families made their own busts wearing armour, with Taser hair, and a water cannon and pepper spray crown. They infused their clay 'Being' with the belief that it/they could provide them with food, education, clothing, money, safe travel, community, spiritual belief and family. These ideas are evident in the final bust that Shepherd sculpted in Bronze and which now sits proudly in the Sea Things gallery.
Image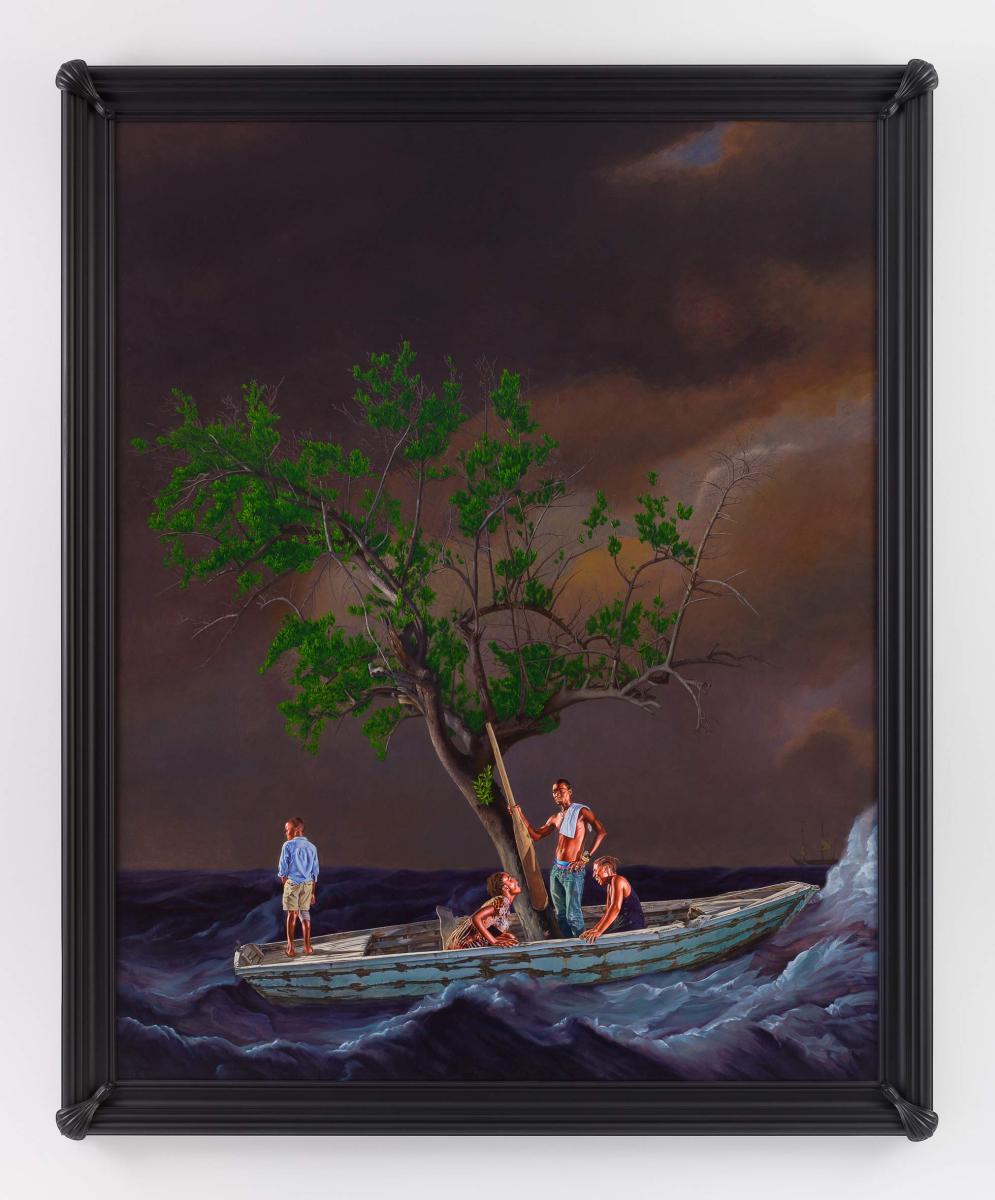 Ship of Fools by Kehinde Wiley
Kehinde Wiley's contemporary painting Ship of Fools has commanded attention since arriving at the Queen's House in 2018. 
The work is on display in the King's Presence Chamber, providing a deliberate contrast to the more traditional artworks found in the Queen's House collection.
Wiley's painting re-interprets and reimagines the traditions of seascape painting, exploring themes such as migration, dangerous sea crossings and the legacies of the transatlantic slave trade.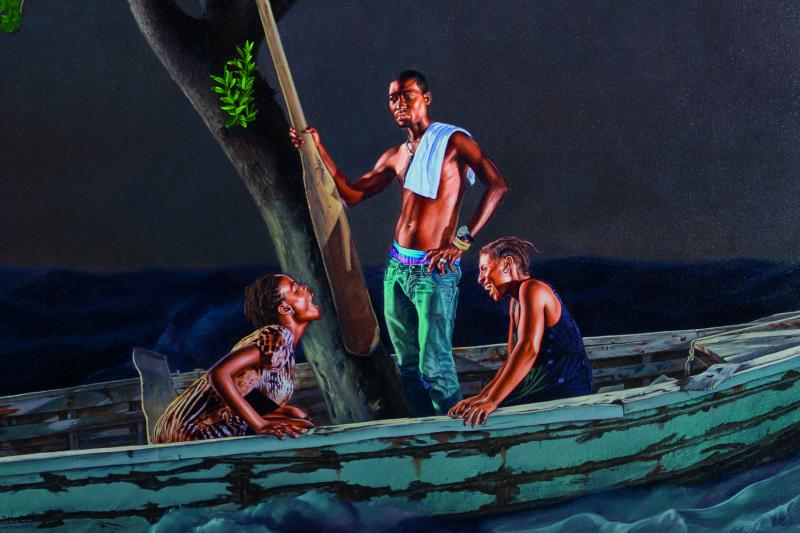 Find out about the events taking place at Royal Museums Greenwich to mark Refugee Week, based around this year's theme 'Healing'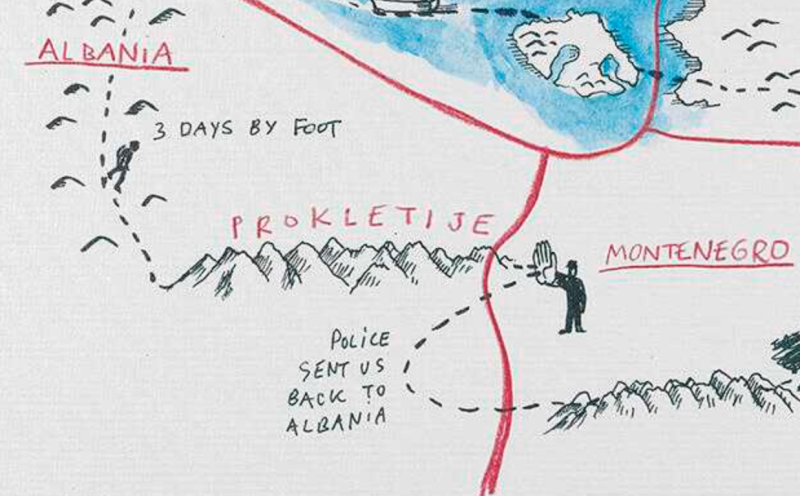 A series of maps by artist Djordje Balmazovic were recently acquired by Royal Museums Greenwich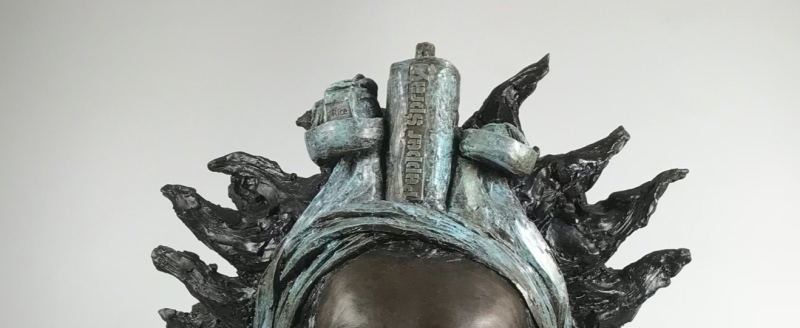 Artist Eve Shepherd looks back on the creation of a new sculpture for the National Maritime Museum, made in collaboration with Action for Refugees Lewisham.