See the winners of the 2017's Insight Investment Astronomy Photographer of the Year 'Aurorae' category.
The complex and ever-changing appearance of aurorae is the result of many different factors. As the air thins at higher altitudes, the blue glow of nitrogen gives way to the green and then red of oxygen, leading to a delicate gradation of colour. The shifting lines of the Earth's magnetic field can shape this glowing gas into rippling curtains, elongated rays or featureless clouds that morph and change before our eyes.
There are still many aspects of auroral behaviour that are not well understood, so there is always the chance of capturing a rare type of display and perhaps even helping to advance the cause of science. Whether we ever fully unravel the mysteries of auroral physics, this spellbinding phenomenon is unlikely to lose its grip on our imaginations, as the astonishing photographs in this category clearly show.
Aurorae winner
Ghost World 
Mikkel Beiter (Denmark)
Stokksnes, Iceland, 5 October 2016
"During October last year I visited Stokksnes on the south coast of Iceland. The goal for the night was to catch the stunning Aurora Borealis – and this is the result! Where I was standing, the waves from the sea slowly rolled up on the long beach making the sand wet – great for catching some reflections. Suddenly, clouds emerged from the nearby mountains and floated across the sea as the Aurora Borealis started to explode powerfully. All this together created a real ghostly scene!"

Mikkel Beiter (category winner)
Equipment used: Canon EOS 5D Mark III camera, 24 mm f/2.0 lens, ISO 1600,6-second exposure
"What I liked about this image was the fact that it produced a personal reaction. In terms of the aurora, the image is unusual and a brave entry because it doesn't actually show a lot of auroral detail. However, the aurora's eerie green glow through the clouds, bending back towards an enigmatic misty shoreline, works on so many levels. Ghost World has definite presence and is a deserved winner." 

Pete Lawrence, judge 
Runner up
In Autumn Dance
Kamil Nureev (Russia)
Noviy Urengoy, Russia, 28 September 2016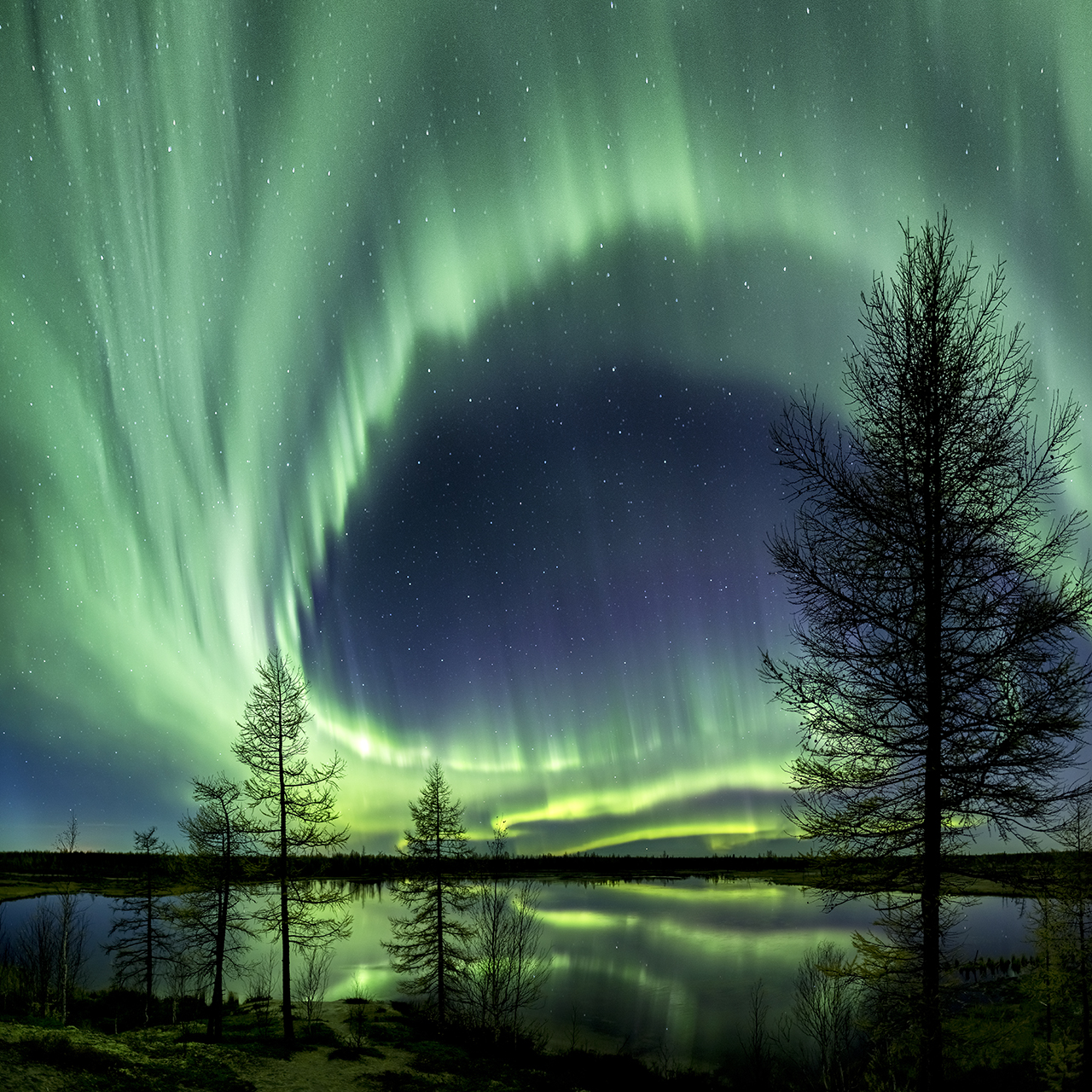 This is a panoramic photo of polar light over the Siberian forest-tundra. The photo consists of eight vertical scenes shot on a lens with a fixed focal length of 2/ mm. Over the course of shooting, every second was precious as the polar light was very dynamic and I had to move as fast as possible to authentically capture the scene. As a result, I managed to take the picture at very high resolution. The polar shine silhouette reminds me of the mathematical 'golden ratio'.

Kamil Nureev (runner-up)
Equipement used: Canon 5D Mark III camera, 24 mm f/2.0 lens, ISO 2000, 4-second exposure
"The detail within the dancing auroral rays in this shot is superb. I love the way the glowing swirl of green draws your eye around the image and the sharp contrast between the crisp, silhouetted, trees and the soft light of the Northern Lights" 

Will Gater, judge
Highly commended
Aurora shot from a Plane 
Ziyi Ye (China)
Novosbirsk, Russia, 24 August 2016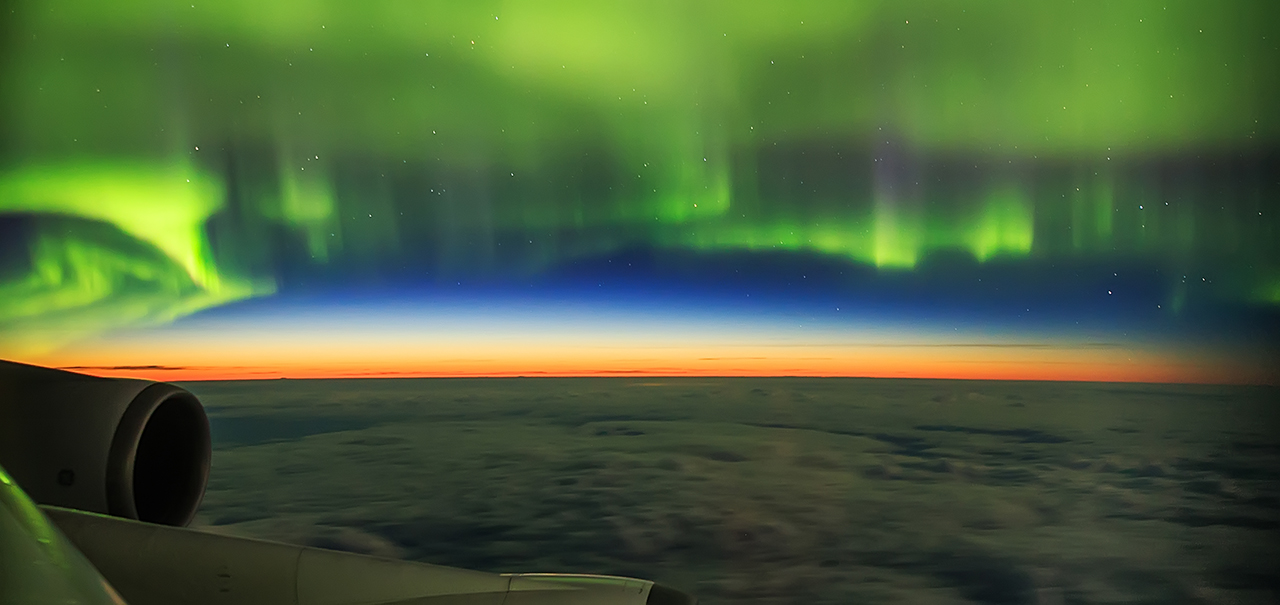 I was expecting an auroral outburst that day during my flight from Amsterdam to Beijing, so I paid for the seat that was best for observing. This was also a white night (a period around the summer solstice when the sun hardly sets) so twilight was visible on the horizon. The crew gave me some blankets to cover the entire window and block out light from the cabin. I was amazed to see the aurora and twilight from quite an unusual perspective.

Ziyi Ye (highly commended)
Equipement used: Canon EOS 6D camera, 20 mm f/1.8 lens, ISO 2000, 3-second exposure
"Photographing the aurora from a plane is not easy. The internal cabin lights cause many issues, as does the motion of the plane through the air. This shot freezes the action, giving us a beautiful composition of light and colour. Catching the twilight arc is a real bonus and creates an almost jarring effect as its familiar colours meet up with the green hues of the aurora."

Pete Lawrence, judge