See the 'Galaxies' category winners of the Insight Investment Astronomy Photographer of the Year 2017 competition.
The grand scale of the Universe might seem unimaginable, but we can begin to appreciate its size when we look at the range of galaxies within it.
Galaxies are some of the most complex targets to photograph, often requiring hours of exposure followed by processing and editing to bring out the beautiful colours of the stars and the gas and dust surrounding them. The fact that in some of these photos we can distinguish individual stars in the galaxies' spiral arms and discs is a real testament to the photographers' skill and technical ability.
Galaxies winner
M63: Star Streams and the Sunflower Galaxy
Oleg Bryzgalov (Ukraine)
Rozhen Observatory, Smolyan Province, Bulgaria, 6 April 2016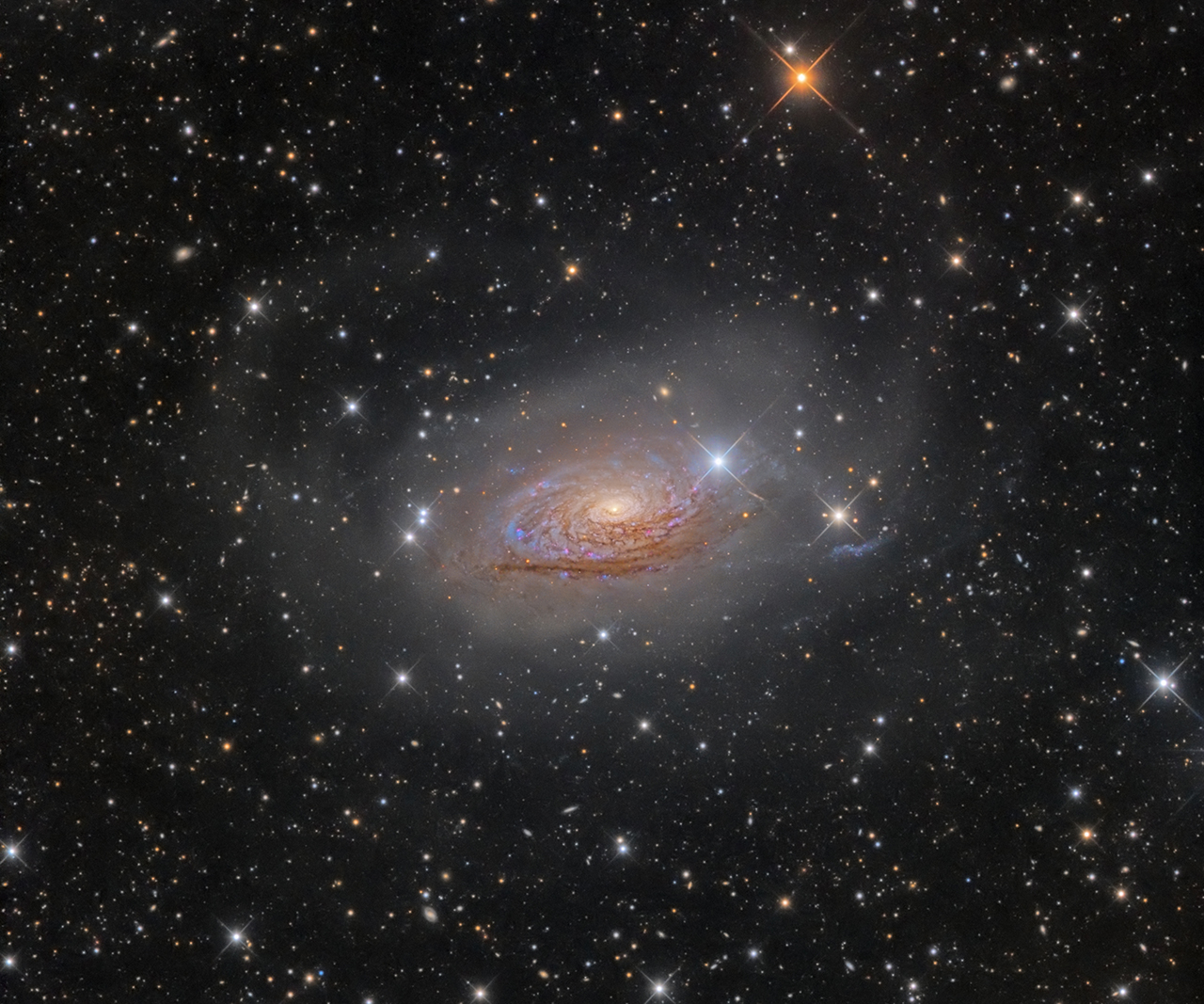 "A bright spiral galaxy, Messier 63 looks like a star necklace in which the stars have crashed outwards from the galaxy's centre, producing this fantastic long train. For a long time I've been hunting for the ghostly star arcs of the Sunflower galaxy, but failed. This time I decided to take my astrograph and go to one of the darkest places in Europe – to the Rozhen Observatory in the Rhodopes Mountains, Bulgaria. Despite a warm winter and an early spring, there were snow drifts more than one metre high, and it took a lot of effort to break through them, but I managed, and finally it paid off – the sky in Rozhen was unbelievably dark and crystal clear. You can see the result!"

Oleg Bryzgalov, category winner
Equipment used:10-inch f/3.8 homemade reflector telescope at f/4.4, Whiteswan 180 mount, QSI 583wsg camera, 22-hour total exposure
"There's so much incredible detail to see in this image, it's difficult to know where to start. The dust lanes and glowing pink star-forming regions of M63's disc are beautifully defined, and the faint streams of stars swirling around the galaxy are just extraordinary. That's before you start to explore the background field and the myriad distant galaxies lurking there. A remarkable feat of astro-imaging!" 

Will Gater, judge
Runner-up
NGC 7331 – The Deer Lick Group
Bernard Miller (USA)
Animas, New Mexico, USA, 30 October 2016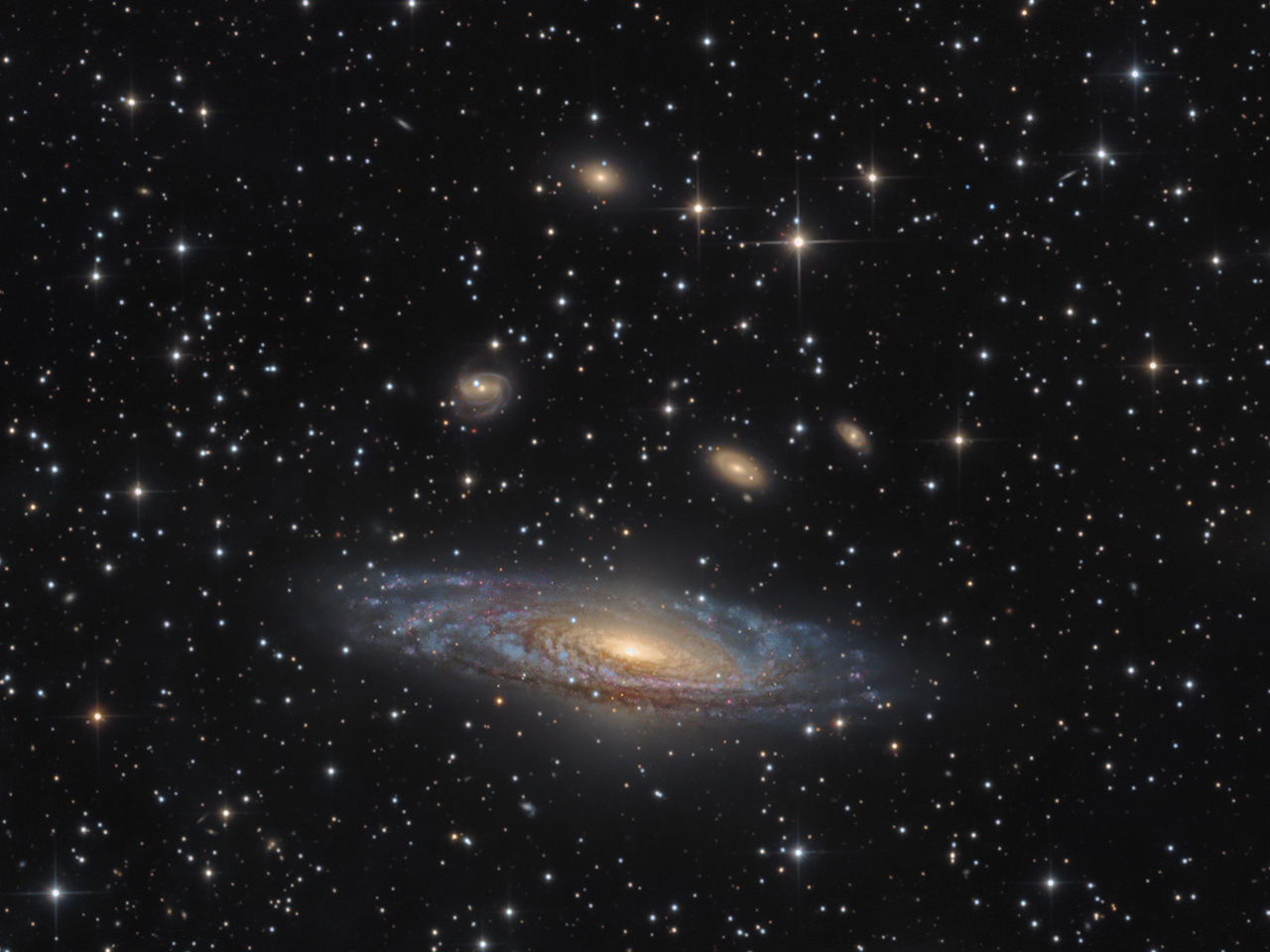 This is an image of NGC 7331. It is an unbarred spiral galaxy about 40 million light years away in the constellation Pegasus. NGC 7331 is the largest galaxy in the group of galaxies known as the Deer Lick Group, with smaller galaxies NGC 7335, NGC 7336, NGC 7337, NGC 7338 and NGC 7340 above. To me, it looks like a mother ship launching its fighter drones.

Bernard Miller, runner-up
Equipment used: PlaneWave CDK-17 17-inch reflector telescope at f/6.8, Paramount ME mount, Apogee CG16M camera, 18-hour total exposure
"There's an exuberant feeling to this scene, in which tiny galaxies appear to hover above their much larger sibling. In reality of course they're no smaller than NGC 7331, just ten times further away from us."

Marek Kukula, judge
Highly Commended
NGC 4565 – Needle Galaxy
Andriy Borovkov (Ukraine)
Elmshorn, Pinneberg, Schleswig-Holstein, Germany, 14 March 2016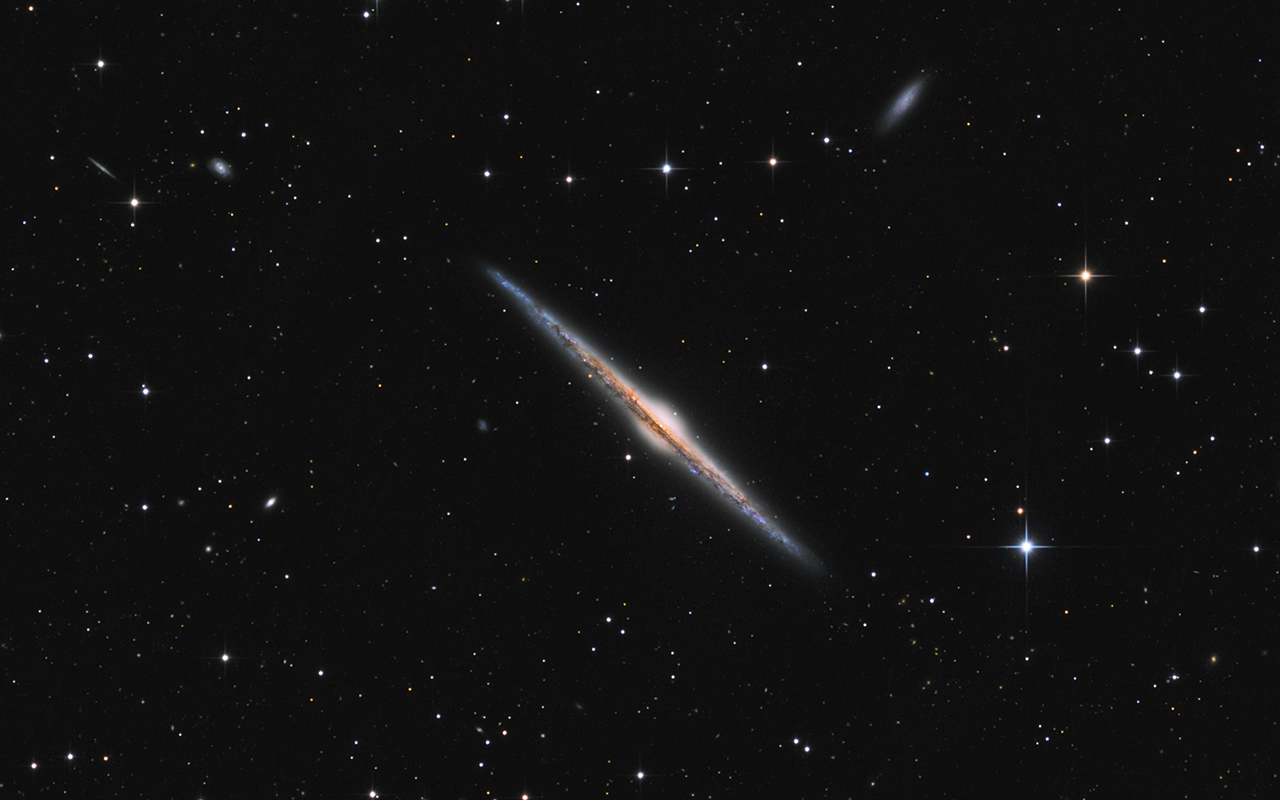 Galaxies are rather ungrateful objects to shoot in city conditions. While the centre region can be shot without many obstacles, it takes a huge amount of work to show the side arms and periphery properly. Luckily there are some galaxies that are oriented quite neatly for photographers like me. I began collecting the data for this image of the Needle galaxy in February 2016. I managed to get an hour of clear sky but unfortunately the major part of it was taken in March in rather unlucky conditions. But since we look at this galaxy from the side the spiral arms are in a ray and, even with the cloudy night sky, I was left with something I am comfortable with sharing.

Andriy Borovkov, highly commended
Equipment used: UNC 30512 300 mm f/4 reflector telescope, Sky-Watcher EQ8 mount, Moravian Instruments G2-8300 mono camera, 9.6-hour total exposure
"This is another favourite galaxy for astrophotographers to image. This one is particularly striking because of the well-balanced colour and beautiful detail in the central dust lane running the whole length of the galaxy. There's a lot going on in this image too, as closer inspection will reveal a number of other distant galaxies, separate from NGC 4565, scattered across the frame. This is a truly lovely shot of an object which lies in the constellation of Coma Berenices, around 40 million light years away."

Pete Lawrence, Judge