See the "People and Space" category winners of the Insight Investment Astronomy Photographer of the Year 2017 competition.
Since our ancestors first adorned the walls of prehistoric caves with art, human beings have been representing the cosmos and their place within it. Over millennia, artists have brought people and space together, whether to convey the awe-inspiring scale of the heavens, to show man made and celestial light side-by-side, or to give a humorous take on astronomers' obsessive sweeping of the night-sky.
These scenes reveal the emotive effect of the glittering spectacle above our heads. But just as affecting are those contrasting the movement of people and the movement of our planet, shown in the relationship between city and celestial lights.
People and Space winner
Wanderer in Patagonia
Yuri Zvezdny (Russia)
El Chaltén, Santa Cruz Province, Argentina, 27 September 2016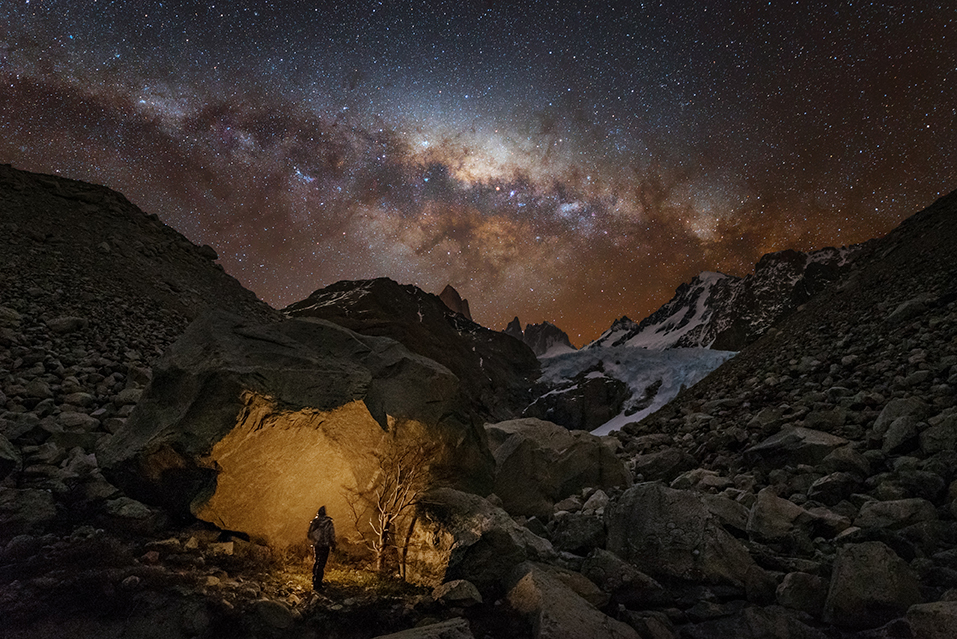 A starry sky over the glacier 'White Stones' (Piedras Blancas) in the Los Glaciares National Park, Argentina. Alone in the darkness, I made my way over huge rocks with the mountain river roaring under my feet and the glacier rumbling nearby. This place lives and breathes, and the forces that live here inspire awe. 

Yuri Zvezdny, category winner
Equipment used: iOptron Sky-Tracker mount, Sony A7S camera, 18 mm f/2.8 lens, ISO 5000, 30-second exposure
"There's a lovely warm tonal feel to this amazing photograph, despite the glacier in the distance. The foreground gives a wonderful feeling of serenity against the majesty of the Milky Way's core in the sky above. Tastefully shot, the scene is humbling, placing man against one of the most awesome of nature's backdrops."

Pete Lawrence, judge
Runner-up
The Cable Route of Half Dome at Night 
 Kurt Lawson and Sean Goebel (USA)
Yosemite National Park, California, USA, 29 August 2016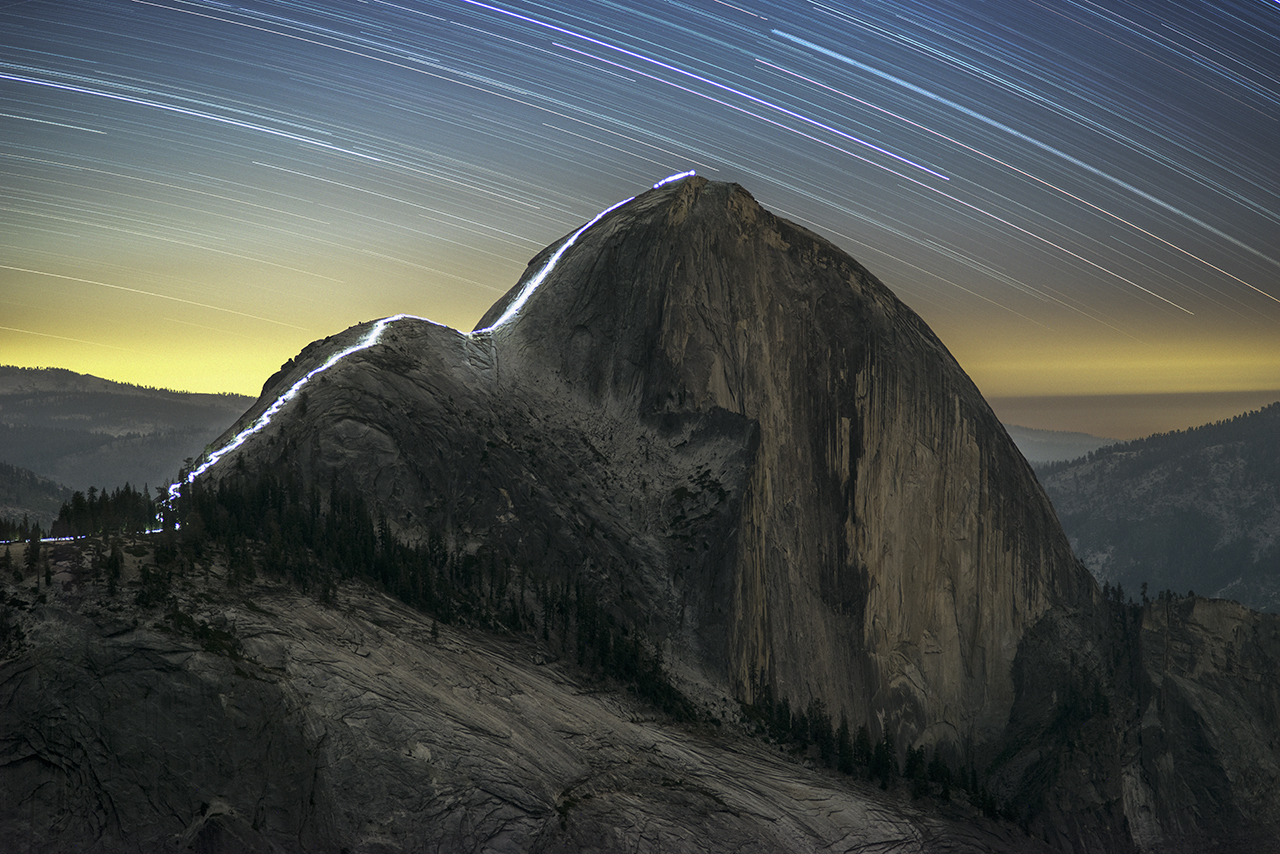 "Sean Goebel and I embarked on a mission to shoot a night hike up the Cable Route of Yosemite's incredible Half Dome. This entailed hiking some 110 lbs (50 kg) of gear and water between the two of us to the summit of Mount Watkins, a sculpted rocky summit northeast of Half Dome on the other side of Tenaya Canyon. From Mount Watkins, we set up our cameras for time- lapse and stills while our friend, Wade Meade, made the ascent from Yosemite Valley to the summit, lighting the trail with a small lantern and some bright headlamps. Luck prevailed as we had nearly clear skies to capture the movement of the stars above this incredible landscape and Wade had no trouble reaching the summit at night. Hundreds of people hike this famous route each year to reach the iconic summit, and shooting it at night allowed us to capture the path up Yosemite's famous granite icon. 8 x 8 minute exposures were stacked in Photoshop for a total exposure of 64 minutes right as the Milky Way passed over the summit."

Kurt Lawson, runner-up
Equipment used: Sony α7R camera, 100 mm f/2.8 lens, ISO 500, 64-minute exposure
"This picture places people in a truly awesome context. Firstly against the immense and iconic grandeur of the granite Half Dome they're ascending, head-torches illuminating the way, and then on an even grander scale against night sky and the movement of the planet through the cosmos."

Chris Bramley, judge
Highly Commended
Interstellar Travel
Fu Dingyan (China)
Réunion Island, France, 3 September 2016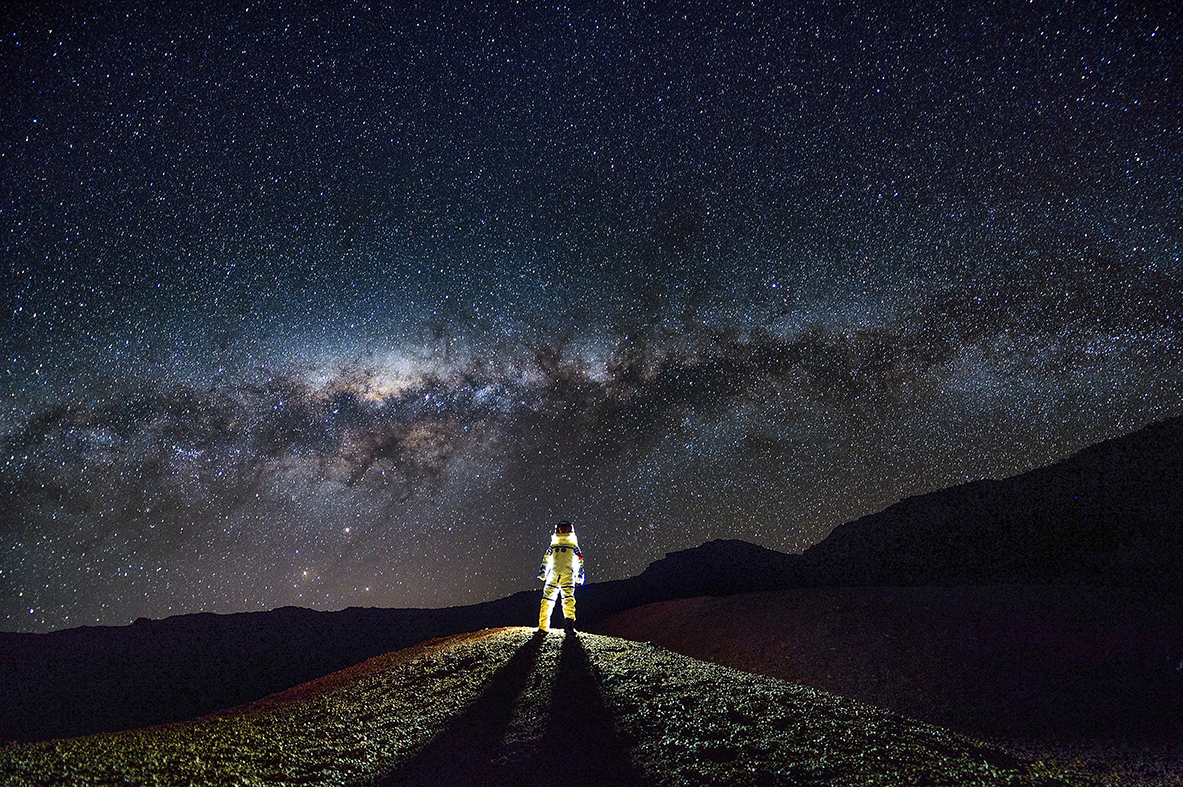 If you want to have the feeling of travelling in space, just go outside, far away from city light. Here is the view from Réunion Island, located off the coast of Madagascar. Dressed in a spacesuit, standing under the southern Milky Way and the Large and Small Magellanic Clouds, it seems like I'm an interstellar traveller.

Fu Dingyan, highly commended
Equipment used: Nikon D4S camera, 14-24 mm lens at 14 mm f/2.8, ISO 500, 30-second exposure
"There's a tremendous sense of playful anticipation in this image, but it's also very cleverly done. I love the way the Milky Way seems to hang above the horizon – all those billions of new worlds waiting to be explored!" 

Marek Kukula, judge