See the winners of the 'Special Prizes' category of the Insight Investment Astronomy Photographer of the Year 2017 competition. 
Special Prizes
Photographing the night sky is not always simply a case of 'take camera, point and shoot'. The photographer's choice of what to include in their perfect shot is just as important.
This category is not limited by subject matter, and represents an explosion of topics that have captured the photographers' imaginations. This year's winning entries showcase the variety of technology available to those starting out – whether their intention is to casually dip into the waters of astrophotography or to plunge right in.
Best newcomer winner 
THE CONE NEBULA (NGC 2264)
Jason Green (Gibraltar)
Frenegal de la Sierra, Badajoz, Spain, 10 January 2017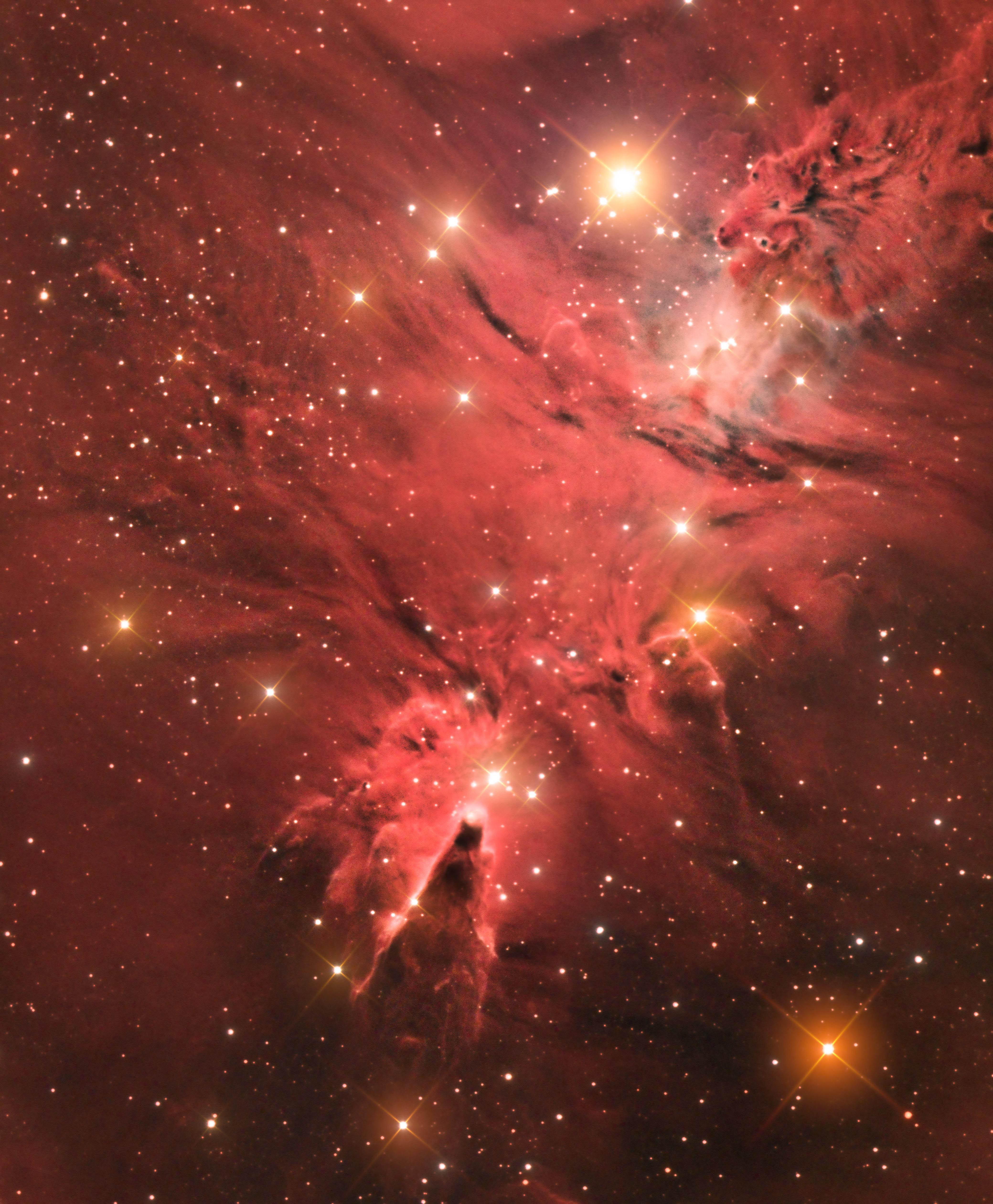 "This is one of the first images I submitted this year and I feel confident that it is one of the best photographs I have taken. The image shows objects located in the Monoceros constellation, which are located about 2,600 light years from Earth. The image consists of 20 x 10-minute exposures per filter and is an integration of LRGB (luminance, red, green and blue) and H-Alpha (hydrogen-alpha) filters. The image is calibrated with flat frames and bias frames, aligned and combined to produce one integrated full colour image. I used PixInsight and Photoshop to process this image, which was a first for me, and I am very happy with the result." 

Jason Green, best newcomer winner
Equipment used: William Optics 132 mm f/5.6 apochromatic refractor telescope, Celestron CGE Pro mount, QSI 660WSG8 Mono CCD camera, 162/3-hour total exposure
This image of the Cone Nebula was carefully processed to form an individual interpretation of this vibrant region of our galaxy. Like most images of deep-sky objects, this was captured using a variety of filters attached to the camera and telescope setup to pick up light from specific elements, including hydrogen – which in this image provides a vibrant red- pink glow. For a newcomer, this astrophotographer has layered the image with fantastic processing details, such as artificially adding spikes to the stars. This is a nice 'cherry on the top' for the final composition, as the optics of the telescope lens used don't naturally produce this effect.
 "A marvellous image worth all the meticulous time and effort that went into creating it, showing the Cone Nebula in all its smoldering, deep-red beauty. Best newcomer, welcome aboard!" 

Jon Culshaw, judge 
Robotic Scope winner
Even today astronomers are at the mercy of their location as frequently as they are at the limitations of their equipment. Developed by the professional astronomy community, robotic scopes now allow anyone around to world to request time to capture images and data that interests them.
Despite the benefits robotic scopes undoubtedly provide, the skills of the astrophotographer are still as necessary as they were before. Careful planning is vital to make the best use of booked observation time, and the captured data requires just as much deliberation and processing to create the magnificent entries in this category.
Encounter of Comet and Planetary Nebula
Gerald Rhemann (Austria)
Tivoli Farm, Khomas, Namibia, 5 June 2016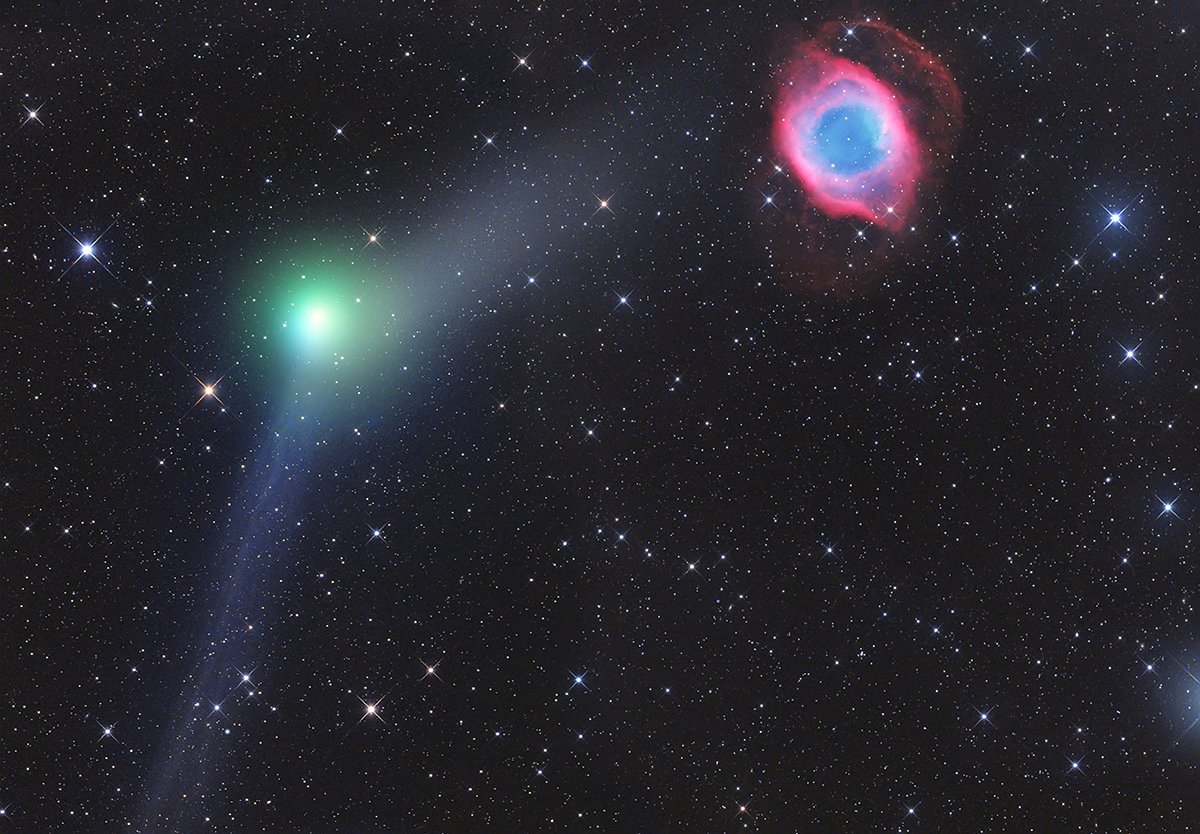 At an observatory on Tivoli Farm in Namibia, I installed a mount and telescope with a friend of mine. This observatory is fully remote-controlled and frequently maintained during our visits. I had already created many comet images remotely using this setup and this mosaic was also taken with it. The image shows the encounter of comet C 2013X1 Panstarrs with NGC 7293, the Helix Nebula, on 5 June 2016. This is a mosaic image of two panels. The contrast between comet and planetary is very exciting.

Gerald Rhemann, Robotic Scope winner
Equipment used: Astrograph 12-inch N 300 mm f/3.6 reflector telescope, ASA DDM 85 mount, FLI Microline ML 16200 camera, 94-minute total exposure
This juxtaposition perfectly captures the delicate and vivid beauty of both objects while still allowing each to shine in its own right. The Helix Nebula is a planetary nebula, which is formed when a dying star puffs off its outer layers. Although it is a very dynamic region in space, over the course of a human life we might detect little or no change in it at all. In contrast, comets moving through space can change rapidly over days and weeks, with some breaking up and not even surviving their trip around the Sun. 
"A real contrast of colours here as comet C/2013 X1 PanSTARRS passes the Helix Planetary Nebula in Aquarius. Great skill is required to capture and render moving comets in long-exposure images and this has been shown to excellent effect here. Lots of intricate detail in the comet's thin plasma tail can be seen heading towards the lower left of the image. There's also tremendous detail in the Helix itself, with the outer halo clearly visible."

Pete Lawrence, judge