This year's Insight Astronomy Photographer of the Year competition is bigger then ever before with a host of new prizes. We'll spend the next few weeks introducing you to each category before the winners are announced on 17 September. 
'Aurora panorama 3' by Jan R Olsen
Aurorae Auroral activity is the focus of this category, a subject that we see portrayed so beautifully each year in the competition. The 2015 Insight Astronomy Photographer of the Year competition was no exception, with entrants submitting 302 images portraying a vast array of stunning compositions. Aurorae are a popular subject among astrophotographers and this is reflected in the number of images submitted, comprising 11% of the total entries to the competition. Perhaps they were inspired by the overall winner of the 2014 competition, which depicted the Northern Lights reflected in a glacier lagoon in Iceland.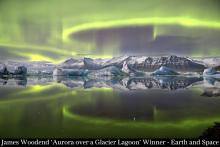 The shortlisted photographs in this category convey the magnificence and the magic of an auroral display, often captured as part of a skyscape image, juxtaposing the landscape with the natural light show above.  Astronomy photographers are in a unique position, being able, with the help of their cameras, to capture all of the detail and colour of auroral activity that our eyes are unable to detect. "These streaks and beams in the sky lend an unreal, magical quality to landscapes and skyscapes, and present the awesome power of our nearest star with the attention and depth of a great impressionist masterpiece. From there it is the task of the photographer to frame and interpret nature's work, and make a beautiful piece of art even lovelier." Tom Kerss, Planetarium Astronomer at the Royal Observatory, Greenwich.