Back in February, Rebecca Reynolds visited Cutty Sark to find out how actors help bring the ship's history to life. She met Andrew Ashmore – also known as Captain Woodget – and got a interesting insight into the world of live interpretation. Read her guest blog for a glimpse behind the scenes at Cutty Sark.
Behind the scenes with Captain Woodget
Guest blog post from writer and Museum Studies tutor Rebecca Reynolds
'That was a really exhilarating day', says Andrew Ashmore, peeling off his captain's uniform. 'We had everything from little kids to old sailors, asking some really interesting questions. There were two older chaps trying to get me out of character but they couldn't, and they enjoyed that; one person came up to me at the end and asked me to sign a book with Captain Woodget's signature!'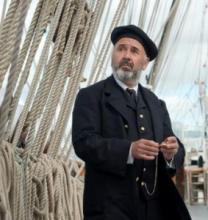 Captain Woodget on board Cutty Sark
I was speaking to Andrew in an office near the ship, after watching him pound the decks in character as Captain Woodget, who skippered the Cutty Sark between 1885 and1895 on trips between the UK and Australia in the ship's glory days at the height of the wool trade. Andrew had given instructions for knocking weevils out of ships' biscuits and fielded questions about how the ship sailed up the Thames and whether crew members wore safety harnesses. He had led a singsong and encouraged children to sign up as apprentices - he told girls they couldn't go to sea, but they then heard the story of Hannah Snell who joined the Royal Navy by pretending to be a man.
'The stories we tell on the Cutty Sark are all true,' he tells me. 'Research is absolutely key - the Cutty Sark here has a vast archive with photos of the ship, the ship's log, apprentices' letters. You work with curators and education staff to decide what the key things are that you want to get across. It's a very exciting time when you are starting on the research and you're absorbing all the new information like blotting paper. And there are always new things - a new document, the new photo, a new letter comes in, a television programme with new pieces of information.'
And the role requires people skills. 'The key thing is to make people feel very comfortable, to bring them into the world of the character, and if you're going to ask them questions at the beginning to keep them really simple, like 'what do you think of the weather today?', or 'how did you get here?', to get them to relax into talking to you, then bring them into the world of the character, for example 'would you feel comfortable climbing that high?', and so forth, to really get them to connect emotionally rather than in an intellectual and abstract way.'
Talking to Andrew gave me an increased respect for the work of live interpreters. I had previously thought of them as taking a few cues and improvising, in order to make history more appealing - mainly, perhaps, to children. But it became clear that live interpreters have to think of creative ways of applying and embodying painstaking research. Part acting, part teaching, part - well, perhaps live interpretation deserves its own unique role in education, as museums themselves do.
A longer version of the interview with Andrew will appear in a book I am currently working on exploring unusual museum objects from around the UK, using interviews with people from inside and outside museums.
Rebecca Reynolds
Twitter: @rebrey
Find out more about what's on at Cutty Sark, including details of Captain Woodget's upcoming performances.