Richard posted back in August about an unprecedented new acquisition initiative being undertaken by Royal Museums Greenwich: two paintings by George Stubbs of The Kongouro from New Holland and Portrait of a Large Dog (Dingo). You'll have to have missed quite a lot of media coverage last week not to have heard that we've been successful in acquiring them. Huge thanks to everyone who donated enabling us to keep these incredibly important paintings in the UK.
As Richard explained, these paintings are interesting for us on the Board of Longitude project because they were commissioned by Sir Joseph Banks on his return from Captain James Cook's first voyage to the South Pacific (1768-1771). So, the skins and skulls from which Stubbs produced his images travelled on the same voyage as some of the first Nautical Almanacs that Cook and his crew used to such good effect in testing the lunar distance method.
The acquisition has come at a particularly exciting time for me as I have just joined the museum full-time as the Curator of Art, pre-1800. This means that the kangaroo and dingo come under my care! Alongside many other plans for our newest arrivals, there's going to be an 'Art and Science of Exploration' display in the Queen's House to go alongside the Longitude exhibition. We're going to put the Stubbs with art from other key voyages of exploration to Australia: paintings by William Hodges from Cook's second voyage (1772-1775), by John Webber from his third voyage (1776-1779), and by William Westall from the voyage led by Matthew Flinders (1801-1805). We're also looking at borrowing some of Sydney Parkinson's drawings of botanical specimens made for Joseph Banks. These would have sat in Banks' Soho Square house alongside the Kangaroo and Dingo, and alongside the Nathaniel Dance portrait of Cook which is also in our collections.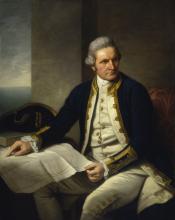 Captain James Cook, 1728-79, by Nathaniel Dance (1775-76)
So, the kangaroo has hopped into Greenwich at precisely the same time as me. It's an exciting time for both of us!