7 May marks the 100 year anniversary of the sinking of the Lusitania. Today's guest blog is by historian and author Diana Preston who has been researching the event. She'll be sharing more of her thoughts as part of our Maritime Lecture Series on 14 May.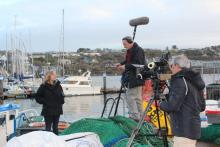 Diana filming in Kinsale where where some of the dead were landed and the first inquest into the Lusitania was held
It was a perfect late spring day – soft warm air, blue sky. The sea lapping the beach in County Cork looked benign, inviting even. 'Go on, wade in', my husband said. 'You need to know how it feels.' He was right. Until that moment, most of our research into sinking of the Cunard liner RMS 'Lusitania' - torpedoed by a German submarine off the coast of southern Ireland - had been in libraries and archives. I'd read harrowing accounts by survivors of how at 2.10 pm on 7 May 1915 - a day just as balmy as our own - the 30,000 ton ship was attacked; how she'd sunk in eighteen minutes; how 1198 people died. Yet, though I thought I'd understood the horror it wasn't until this moment on the beach that I appreciated even the very smallest part of what it must have felt like.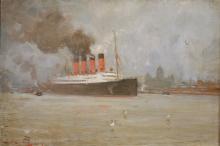 The steamship Lusitania in the Mersey, November 1907
At around 11 degrees C, (52 degrees F), the sea temperature was pretty similar to the day the Lusitania went down. Within five minutes I was shivering, within ten starting to feel numb and within fifteen I was back on the beach, thinking about the traumatised people who'd managed to get into a lifeboat or jumped into the sea and grabbed any wreckage they could to cling to. The whole time, they'd been in sight of land. They must have thought help would come quickly. It didn't. It was nearly three hours before the first rescue vessels arrived. For many it was too late.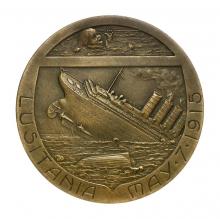 Medal commemorating the sinking of the Lusitania
The Lusitania story remains controversial. People argue about what exactly was in her hold, whether the U-boat captain was entitled to attack her without warning and why she sank so quickly. The sinking was undoubtedly a major factor in bringing the United States into the First World War. All this is important but so too is recalling that the sinking of Lusitania was a great human tragedy. I still remember how cold that water felt …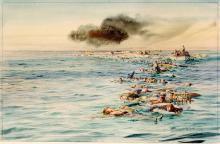 "Track of the Lusitania" painting in our collection
Diana will be talking about the Lusitania and signing copies of her book 'Wilful Murder: The Sinking of the Lusitania' for our Maritime Lecture Series on 14 May. Find out more on our website here.