13 Feb 2017
The Royal Navy has a tradition of selecting warship names that reflect its aggressive ethos, good examples being Victory, Dreadnought and Invincible. However, this is neatly counterbalanced by an equal penchant for other names that range from place names (Nottingham), to flowers (Gladiolus) to the charming (Coquette) with occasional stops for the downright bizarre (Gay Forester).
These names are habitually accompanied by a crest specific to the vessel, a custom which was formalised almost a century ago. Large, robust metal crests were be made to be mounted on ships' superstructures, usually at the level of the bridge.
While not HMS Valentine (yes, the Navy has had three of them!), this particular example is nonetheless appropriate for Valentine's Day. It sports a beautifully painted lovers' knot beneath the name Truelove, and belongs to the fifth and most recent Royal Navy ship to carry that name.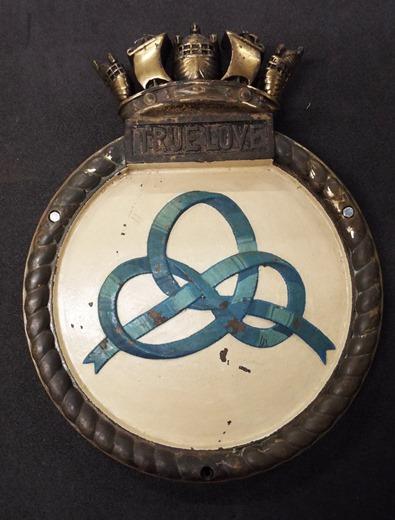 The name was first applied by Parliamentarians to a captured Royalist vessel in 1647 – an unusual choice given the stereotype of the grim, humourless Puritans of popular imagination. The name recurred at intervals for new ships commissioned during the age of sail. It then disappeared until the 1940s, when some cruel individual decided to make life interesting for her crew, who whenever they set foot ashore in uniform would do so with Truelove on their cap tallies.
HMS Truelove was built in Toronto, Canada and launched in 1943. She was an Algerine class minesweeper and like her 79 immediate sisters was built with dated triple expansion engines to simplify construction. With some irony, she was built for the US Navy which was in urgent need of modern minesweepers.
As she neared completion the need had become less urgent and she was transferred to the Royal Navy as part of the Lend Lease agreement. As it is Valentine's Day, one might be tempted to draw a tenuous analogy involving Britain and the United States, which were occasionally depicted as a couple in a relationship by contemporary cartoonists such as David Low… actually, don't give it another thought.
The names assigned to the other ex-US vessels were quite varied, but Truelove appears to have been part of a group which received 'positive' names; the others being Felicity, Friendship, Serene, Welcome and Welfare. Commissioned in 1944, Truelove spent most of her wartime service in the Eastern Mediterranean. Despite participating in dangerous operations, particularly in the Aegean, she survived the war to return to British waters in 1947. In 1950 she was employed in a test of equipment and protective clothing for crew in Arctic conditions, an assignment that must have been very unpleasant for her crew.
Her later service mainly comprised fishery protection duties, in the course of which she was involved in a diplomatic dispute between Britain and the USSR over territorial boundaries. Rather tellingly, her name also came up in a Parliamentary question relating to poor food and uncomfortable accommodation in the late 1950s. She did not long survive this and was sold for scrap in 1957.
The badge of the HMS Truelove will feature in Sea Things, one of the Exploration Wing galleries, opening in 2018. Find out more about the project