Kehinde Wiley's contemporary painting Ship of Fools has commanded attention since arriving at the Queen's House in 2018. 
The work is on display in the King's Presence Chamber, providing a deliberate contrast to the more traditional artworks found in the Queen's House collection.
Wiley's painting re-interprets and reimagines the traditions of seascape painting, exploring themes such as migration, dangerous sea crossings and the legacies of the transatlantic slave trade. 
As part of Refugee Week 2022, Queen's House curator Hannah Lyons met Joseph Ijoyemi, contemporary artist and co-founder of The Collective Makers art group, to explore the painting's rich meanings, references and symbolism.
Watch the full conversation above, and take a closer look at each element of the painting below.
Symbolism in Kehinde Wiley's Ship of Fools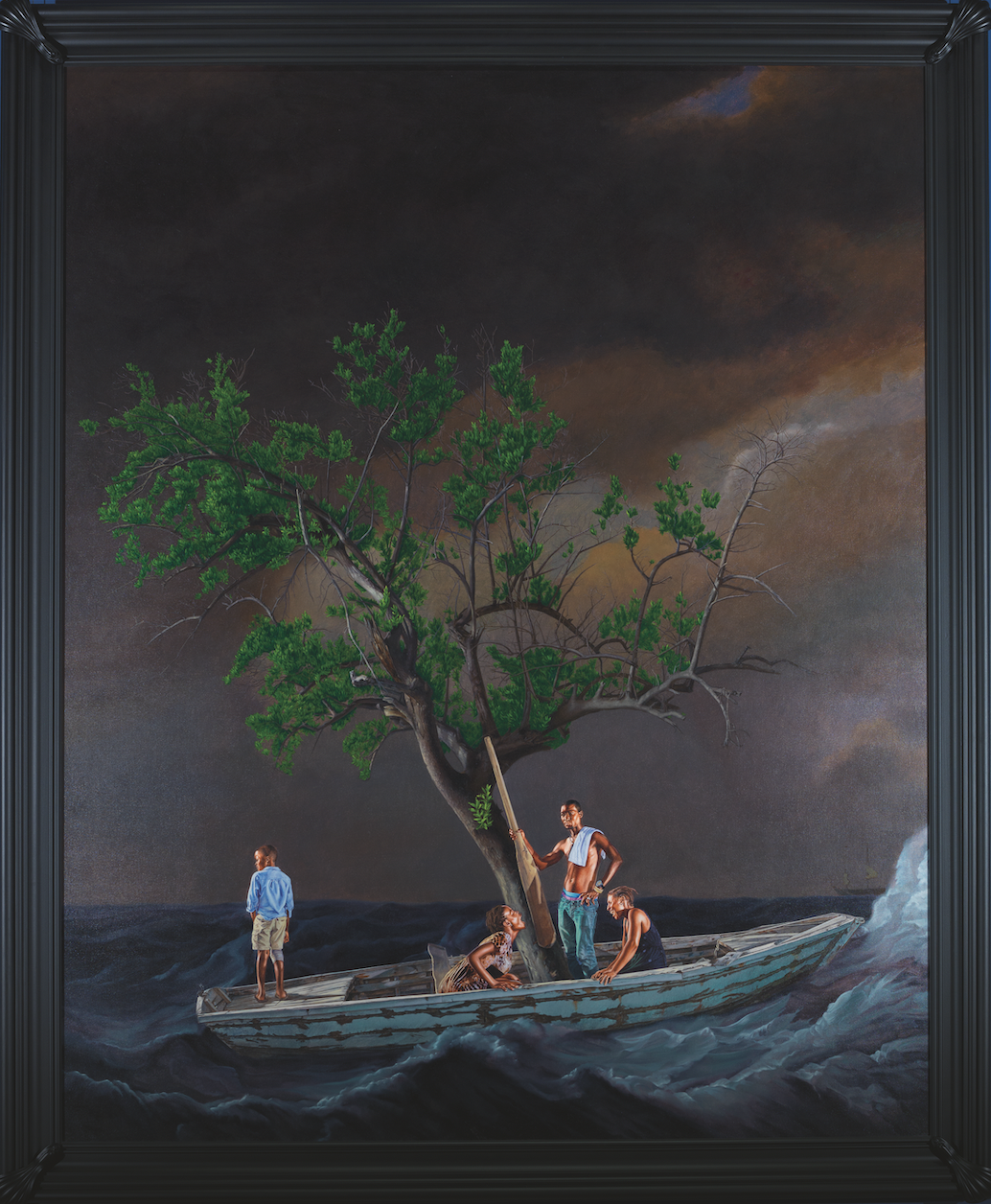 1. The people in the painting
"These are people, in my opinion," Joseph says, "who are looking for a new experience – a new life in the Western world."  
He notes that their faces contain a sense of excitement and determination, but also uncertainty: "They don't know if the boat will even succeed to get to their destination, and so they take risks." 
This is especially pertinent in the light of dangerous and deadly migrant sea crossings, often in small boats, taking place today. 
"The boat is not really fully intact," notes Joseph. The wood is weathered, there is just one oar visible, and the waves threaten to overwhelm the small craft.   
The fact that the people are taking risks in hoping for a better life is something that resonates with Joseph: "For me, personally, I can kind of relate to that. You know, their uncertainty, the uncertainty of, 'Where is my life taking me?'" 
Image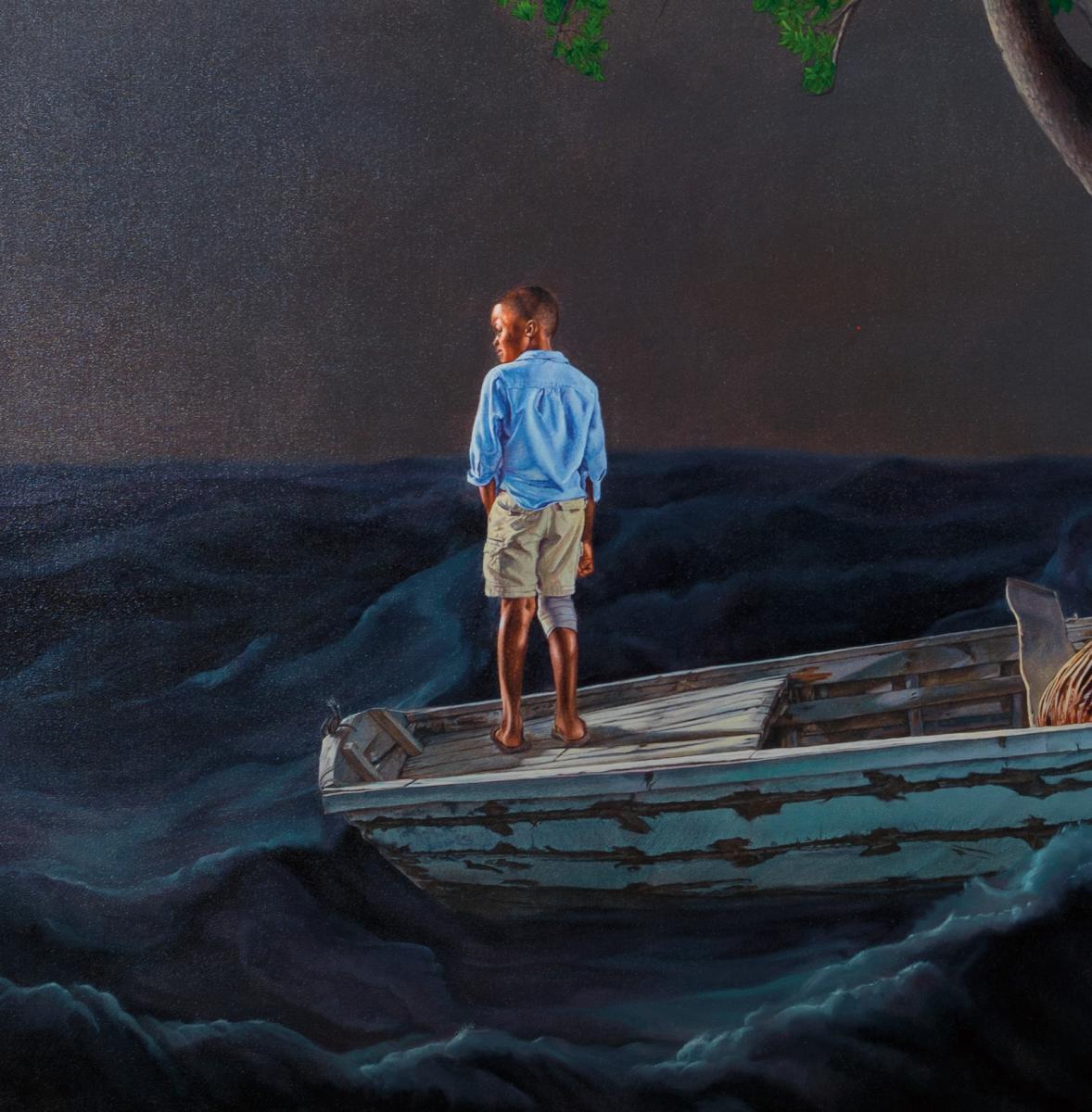 A child stands on the back of the boat, his back to the viewer, head turned towards where the boat has come from.   
"The bandage on his leg alludes to the fact that perhaps he is a refugee, escaping war or famine or humanitarian crisis," Hannah suggests. 
She also picks up on the melancholy nature of the figure: "He's looking back, perhaps at the land that he's left that he might not ever return to." 
Image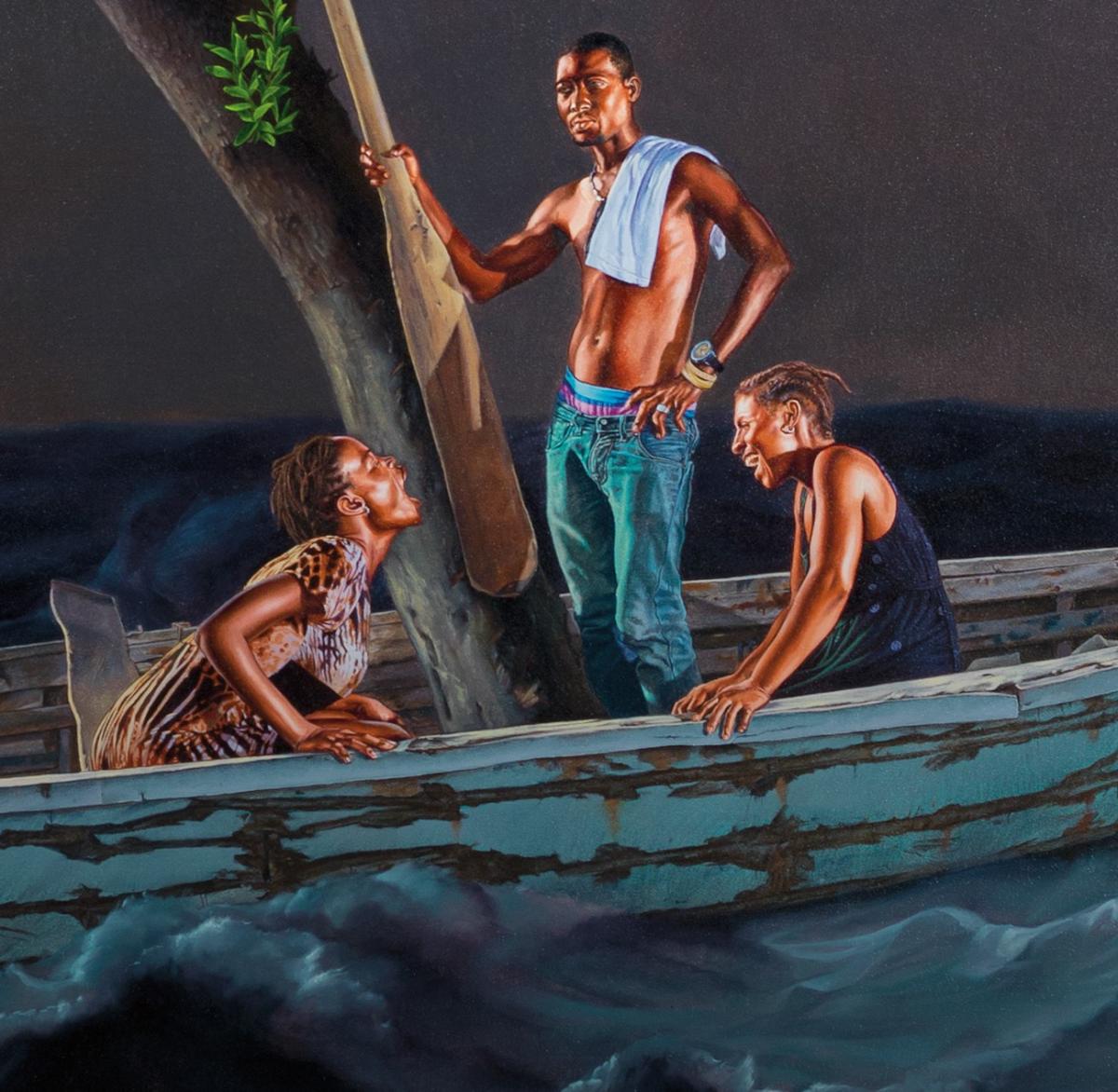 In contrast to the boy looking backwards, Hannah suggests that "there is an element of excitement in the two figures of the two women here". 
Different viewers may have different interpretations of their expressions however. As Hannah says, "I wasn't quite sure whether they were 'hysterical' in a negative way or in an excited way."  
For his part, Joseph interprets it as the latter: "It seems like they have a faith that, 'We're going to get to our destination', and, you know, 'Let's have fun in this journey'." 
Pointing out that they don't seem concerned by the storm raging around them, Joseph says that, to him, "they're hopeful for a new life". 
Image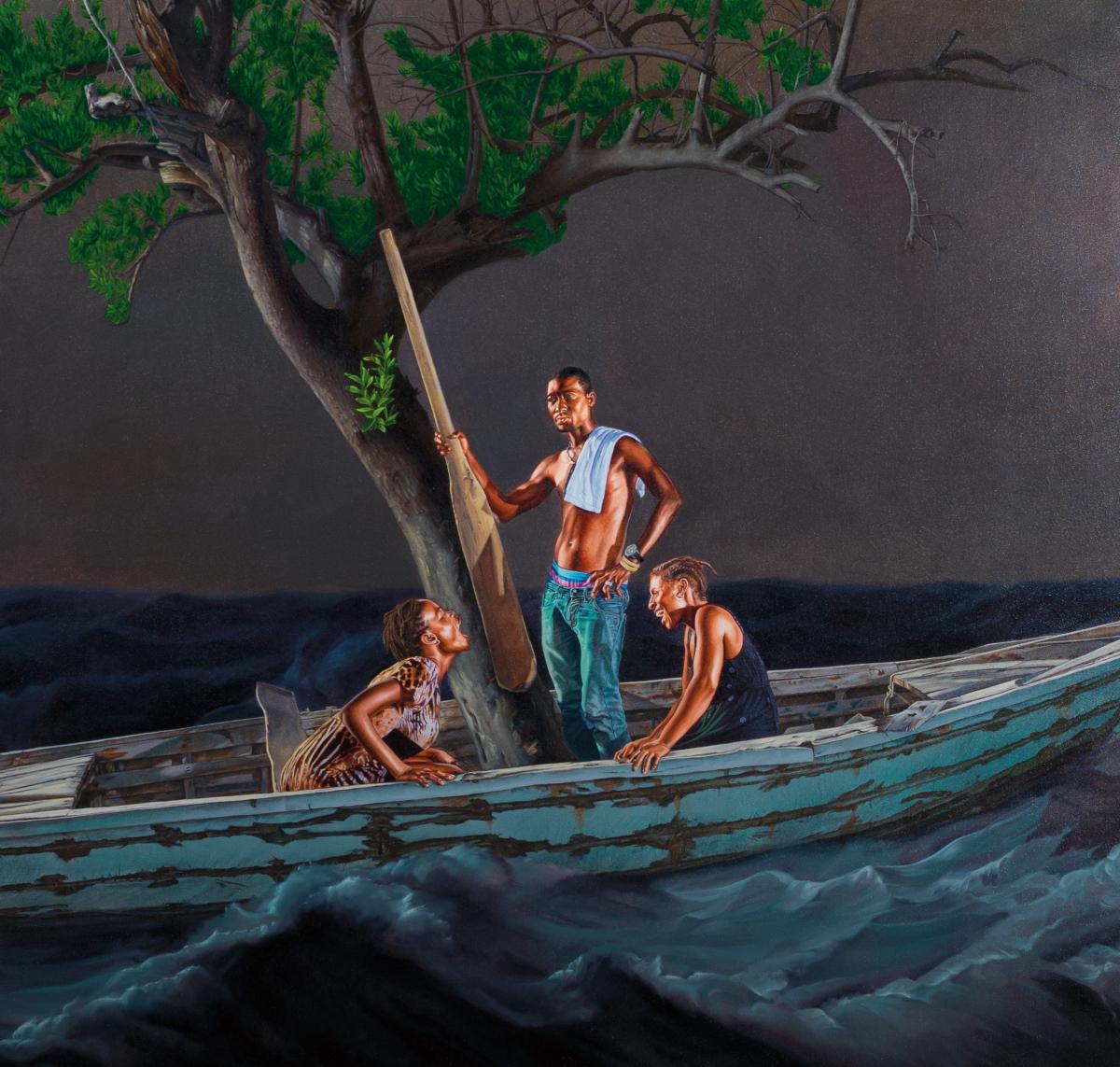 The man standing between them is arguably the most evocative figure on board for Joseph: "When you look at the guy, for me that tells me a lot about young black individuals that live in this world – that we have something that we want to contribute". 
He continues, "He's also in a place of reflecting, you know? 'Will people accept me? Would I be able to be vulnerable? Would I be able to really be open as a black man?'" 
Hannah too is drawn to the "resolute" figure. 
"His face is staring ahead out to the tumultuous sea, which could take their lives at any moment. But there is the possibility of a new life, we think, at the end of this," she says. 
2. The single paddle
Hannah adds that the prominence of the man in the centre of the painting invites the viewer to ask, "How are they going to steer the boat through a storm with just one paddle?" 
The question may be simple, but there are multiple ways of responding to it. 
"It almost feels like he's done what he needed to do already, and it's allowing the boat to steer their destiny," suggests Joseph. 
But Joseph believes that the single paddle could also refer to the particular challenges facing black men and women. 
"I feel like in today's society, as a black person we have to work harder than anyone else in order to get to where we need to get," he says. "We have to work harder compared to others who are privileged to be in a certain place, and that also resonates with me". 
3. The tree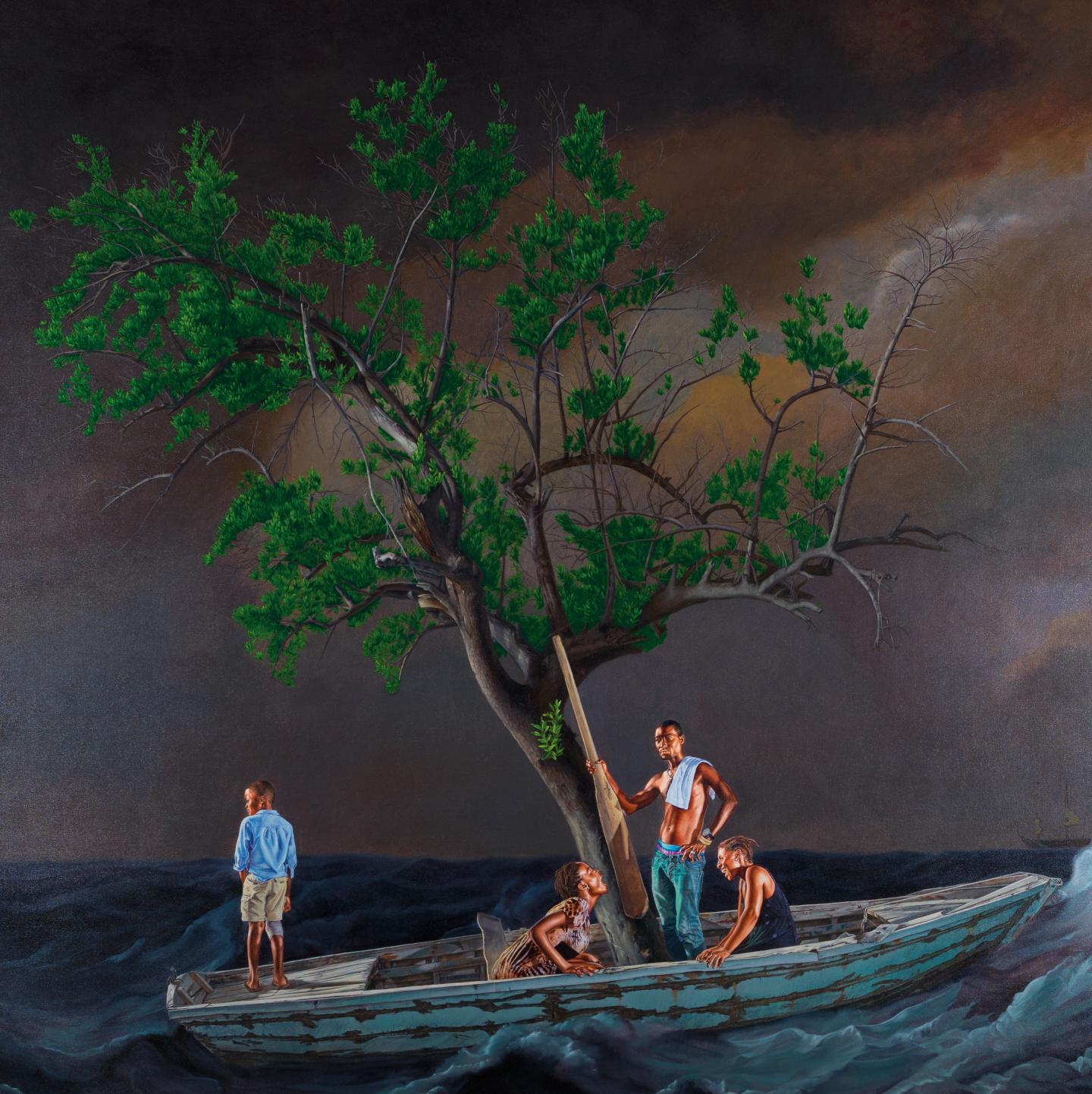 "The tree of life" is how Joseph refers to the central element of the painting: "It's like the tree of life is the main source of their life. That tree needs to be with them." 
But he points out that the tree is "not fully formed", with more greenery on one side compared with the other. 
He also wonders whether the tree could represent the culture of the people in the boat.  
"It's like they're almost bringing their culture to where they need to get to," Joseph says. "If it's not with them, they wouldn't know their identity". 
He compares this to his own experience, and the importance his mother placed on Nigerian culture when he was growing up. 
"At that time I really didn't want to listen, I didn't want to hear about it. But now it's been instilled and sewn into me," he says. "I'm so interested about my culture; I really want to know more." 
Hannah agrees that they appear to be "taking part of their culture, part of their land with them on this tumultuous journey to a new life." 
4. The ship in the background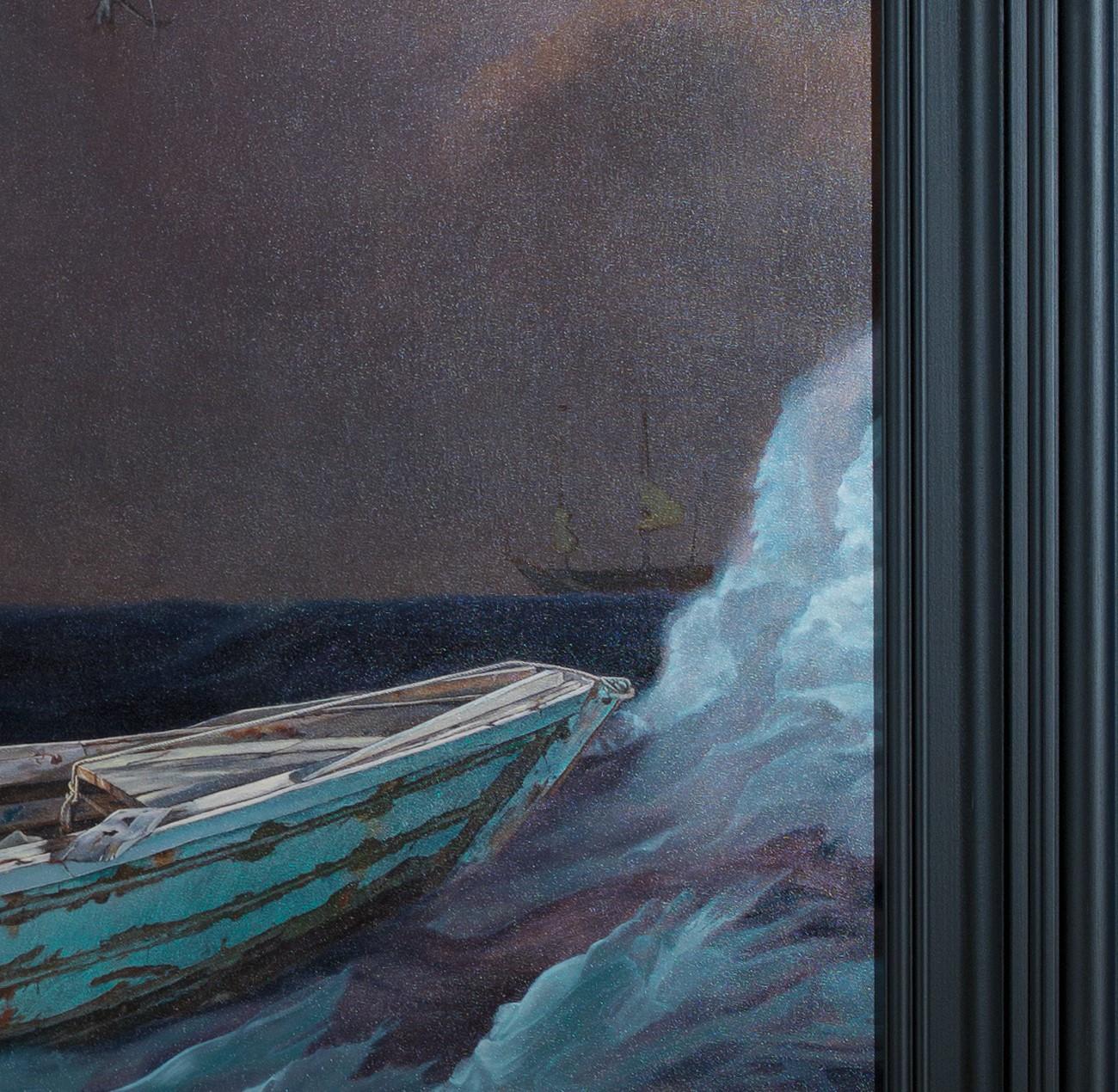 There is a key element in the painting that is easy to miss when looking at the figures in the foreground: a sailing ship, just visible on the horizon, entering the scene from the right hand side of the frame. 
Joseph believes this inconspicuous ship introduces yet another subject key to Ship of Fools: that of the transatlantic slave trade. 
"That's definitely somewhat a slave ship," he says. The ship may be distant, dark and faded, but it still has the power to change the context of the scene. 
"These were the ships that came to Africa to transport enslaved individuals to the Western world," he says. "Let's not forget about this. Let's not forget about what happened to us." 
Hannah agrees: "One can't look at that ship and not think about the transatlantic slave trade, the legacies of that and the legacies of colonialism, which of course impact on the current refugee crisis." 
Art history 'interrupted' – Kehinde Wiley at the Queen's House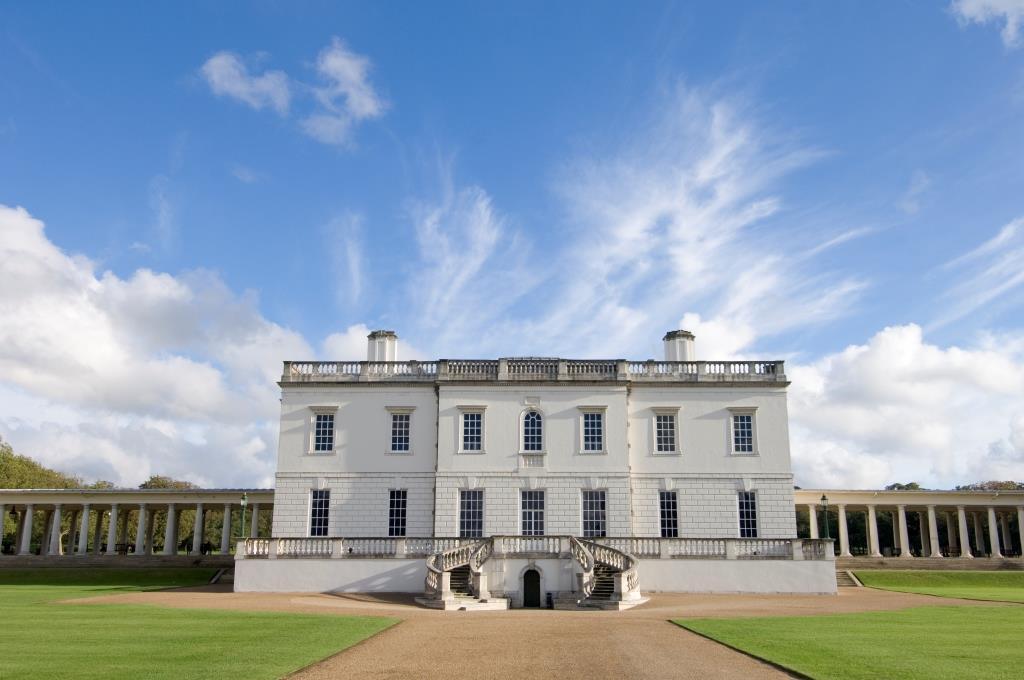 Kehinde Wiley grew up in Los Angeles where, encouraged by his mother, he engaged with the city's wealth of libraries, museums and art galleries. 
As a result, Hannah explains, "So many of his paintings take inspiration from the white artists who have formed the Western canon of painting and portraiture." 
But Wiley's work is not simply taking inspiration from these traditions – he is reimagining them. 
"He used a word which I found really interesting, which was 'interrupts'," explains Hannah. "He likes to embrace the canon and interrupt it." 
Ship of Fools is just one example of this 'interruption'. 
The title itself comes from a painting by Hieronymus Bosch, a 15th century artist from the Netherlands, which itself references a common literary trope stretching back to Plato's Republic. 
Why has Wiley used this title? Joseph's perception is that by replacing white figures with black figures, "he wants us to really understand that there's a change. And what is the change? And what are the things that we need to question?" 
For Hannah, displaying Ship of Fools in the Queen's House allows visitors to experience Wiley's 'interruption' for themselves. 
"We're currently in a room surrounded by portraits of naval officers. We've got Charles I staring at us from across the room, here in direct dialogue with this painting." 
"It's really interesting to have the Kehinde Wiley painting 'interrupting', as Wiley wants his work to do, in a museum such as this." 
Joseph agrees: "I think it's very key. I think this is a pivotal moment in history".  
"This is just the beginning," he adds. "Hopefully there will be more of this on a bigger scale."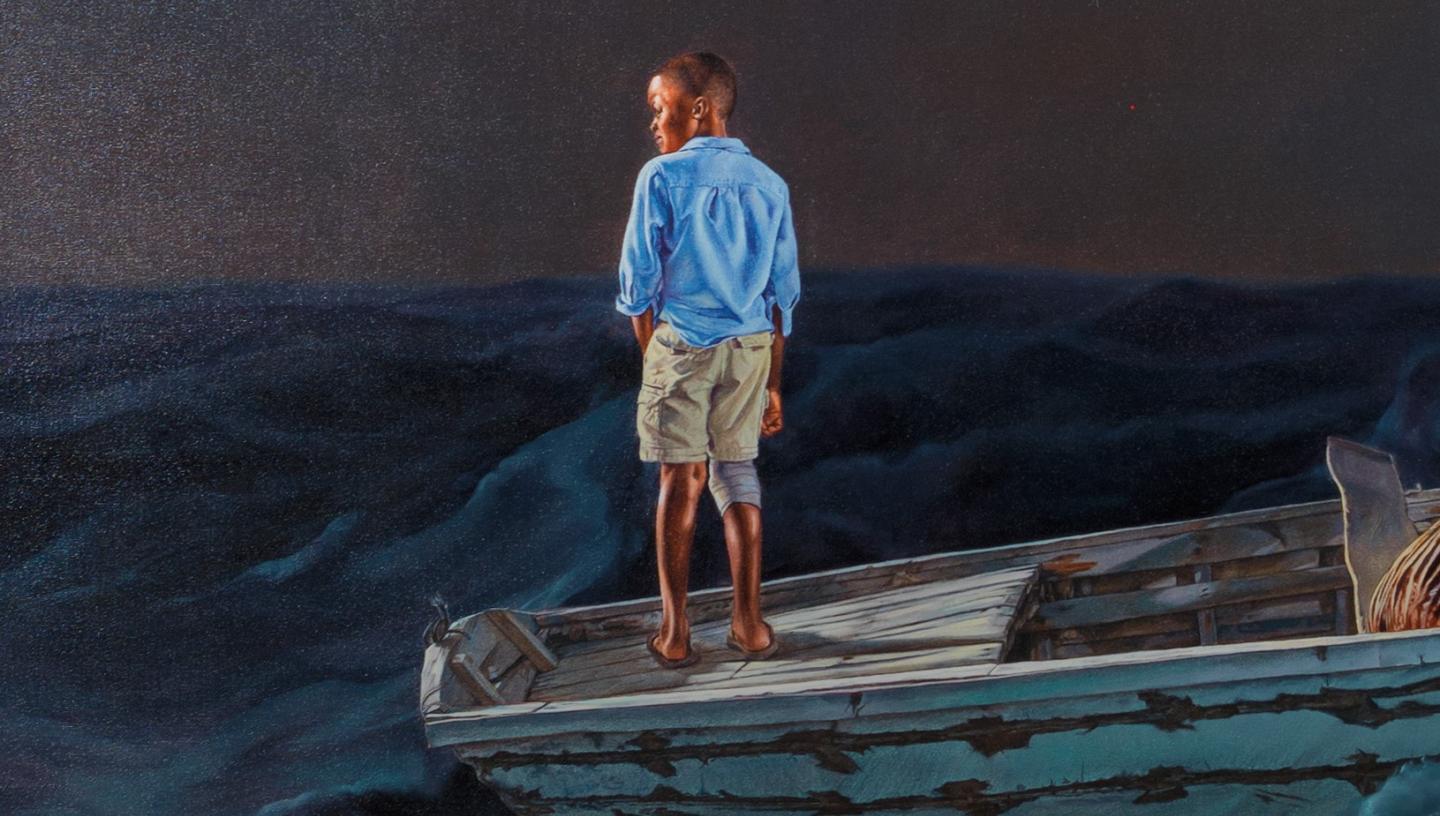 What do you see?
Kehinde Wiley's Ship of Fools is a work rich in meaning. See it for free at the Queen's House in Greenwich