Ticketed
Free for members
Essential Information
| | |
| --- | --- |
| Location | |
| Price | Included with entry to the Royal Observatory |
Discover the story of the Octagon room, commissioned by King Charles II and designed by Sir Christopher Wren
Learn more about the astronomical objects and timepieces on display.
Look out at the view from the high windows at Greenwich Park, the Thames, and beyond. 
Image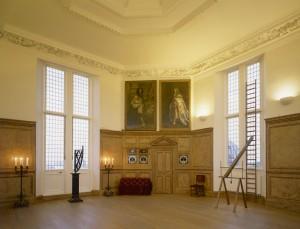 Brilliant design, bad location?
The beautiful Octagon Room at Flamsteed House was created by Christopher Wren as part of his original Royal Observatory design, commissioned by Charles II. It was designed so that the Astronomer Royal could observe celestial events in the night sky. 
For this reason, the room has huge windows – but the positioning of Flamsteed House was not ideal. None of the walls were aligned with a meridian, meaning positional observations were not possible.
However, the Octagon Room remains of historical importance because it is one of the few Christopher Wren-designed interiors that you can see in London today. 
Christopher Wren's two loves of astronomy and architecture were combined when he worked on the Royal Observatory Greenwich.