Price includes climb and entry to ship
Essential Information
| | |
| --- | --- |
| Location | |
| Price | Adult from £41 | Child (10-15) from £26 | Under 25/Student from £31 |
| | Up to 50% off for members. Not a member? Join now |
For the first time since arriving in Greenwich in 1954, visitors to Cutty Sark can climb the famous ship's masts and enjoy views of the Thames and London like no other.
We're partnering with urban adventure company Wire & Sky to bring this unique experience to Greenwich.
Are you ready for the Cutty Sark Rig Climb Experience?
"A thrilling way to experience our maritime history"

BBC London
Image
Going up
Starting with a briefing underneath the ship's beautiful hull, those brave enough to take on the challenge step up from the Main Deck on to the ship's 'ratlines' (rope ladders).
From here you can make your way up into the rigging, just as hundreds of sailors did during Cutty Sark's long and fabled career at sea.
When you reach the 'Tops Platform', take a breath and drink in the view while looking down on a true London icon. If you've booked a Plus experience, the next stage will take you even higher... 
Image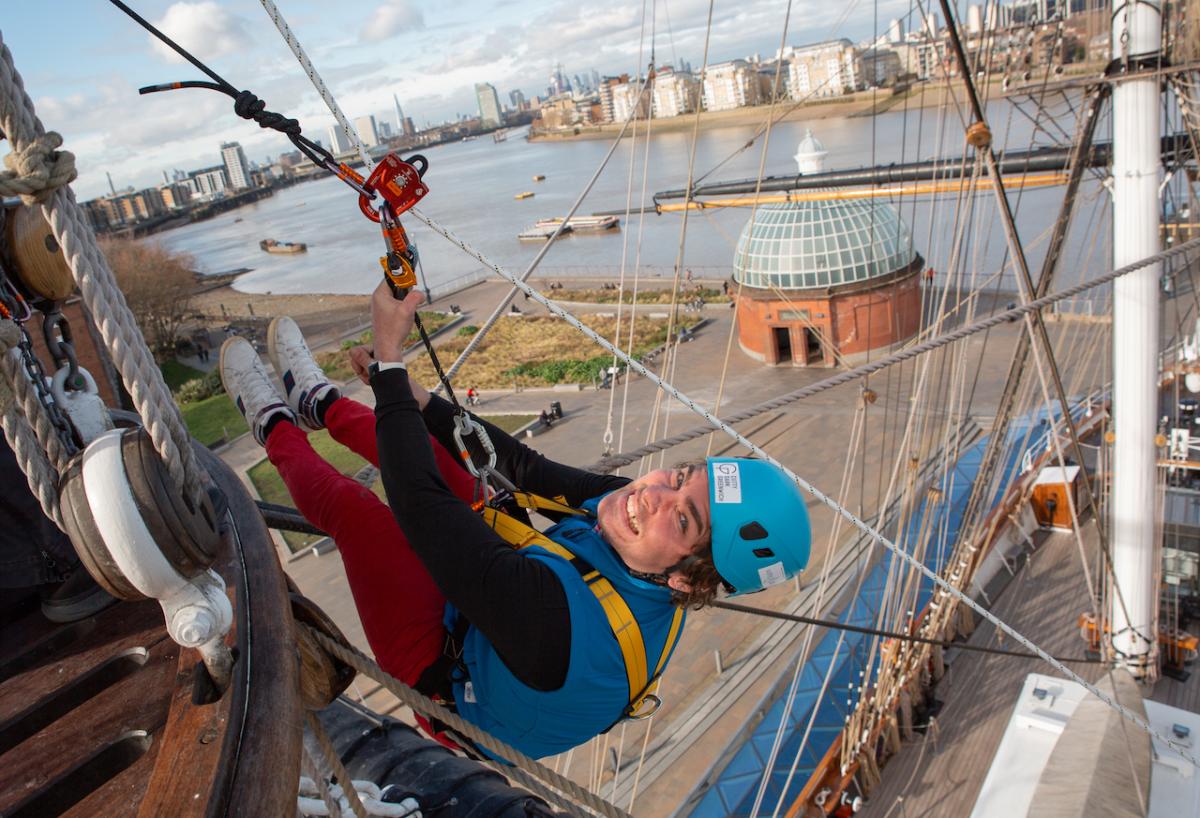 Going down
A controlled descent will take you from the lofty heights of the rigging straight down to street level.
You can then join up with friends and family and continue your Cutty Sark adventure, as your rig climb ticket includes free access to all areas of the ship.
Find your level
There are two different Rig Climb experiences available at Cutty Sark. Will you choose the regular Rig Climb, or take on the extra challenge of the Rig Climb Experience Plus? Tap the arrows to see what each experience involves. Remember all tickets also include entry to the ship.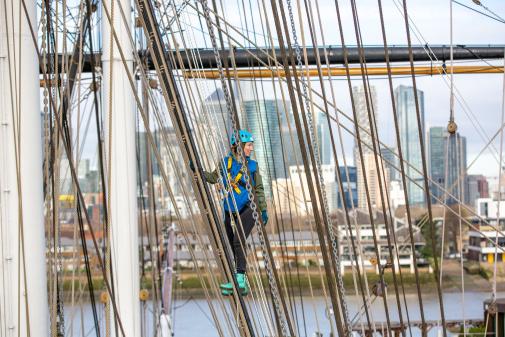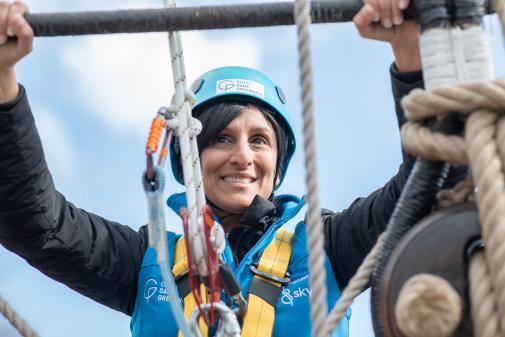 The Rig Climb Experience
Step on to the rails running along the side of the main deck, hold on to the shrouds (ropes) and climb up the ship's ratlines (rope ladders). This climb will take you to the Tops Platform (pictured) slightly above the ship's Course Yard (the lowest horizontal spar on Cutty Sark). You will then have a controlled descent from the platform down to street level.
Adult from £41 | Child from £26 | Student from £31
Experience Plus
Take your experience to the next level! Once you reach the Tops platform, the Plus experience takes you slightly higher up and out on to the Lower Topsail Yard (pictured). You will then climb back down to the zip line to make your controlled descent. Please note there is limited availability per time slot for this experience: we strongly recommend you pre-book in advance.
Adult from £51 | Child from £36 | Student from £41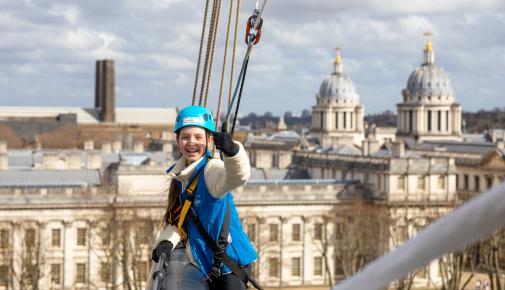 Important information
Please check these details carefully before booking. All tickets are non-transferable and non-refundable.
The Cutty Sark Rig Climb Experience is open to anyone aged 10 and over. There is no upper age limit as long as you are fit and healthy, and no climbing experience is required.
The experience is not suitable for people with certain medical conditions (eg pregnancy or heart conditions). You must not be suffering from any medical condition that may put your health and safety, or that of others, at risk.
We provide access for visitors who are unable to physically climb the rigging. Contact us at bookings@rmg.co.uk to discuss your requirements.
All participants must sign a waiver before the rig climb, and children aged 10-17 require parental consent and adult supervision.
For full details, read our terms and conditions.
Participants must be at least 10 years old.
Children aged between 10-17 require parental consent via an online waiver form, and must be supervised by an adult during their participation in the rig climb.
Please note: supervising adults will still be required to pay for an admission ticket to enter the ship.
For more details, check our frequently asked questions.
There are two different experiences on offer at Cutty Sark: the Cutty Sark Rig Climb Experience and the Rig Climb Experience Plus.
Standard Rig Climb prices start from £41 for adults and £26 for children.
Plus prices start from £51 for adults and £36 for children.
These prices include general admission to Cutty Sark, meaning you can take part in the climb and explore the ship on the same day. Tickets also include all safety equipment and free storage of personal items.
Peak prices apply during during weekends and school holidays.
Royal Museums Greenwich Members can get up to 50% off the rig climb price. If you become a Member before booking, you can take advantage of the discount AND get free unlimited entry to Cutty Sark for a year.
For a full breakdown of tickets and prices, click here.
Age ranges
Children: 10-15
Students & young people: 16-25
When you're ready to book, click here and head to our online booking system.
The regular Rig Climb Experience will be the first option you see. The Plus experience is directly beneath.
When you know which experience you want, pick your date and entry time using the calendar. If a time is unavailable it means that slot is sold out, but it's easy to select an alternative date.
Then select the number and type of tickets you require and click 'add to basket'. If you're planning on visiting with friends or family but won't be taking part in the rig climb yourself, you can add a general admission to Cutty Sark at the next stage.
Your tickets will be emailed to you once you have completed the booking process. If you don't receive a message or are having problems with booking, contact our team on bookings@rmg.co.uk.
Remember to bring your tickets with you on the day of your visit. You can either show them on your phone or print out a copy.
Please note that all tickets are non-transferable and non-refundable, so it is important to familiarise yourself with our terms and conditions before purchasing tickets. For bookings of six or more people, email bookings@rmg.co.uk.
Please arrive at least 15 minutes prior to your scheduled rig climb (as indicated on your ticket). You'll be given a short safety briefing, and learn more about what it was actually like to live and work on board Cutty Sark.
The climb itself will depend on the speed of each individual. We recommend allowing up to an hour to enjoy the whole experience.
Remember, your ticket also includes general admission to Cutty Sark on the same day, so be sure you give yourself enough time to enjoy the ship before or after your climb!
Participants must be:
At least 1.2m/3ft9in tall (due to the gap in the rope ratlines)
Less than 19 stone (120kg) in weight.
The harnesses used have a maximum width waist of 130 cm/51.1in, and a maximum upper thigh width of 75cm/29.5in.
Tickets and Opening
| | |
| --- | --- |
| Adult | from £41 |
| Child | from £26 |
| Student  | from £31 |
Open from 2 April
10am-5pm
Greenwich Station
Cutty Sark DLR
Maze Hill Station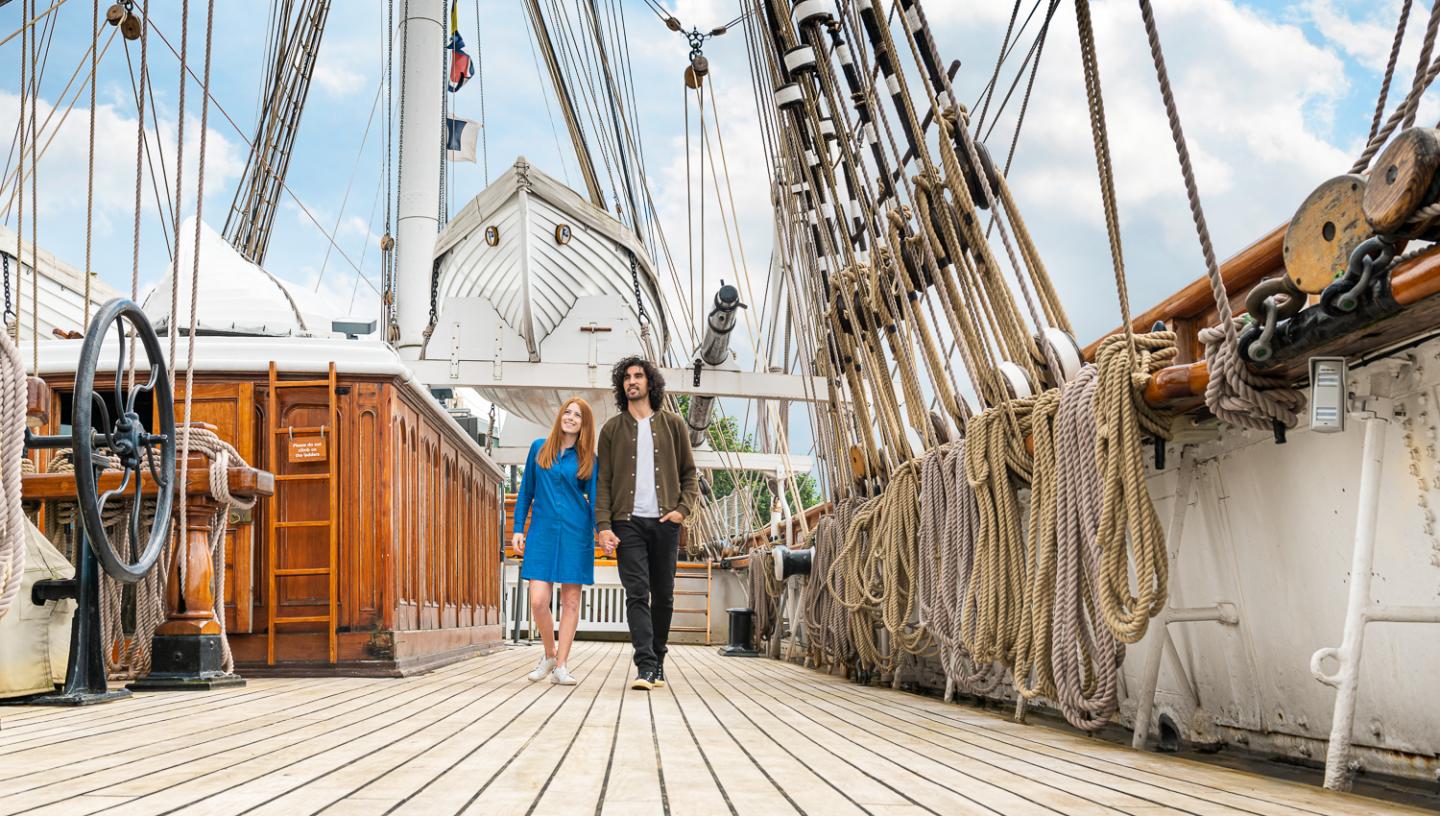 Set sail for Greenwich
Visit Cutty Sark, the celebrated historic sailing ship and fastest of its time
Cutty Sark Rig Climb prices in full
Ticket type
Rig Climb Experience
(off peak)
Rig Climb Experience
(peak)
Experience Plus
(off peak)
Experience Plus
(peak)
Adult
£41
£46
£51
£56
Under 25/Student
£31
£36
£41
£46
Child
(10-15)
£26
£31
£36
£41
Member (adult)
£20
£24
£30
£34
Member (under 25)
£17
£21
£27
£31
Member (child)
£14.50
£18.50
£24.50
£28.50