Essential Information
| | |
| --- | --- |
| Location | |
| Date and Times | Saturday 11 June | 10am-4pm |
| Prices | Free |
| | |
Ready to explore the ocean? Join us at the National Maritime Museum for a fabulous celebration of our blue planet.
Meet scientists, explorers and conservationists, take part in a range of workshops and live performances, and discover rarely seen treasures from the National Maritime Museum's collection.
All activities take place on Saturday 11 June unless otherwise stated and are open to all Museum visitors. Book your free tickets online in advance to guarantee entry, and keep scrolling to find out more about what you can enjoy during World Oceans Day 2022.
World Oceans Day 2022 events
Journey into the ice
This World Oceans Day, we're excited to open Poles Apart at the National Maritime Museum. This brand new gallery will take visitors to the icy frontiers of modern polar science and lift the lid on the UK's newest polar research ship: the RRS Sir David Attenborough.
Date and times: Sneak preview on Wednesday 8 June; official opening on Saturday 11 June | Location: Next to the Great Map Café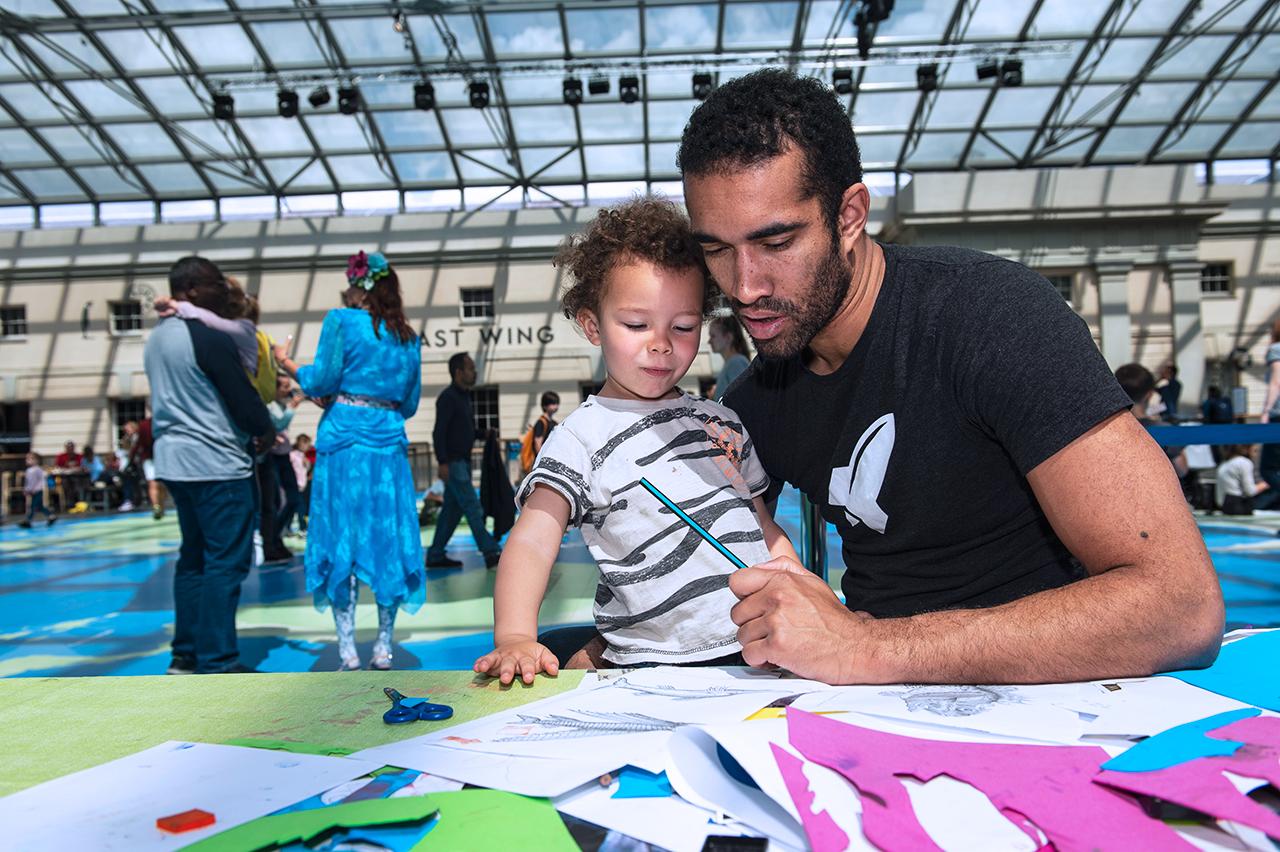 Get stuck into a print workshop
Create ocean-inspired art or come up with your own climate campaign poster with our two free printmaking workshops.
Location: The Great Map
Meet the merfolk
Look out for our pod of fabulous merfolk floating around the Museum throughout the day. Marvel at their recycled costumes, and get your own ocean-inspired facepaint!
Location: throughout the National Maritime Museum
Craft a coral reef
We're already hard at work creating a coral reef crochet thanks to our community groups and enthusiastic volunteers – and you can join in too! Add your pre-made creations, or join our sessions and make something on the day. Coral reef experts will also be on-hand to give insight into these important underwater worlds.
Location: next to the Giant Propeller
Join the Ocean Generation
Ocean Generation is offering free immersive workshops experiences to raise awareness about ocean conservation. During this interactive presentation, young people will have the opportunity to discover the wonders of the ocean and how it supports and is interconnected to all life on Earth.
Location: Group Space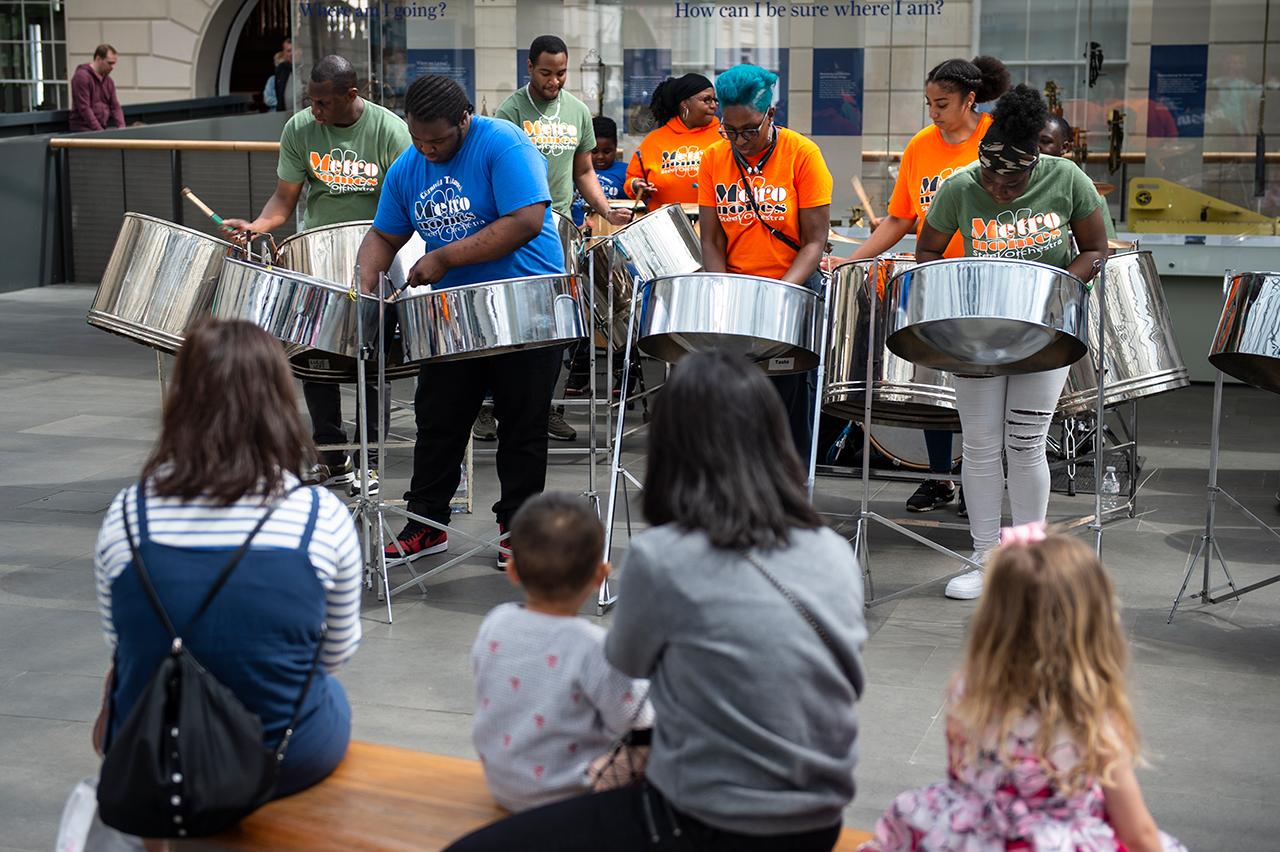 Metronomes Steel Orchestra
The 10-strong steelband will be bring their amazing sound to Greenwich this World Oceans Day. Catch one of their performances live either on The Great Map or outside by the Ship in a Bottle statue.
London Sea Shanty Collective
Sing along to some sea shanties with The London Sea Shanty Collective as they bring the Museum to life with traditional working songs. The group will perform two 30-minute sets as well as a workshop where the audience can take part.
See an ice core melting
By extracting ice cores from Antarctica, scientists are able to travel more than 800,000 years back into Earth's climate history. This is a rare opportunity to view an ice core from the British Antarctic Survey up close.
Location: Next to the new Poles Apart gallery
Meet the experts
Discover a range of science and conservation stands with hands-on activities for all ages, and get up to speed with what's happening in our oceans today.
Location: near the Parkside Café
Science talks and films
Head to the Lecture Theatre throughout the day for family-friendly talks and special film screenings.
Location: Lecture Theatre
Discover hidden objects
Over 90% of the Royal Museums Greenwich collection is in storage. Join our curators as they reveal rarely seen items from the collections, and find out how we used to study the ocean in the past and the impact human activity has had on the environment.
Location: next to the figureheads display by the Great Map
VR and the ocean
Visitors will be able to explore the ocean without getting their feet wet in a variety of virtual reality experiences using Oculus Quest and their own phones to dive into the ocean.
Discover a brand new art installation
See a series of thought-provoking digital artworks works created in response to the current ocean crisis. In partnership with The Collective Makers, four artists will be showcasing their responses to this year's theme at the National Maritime Museum.
Location: on display throughout the National Maritime Museum
Create recycled fashion
An artist-led workshop exploring themes of climate change and ocean waste. Create wearable artworks from everyday materials inspired by Practitioner in Residence Serge Attukwei Clottey. This workshop is a continuation of Longitudinal Dialogues, a collaborative programme developed by Royal Museums Greenwich, The Line and Arup Phase 2.
Location: The ReThink Space
Send a message for our oceans
This is a new display created by Year 5 pupils from Rathfern Primary School in collaboration with Royal Museums Greenwich and Ocean Generation. The pupils have already added their personal pledges to help save the oceans, and you will be able to contribute your own.
Location: Learning Space
Greenwich is a quick, easy journey by train or DLR from central London. Alternatively, arrive in true World Oceans Day style and take the boat along the River Thames, arriving right next to historic ship Cutty Sark.
Download a Museum map in advance, and check the details on this page to find out where each activity is being held. You can also ask any of our visitor staff on the day for directions.
The Parkside Café is a bright and airy space at the National Maritime Museum with expansive views of Greenwich Royal Park. There is plenty of seating, both indoor and outdoor. Grab a hot or cold drink, and a selection of sandwiches and cakes - perfect for a picnic in the park.
The Great Map Café is located on the first floor of the National Maritime Museum. This open-plan café sits alongside the Great Map, our giant world atlas.
Tickets and Opening
Saturday 11 June
10am-5pm
Greenwich Station
Cutty Sark DLR
Maze Hill Station
Keep up to date
Sign up to our newsletter to find out more about World Oceans Day and more events at the National Maritime Museum.
What is World Oceans Day?
World Oceans Day takes place on 8 June every year as a celebration of the ocean and our continuing reliance on it.
Over 70 per cent of our blue planet is covered in water, and more than half of all the oxygen we breathe comes from ocean plants. We rely on the ocean for food security, transportation, coastal defences and much more.
We are increasingly aware of the huge negative effect we are having on the ocean, however.
Over-fishing, greenhouse gas emissions, chemical and noise pollution, ocean mining and plastic pollution all threaten the health of our oceans, as well as "nonpoint source" pollution from farms, foresting and transportation. 80 per cent of pollution to the marine environment comes from the land.
This year, Royal Museums Greenwich will be working with several scientific organisations, conservation and community groups to produce free workshops, talks and performances at the National Maritime Museum suitable for all ages. The main celebration will take place on Saturday 11 June, with a host of additional activities, resources and features also available online.
Main photo By David Troeger on Unsplash