A pioneering tea clipper, cargo ship and a beloved London landmark: Cutty Sark's story is one of reinvention and resilience.

On 25 April 2012, HM Queen Elizabeth II reopened the clipper after it underwent extensive restoration.

To mark the 10th anniversary of the reopening, curator Louise Macfarlane selects ten pictures from the ship's history with unique stories to tell.
Image
Building Cutty Sark (1869)
Cutty Sark was built in Dumbarton, Scotland in 1869. Yet it was nearly left unfinished. Ship-owner John Willis was keen to crack the tea trade. Rather than turn to an established firm, he commissioned newcomers, Scott & Linton, to build his ship. They were ambitious and creative but inexperienced. Delays eventually led to their bankruptcy and the ship had to be completed by a group of creditors. This photograph shows Hercules Linton, the designer of Cutty Sark, around 1865.
Need for speed: Cutty Sark's name and the tea trade (1870-78)
Nannie is Cutty Sark's figurehead. She represents the beautiful witch in Robert Burns's poem 'Tam O Shanter', who chases Tam while wearing her cutty sark (old Scots for a short undergarment). Why this name was chosen remains a mystery but giving chase suits a ship built for the China tea trade: the first ships to deliver tea to London could command the highest prices. As a clipper ship – with its streamlined hull, sharp bow and huge sail area – Cutty Sark was in the mix.
In 2021, a new Nannie figurehead was fitted on Cutty Sark, created by craftsman Andy Peters. The figurehead is based on the original design by Linton, which came to light after the previous figurehead had been constructed.
Find out more about Cutty Sark and the tea trade
Image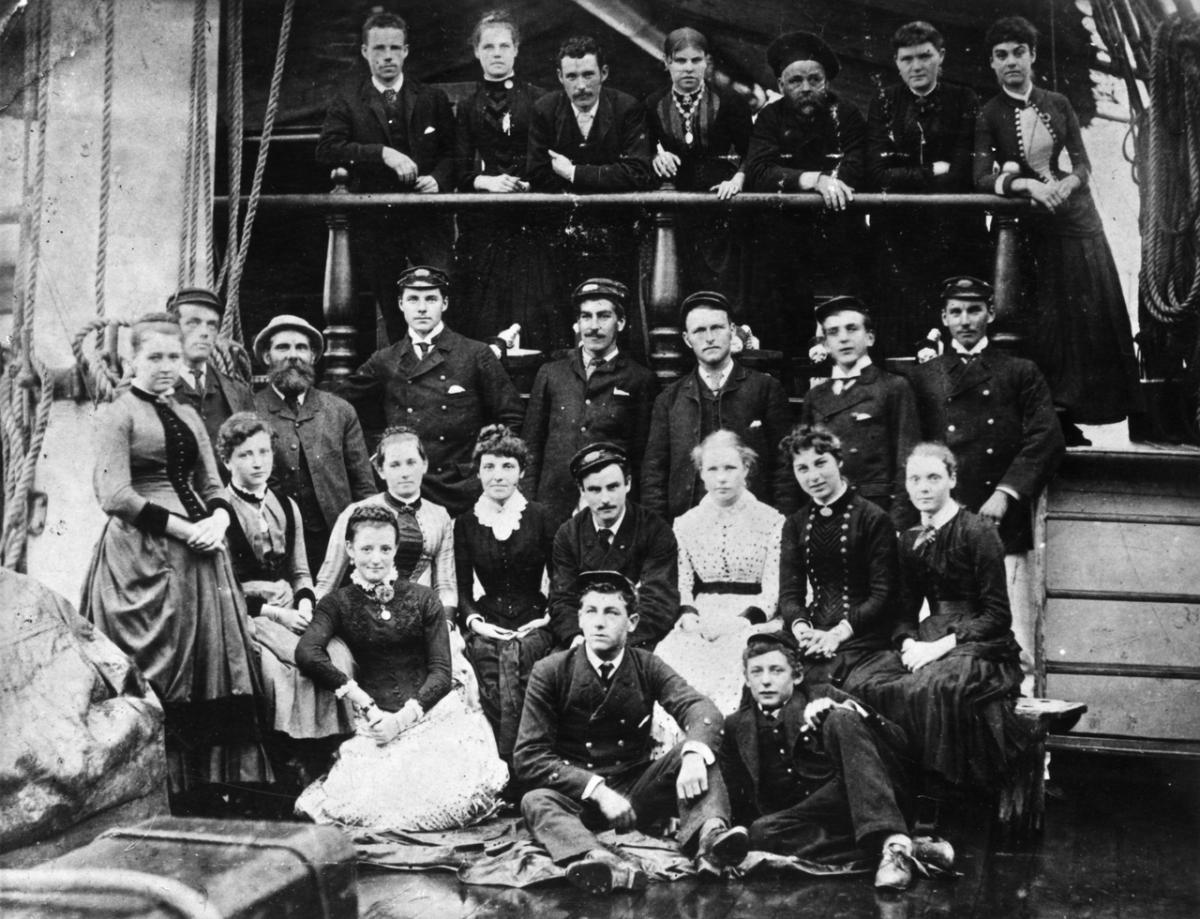 Life on board Cutty Sark (1887)
Over time, more than 650 men from over 30 different nations served on Cutty Sark. 28 men would serve on an average voyage but it could be as few as 19. The oldest sailor to serve was 56 and the youngest just 14.
This photo shows the crew in 1887 in Sydney, Australia. Captain Woodget, who took up photography while serving on Cutty Sark, is in the back row, wearing a Tam O Shanter hat. Some local women had been invited onboard for the photograph.
The end of Cutty Sark's tea trade (1880s)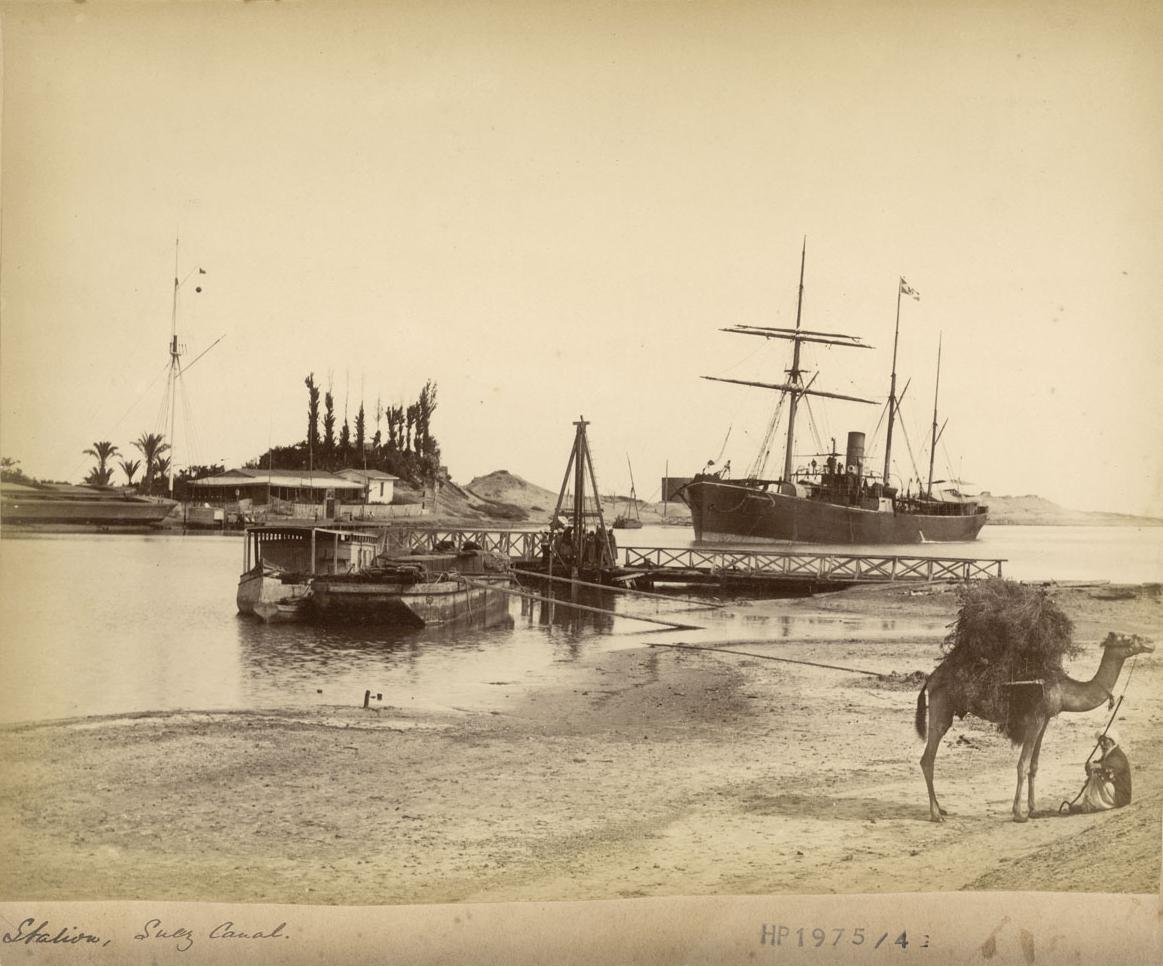 The Suez Canal, shown here in the 1880s, was completed in the same week as Cutty Sark was launched. It provided a 'short-cut' out to China and back for steamships. Due to challenging wind conditions and expensive tolls, sailing ships could not use it. The impact was quickly felt. In 1870, there were nearly 60 sailing ships making the voyage out to China. By 1877, there were just 9. So, after just 8 voyages, Cutty Sark was forced from the tea trade.
Image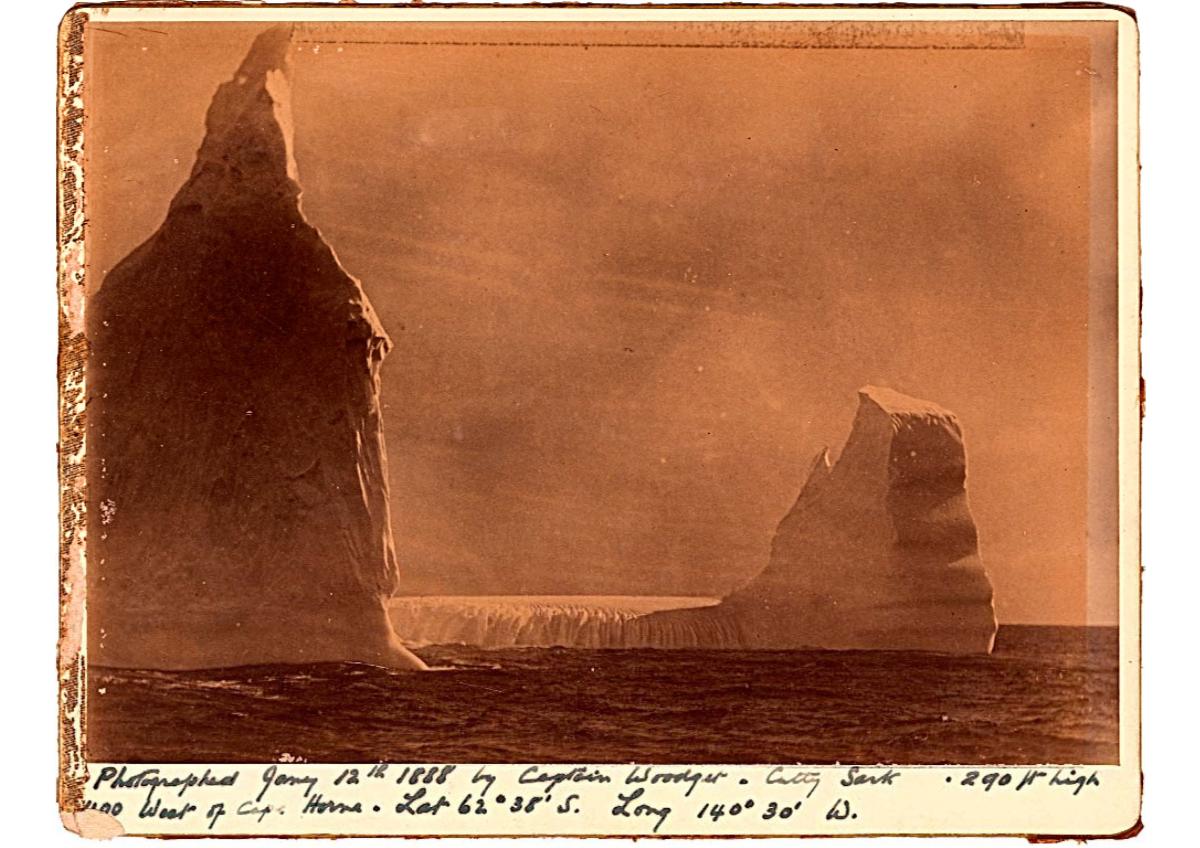 Cutty Sark and the Australian Wool Years (1883-95)
After a few years of tramping – taking whatever cargo it could from port to port – Cutty Sark entered the Australian wool trade. The route back from Australia took the ship around the perilous Cape Horn where the ship could encounter icebergs, violent seas and the 'roaring forties', the fastest trade winds in the world. While terrifying, these winds could help propel the ship home if expertly navigated. Captain Woodget photographed these icebergs and secured the ship's place as one of the fastest afloat.
Cutty Sark becomes Ferreira

(1895)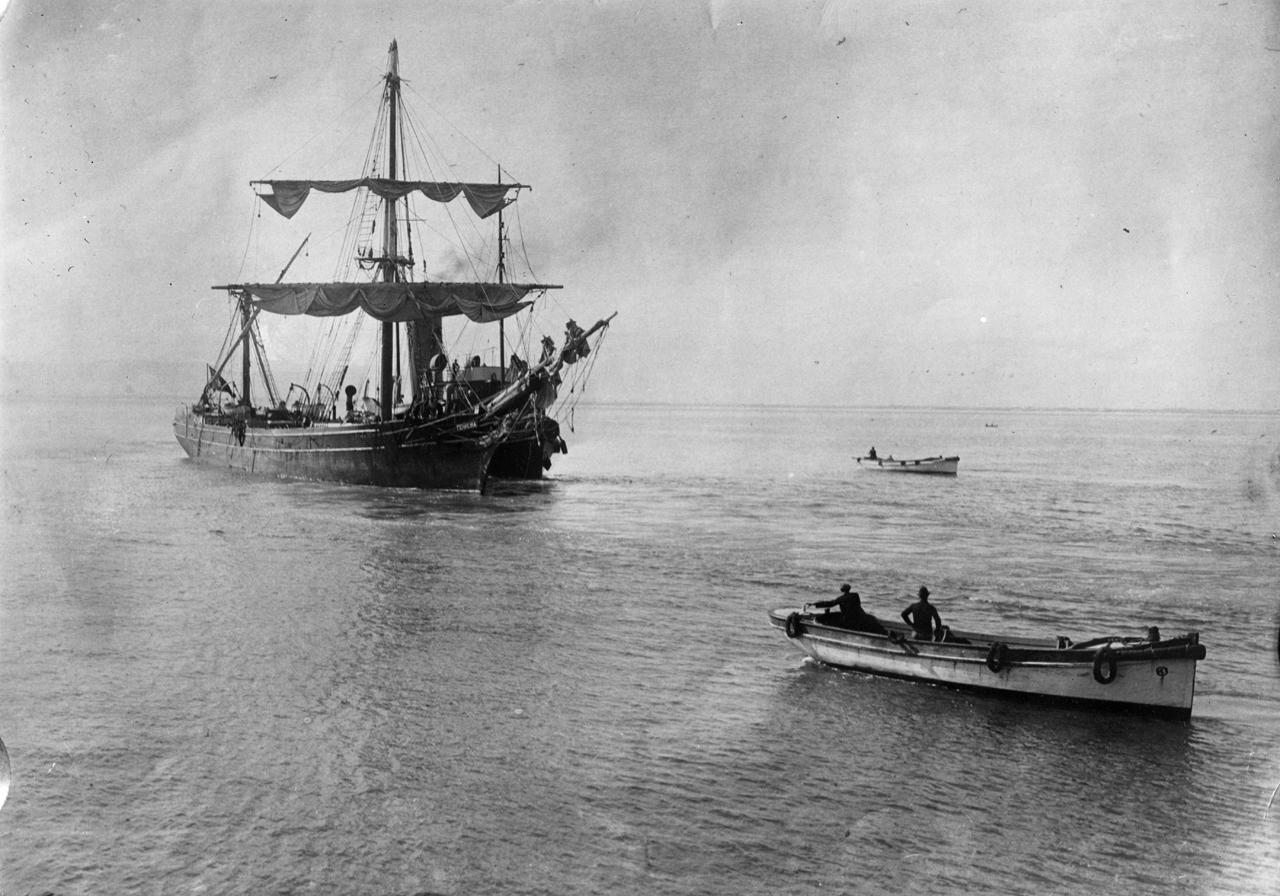 By 1895, an ageing John Willis was selling off his fleet. He sold Cutty Sark to a Portuguese firm and it was renamed Ferreira. It would spend the next 27 years as a general cargo carrier traversing the Atlantic between Portugal, the west coast of Africa and the American continent.
This photograph shows Ferreira in 1916 being towed into Table Bay, South Africa. The ship had escaped German submarines but not a cargo which shifted so badly it nearly sunk.
Image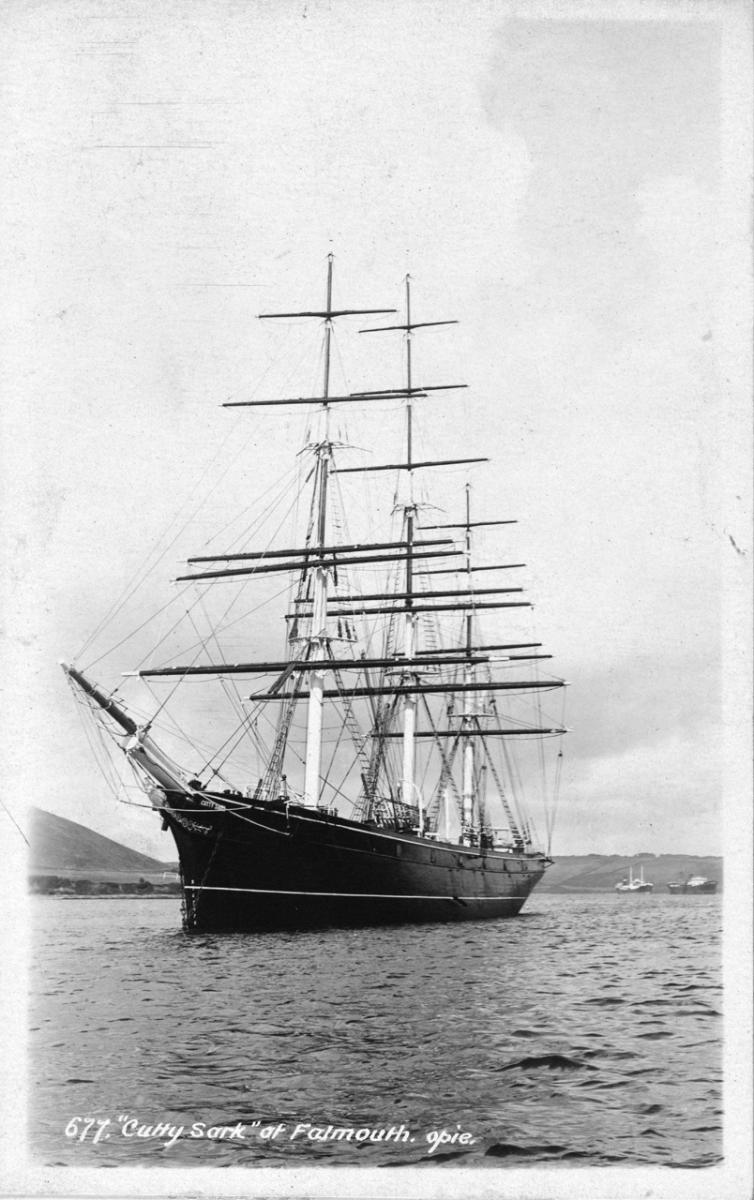 Cutty Sark returns to Britain (1922)
In 1922 Ferreira called in at Falmouth for repairs where it encountered astonishing good fortune. Nearing the end of its sea-life and despite being a shadow of its former self, it was recognised by local retired sea captain Wilfred Dowman. Having been beguiled by Cutty Sark as a young man, Dowman and his wife, Catharine, vowed to return Cutty Sark to Britain. They paid over the odds to restore, rename and open it as a cadet training ship and visitor attraction in Falmouth, in 1924.
Cutty Sark comes to Greenwich (1954)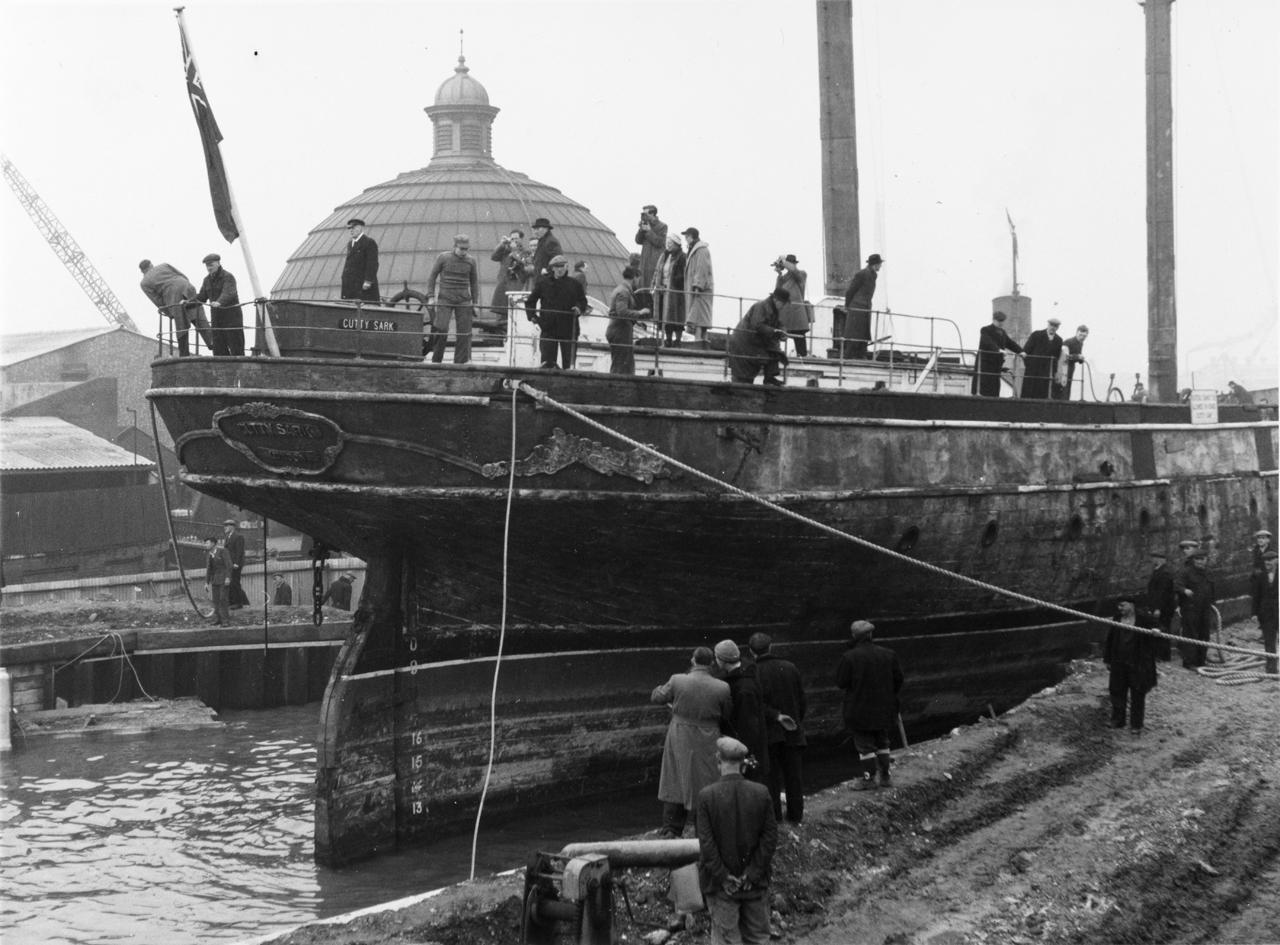 In 1938, Cutty Sark joined the Incorporated Thames Nautical College at Greenhithe. It was a cadet training ship until after the Second World War when it was no longer needed. Falling into extreme disrepair, the Cutty Sark Preservation Society pounced when the site in Greenwich became available.
This photograph shows the ship being towed into the specially built dry dock in 1954. The Society raised the funds for the dock and an extensive restoration. The ship was opened to visitors by HM The Queen in 1957.
Image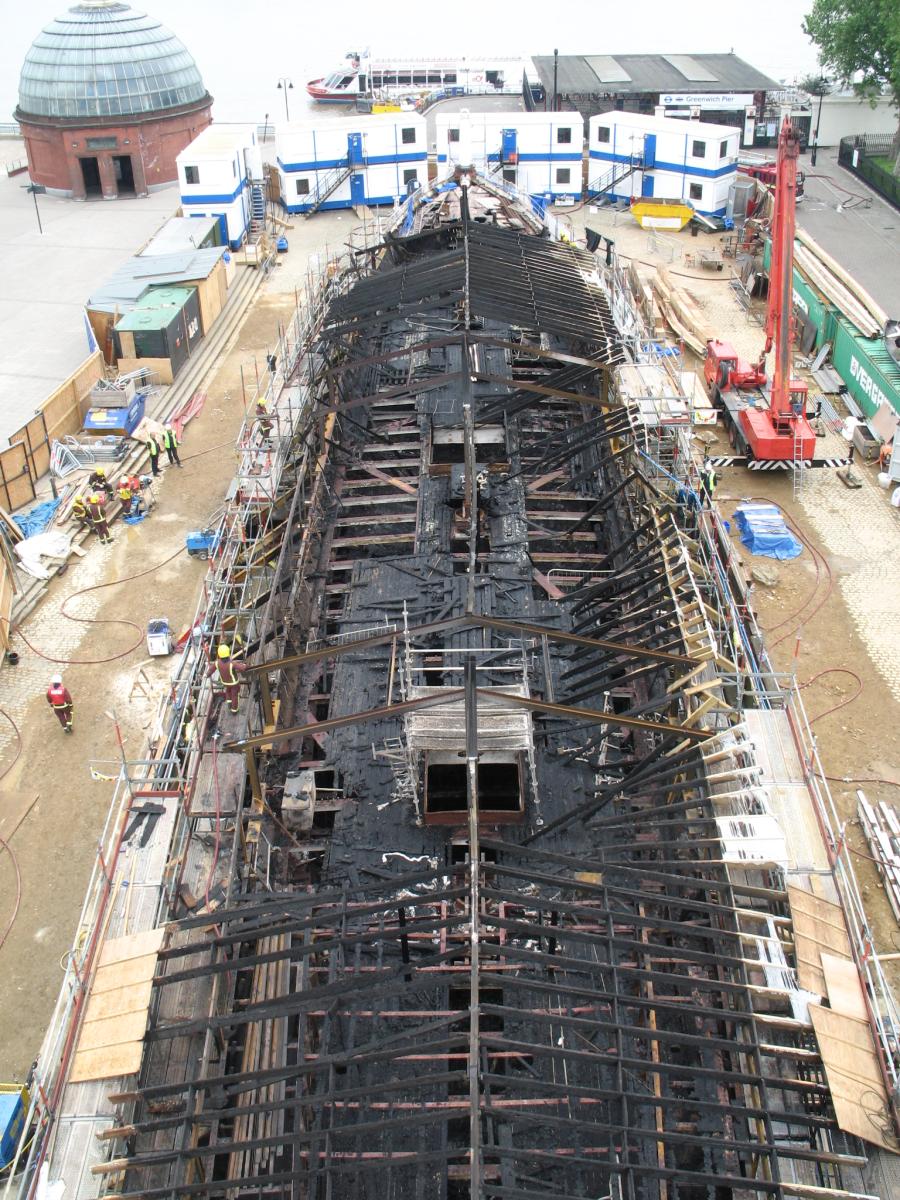 Cutty Sark fire (2007)
In May 2007 a fire broke out on Cutty Sark, blazing through all three decks. But it was not as devastating as it could have been. The year before, one of the most ambitious conservation projects ever began. It involved stripping the ship of original material for treatment elsewhere. So although the fire was dreadful and severely delayed the project, little original fabric was lost. Generous support from around the world ensured Cutty Sark was saved for the future. This photograph shows damage to the Main Deck.
Image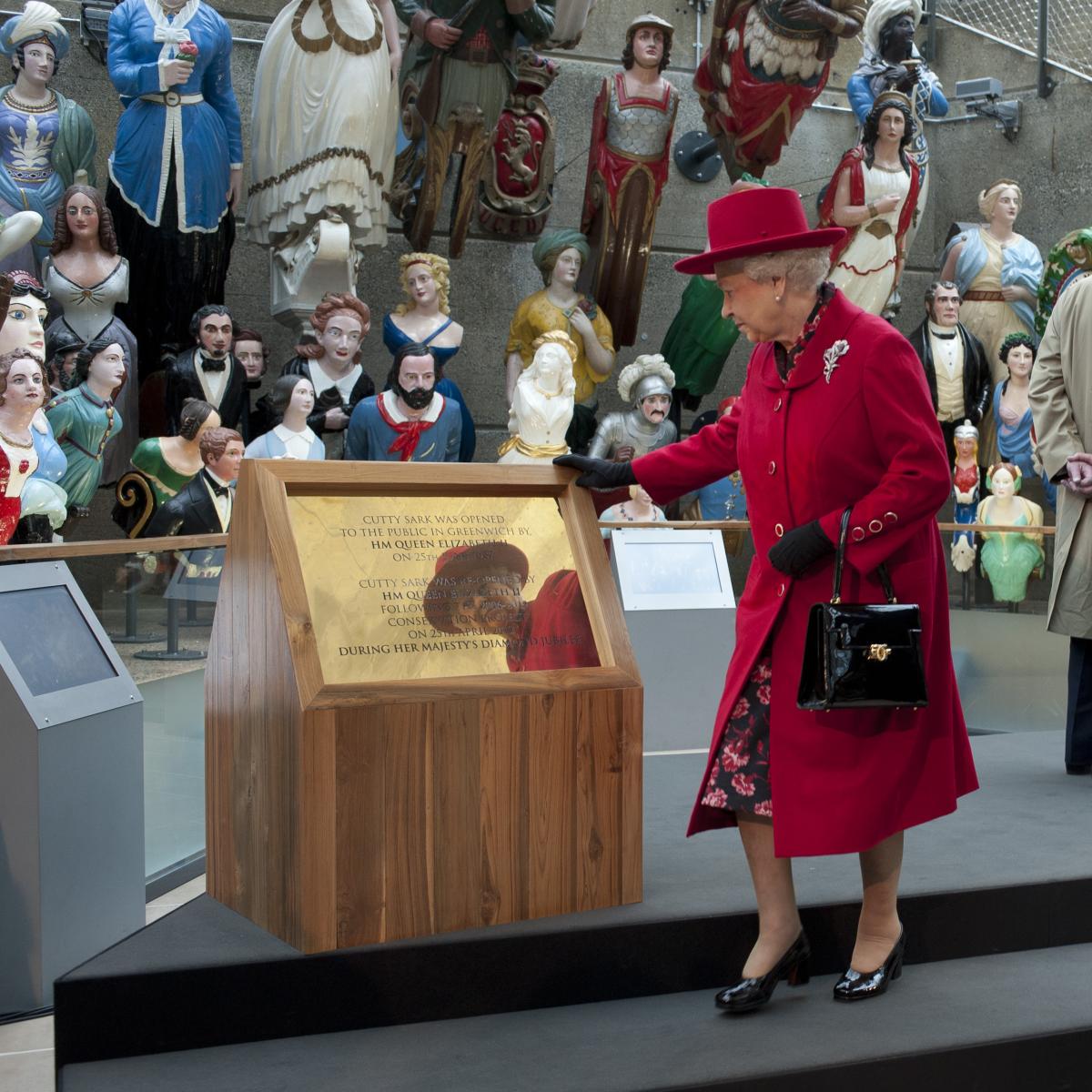 Cutty Sark is reopened (2012)
On 25 April 2012, HM The Queen reopened Cutty Sark to visitors almost 55 years after she had first performed the task. To preserve the hull's shape, the ship had been lifted three metres above the ground, offering a unique opportunity to walk beneath its fine lines.
Since reopening, the ship has welcomed millions of visitors, joined Royal Museums Greenwich as its largest object and celebrated its 150 years since its launch.
Today, it is the world's sole surviving tea clipper.