Cutty Sark
Cutty Sark part closure
The Cutty Sark Poop Deck will be closed for a private fundraising event on Saturday 11 May
All other spaces will be unaffected.
Visit Cutty Sark, the celebrated historic sailing ship and fastest of its time. Now an award-winning visitor attraction in Greenwich, London.
1
Meet colourful characters from Cutty Sark's past and discover stories of life on board the fastest ship of her day
2
Take the helm at the ship's wheel, walk beneath the original hull and see spectacular views across London
3
Tickets and opening times
Experience a taste of life as a seafaring Victorian and explore one of the most famous ships ever built
Certificate of Excellence Winner
Winner of UK inbound Individual Attraction of the Year 2017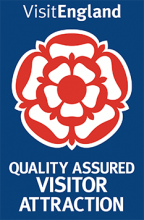 Make the most of your trip
Download our essential guide to the very best things to do and see at the Cutty Sark Greenwich.
From world trader to museum ship, follow her story in these Royal Museums Greenwich publications.
Amazing gifts at Cutty Sark 
An updated and expanded special edition to celebrate the 150th anniversary of...
The Cutty Sark Pocket Manual tells the story of how this legendary ship was...
Cutty Sark is a quick and easy journey from central London, by DLR, rail or boat
What our visitors say
Fantastic museum - very well laid out and surprises around every corner.
Very user-friendly and suitable for all ages. The inside displays were especially well documented and the interactive displays had children fascinated.