23 Apr 2015
Find out what Cutty Sark's crew were given to eat. Could you survive on a sailor's rations?
This document specified the amount of meat, bread, dried peas and rice allotted to each man, each week as well as a daily supply of tea, coffee, water and of course lime and lemon juice to prevent the perils of scurvy. This Agreement outlined the crew's minimum entitlement of victuals and the provisions were managed by the Master.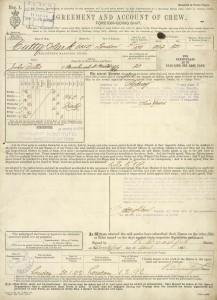 Agreement and Account of crew for the ship's 22nd voyage, 1891 © National Maritime Museum, Greenwich
The food on board had to last the voyage as there was limited opportunity to pick up fresh stores, although on occasions provisions were supplied by passing ships. Meat was salted to prolong its life, and chickens and pigs kept in pens on the main deck provided the crew with some fresh produce. A list of supplies procured for Cutty Sark in Madras (now Chennai), in 1882 provides an insight into what foods were consumed on board: beef, vegetables assorted, 8 basket potatoes, 183 tins roast beef, 34 hind of mutton, 70 cabbages & beans, 6 fowls, 45 tins onions, 3 dozen oranges, 16 tins mutton chops, Fish, 10 bunch plantain, 6 tins suet, 2 bag rice, 11 gallons lime juice, 10 gallons vinegar, 6 tins baking powder, 2 bottles curry powder, 4 tins cornflour, 8 tins English butter, 44 tins salt, 8 basket potatoes, 18½ gallons coconut oil. The main meal of the day was at noon and the crew would congregate around the galley in the forward deckhouse around that time.  Food would be collected here by one of the crew and taken to their quarters; the Steward would collect food for the Master and Mates who would dine in the saloon. Clarence Ray, apprentice on board 1894-1895, details in a letter to his mother a typical weekly menu: Monday, Wednesday, Friday - pea soup and pork; Tuesday, Thursday - Salt Tram Horse [salted meat] and bread; Saturday - Junk [shredded meat] and Spuds; Sunday - Leu pie [made with potatoes, sweet milk, butter, eggs, sugar, salt, nutmeg, lemon and pastry] . He also tells us that flying fish fly aboard at night and are cooked up by the Cook in the morning.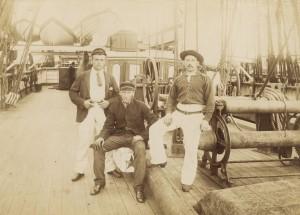 Petty Officers on board, c 1887. Left to right: Third Mate James Weston, Steward G. Thompson, Cook James Robson. © National Maritime Museum, Greenwich
The Cook was a petty officer with a berth in the aft deckhouse, who cooked the crew's meals in the galley in the forward deckhouse. The longest-serving cook, and petty officer, was James Robson who sailed on ten voyages, 1885- 1895. Born in China, he was apparently found as a castaway when a baby and adopted by a sea captain and his wife, growing up in London before embarking in a career at sea. You can meet James Robson on board Cutty Sark as part of our regular family programme.