Essential Information
| | |
| --- | --- |
| Location | |
18 Jun 2011
A hand-drawn story book from 1879 containing three stories, 'The Adventures of a Castaway', 'The Adventures of Tom and Jerry' and 'Ye Pirate'.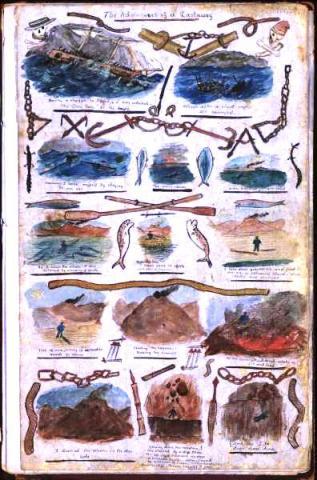 The illustrated story book (JOD/247/1) was composed and drawn by Thomas Knight (Tom) Leslie. It contains three stories, The Adventures of a Castaway, The Adventures of Tom and Jerry and Ye Pirate.
The stories are highly fantastical, humourous and beautifully illustrated in colour in what can only be described as comic strip or 'sequential art' style. The stories are six to eight pages long and each page contains around ten small illustrations in sequence, each with a caption. The illustrations are not enclosed in panels or frames and Leslie often borders them with other images, for example fish, oars or spears, rather like in illuminated manuscripts.
This first image shows a full page from Adventures of a Castaway. In this story the main character is the author. 'During a voyage to Brazil, I am wrecked.' He saves himself and reaches land. He climbs a volcano, falls into a ravine, is swept along a subterranean steam holding onto a tree trunk, passes 'through an antidiluvian world and see many fearful monsters, beasts, birds and fishes'. 
He reaches dry land, is captured by 'savages' and tied to a stake for burning. 'As I give myself up for lost there comes on a great rain which descends in torrents and extinguishes the flames.' Once again he escapes, is 'pursued by a gigantic cayman', climbs a tree full of wild animals to wait for the flood to subside and then continues travelling across the island. Eventually he reaches a cove, sees a ship anchored in the bay, which fortuitously turns out to be 'a small man of war (British) homeward bound' and is saved.
The Adventures of Tom and Jerry is about an apprentice, Tom Williams, and the bosun's mate Jerry Shiveryshake. On a voyage to Newfoundland they are caught in a terrible storm and shipwrecked with all the crew on Greenland. Many adventures ensue, including exploration, sledging, combat with a polar bear, encounters with the indigenous population, hunting and so on. There is a happy ending and everyone is saved by a passing whaling ship.
Mention Tom and Jerry nowadays and we all think of cartoons, but that incarnation is, of course, 20th century. The original Tom and Jerry appear to be characters created by Pierce Egan in 1821, in Life in London, or, The day and Night Scenes of Jerry Hawthorn, Esq., and his Elegant Friend, Corinthian Tom, Accompanied by Bob Logic, the Oxonian, in their Rambles and Sprees Through the Metropolis with illustrations by Robert and George Cruickshank. The story proved incredibly popular, appearing in monthly instalments, and spawning imitations, pirate copies and stage plays. Copies of the original edition are available at the British Library and Guildhall Library. We shall never know if Tom Leslie based his story and title on these characters although it seems likely.
Ye Pirate is a story about a pirate ship which sinks after attacking a merchant ship. The pirates are stranded on Jamaica, are captured by the governor's soldiers, tried and executed.
The volume is undated but the other items given to the museum with it date from 1879. Tom Leslie's family was from York but apparently he ran away to sea as a young boy. By 1879 he was an apprentice to Captain Blewett, master of the Roseau which sailed regularly between London and St Vincent in the West Indies for the company of Scruttons. 
Tom wrote that he kept journals during his apprenticeship and although the Library does not have these,  JOD/247/2 is an extract of some journal entries that Tom compiled for his mother. He successfully completed his apprenticeship and became Second Mate for a voyage on the Roseau to Cape Town in 1880. Tragically he was blown from the rigging into the sea during the voyage and was swept away and lost. He was about 22 years old.
An account of the life of Captain Blewett and life on board the Roseau, including references to Tom Leslie, has been published: Cornish Fisherboy to Master Mariner, the Life of Henry Blewett by Jack and Nora Parsons, available in the Caird Library (PBP3254).