Essential Information
| | |
| --- | --- |
| Type | Family fun |
| Location | |
| Date and Times | 28-30 October 2021 |
| | |
The UK's newest polar research ship is coming to Greenwich.
The RRS Sir David Attenborough is making a special visit to London this October, as part of a fantastic festival of polar science and exploration hosted by Royal Museums Greenwich and British Antarctic Survey.
Image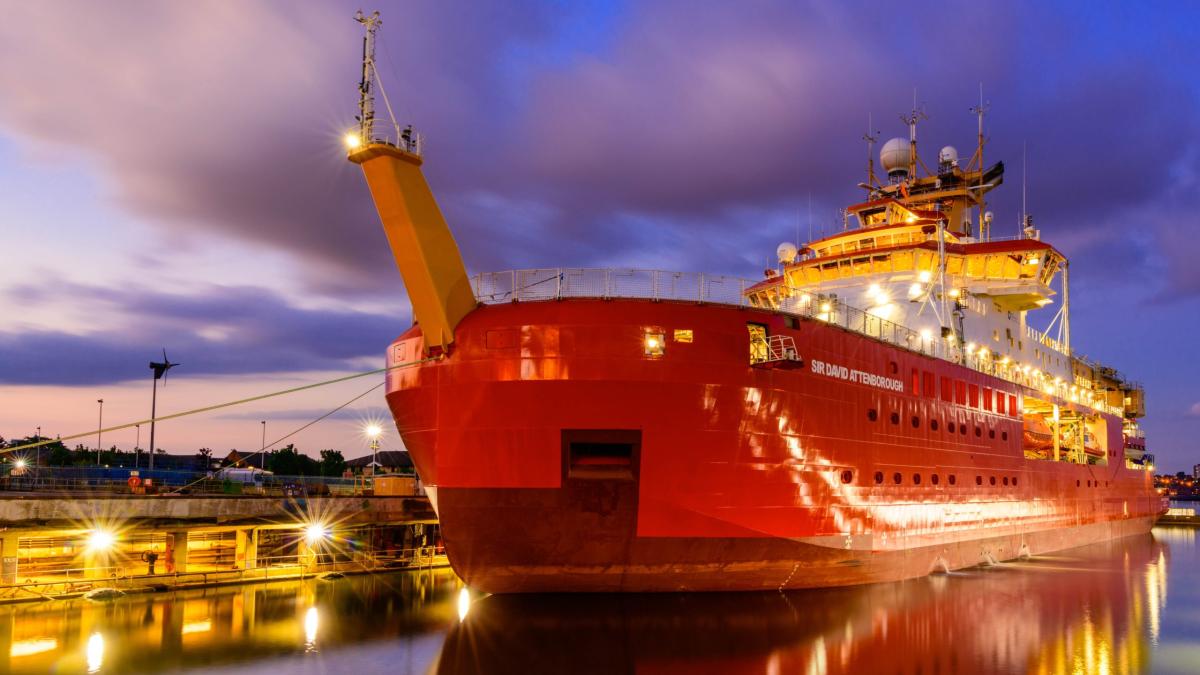 The free three-day Ice Worlds festival will reveal what it's really like to live and work in the Arctic and Antarctic today. 
Featuring a dazzling showcase of environmental science, engineering and technology, Ice Worlds will enthral families and aims to inspire the next generation of scientists, technicians, engineers and citizens.
Meet real polar scientists and explorers, and discover how robots can help unravel the mysteries of the ocean – including the famous Boaty McBoatface submersible.
Also on display will be the treasures of the National Maritime Museum's polar collection, including relics from HMS Erebus and Terror and items belonging to Captain Scott and Ernest Shackleton.
At the heart of the festival is the RRS Sir David Attenborough itself, sailing into Greenwich ahead of the vitally important UN Climate Change Conference COP26.
Operated by British Antarctic Survey, the polar vessel will enable world-leading research in Antarctica and the Arctic.
Anyone can see the ship from the riverside while it is docked in Greenwich. Come down and see RRS Sir David Attenborough before it begins its first mission to the Antarctic.
The National Maritime Museum is hosting a series of free stalls, demonstrations and talks throughout the Ice Worlds festival.
Advance online Ice Worlds tickets are now very limited, but walk-up tickets will be released each day subject to availability.
If Ice Worlds tickets are unavailable, you can still book a free National Maritime Museum ticket and enjoy some of the activities taking place. However, exhibits held in the Great Map area of the National Maritime Museum are not included.
Remember, the time on your ticket is for entry to the National Maritime Museum and not for seeing RRS Sir David Attenborough. You're welcome to arrive at the Museum in advance of your entry time, but late entry will not be permitted.
The polar research ship will be moored near to Cutty Sark throughout the festival period. You don't need an Ice Worlds ticket to see the ship.
Due to crew and visitor safety, visitors will not be allowed on the ship itself, but virtual tours and large displays will show what life is like for the crew and scientists on board.
You can book tickets to enter the historic ship Cutty Sark at any time.
Cutty Sark and Sir David Attenborough are just a short walk from the main entrance to the National Maritime Museum, so it's easy to explore everything Ice Worlds has to offer.
You can head to the Thames riverside to see the RRS Sir David Attenborough at any time; you do not need a ticket for this.
Even though restrictions in England have eased, we want to ensure that all our visitors, staff and volunteers still feel safe and comfortable when exploring our sites.
Many of our COVID-19 safety measures remain in place, including enhanced cleaning, safe distancing and ticketed entry. We highly recommend wearing a face covering at all indoor venues and enclosed spaces.
We hope you will support us in these measures.
Tickets and Opening
Free entry
Charges apply for Cutty Sark
28-30 October 2021
10am-5pm
Greenwich Station
Cutty Sark DLR
Maze Hill Station
Watch a series of talks live from the lecture theatre at the National Maritime Museum, or see the full playlist on YouTube.
Full festival programme coming soon
Sign up to our newsletter to hear more about Ice Worlds and the RRS Sir David Attenborough visit
Image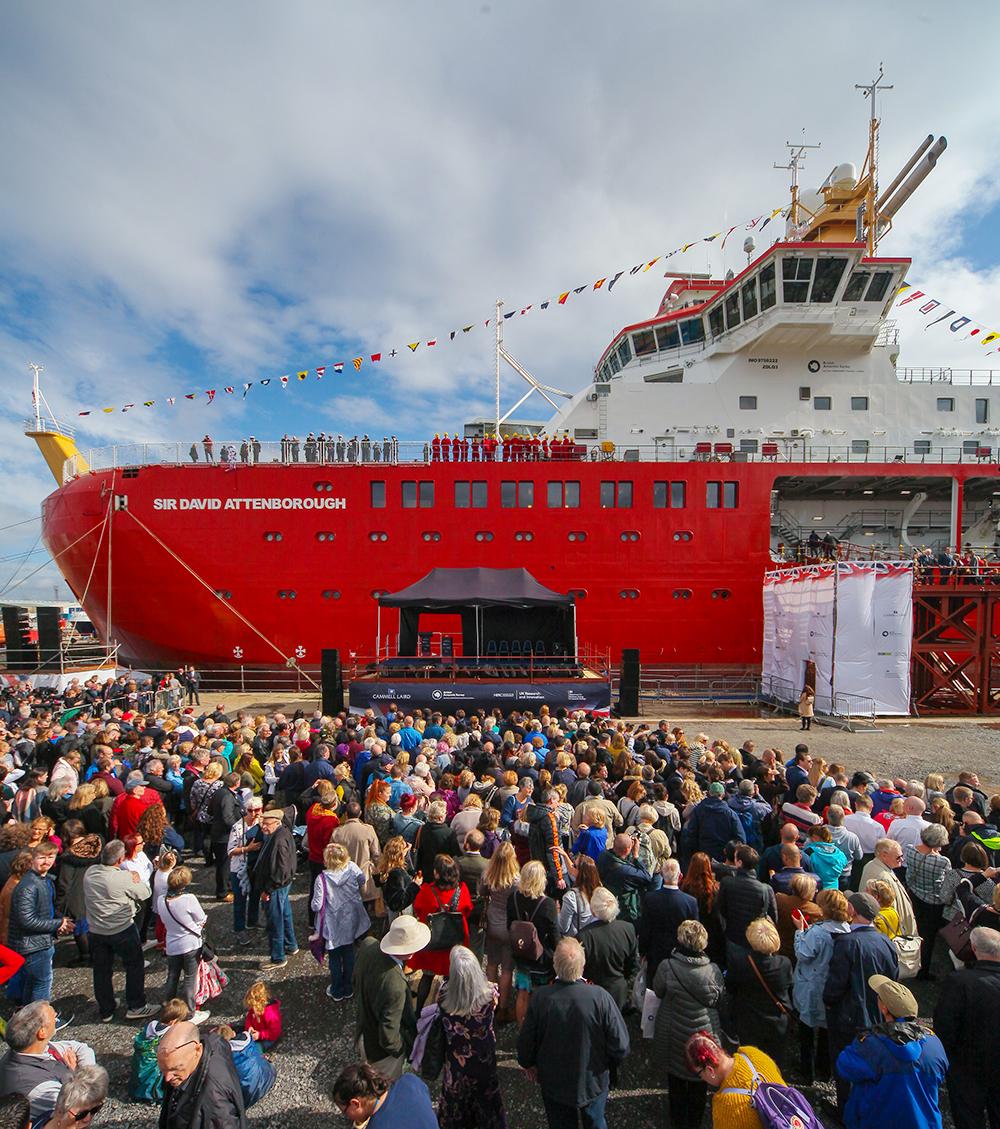 About RRS Sir David Attenborough
Royal Research Ship Sir David Attenborough is one of the most advanced polar research vessels in the world.
It is designed to carry out scientific research in some of Earth's most hostile environments, and provide vital supplies to the UK's research stations in both the Arctic and Antarctic.
The ship was commissioned by the Natural Environment Research Council and built by Cammell Laird.
The ship is operated by the British Antarctic Survey, and is part of a major government investment in polar infrastructure which will keep Britain at the forefront of world-leading research in Antarctica and the Arctic.
Polar exploration: past, present and future
The polar regions have been a focus for scientific enquiry and exploration for centuries. As we confront the consequences of climate change, understanding that legacy is more important than ever.
The National Maritime Museum is home to some of the most significant records and artefacts in British polar exploration history.
Explore the Polar Worlds Gallery
The RRS Sir David Attenborough marks a new chapter in that polar story.
Thanks to cutting-edge engineering and technology, scientists can explore where no human has ever been before. In both the Arctic and Antarctic, they can continue searching for answers to our planet's most pressing challenges.
This October, join British Antarctic Survey and Royal Museums Greenwich to celebrate the past, present and future of polar science.
Images courtesy of British Antarctic Survey