At Royal Museums Greenwich we recognise that environmental protection is one of the most important issues facing the world today. We're committed to working in environmentally sustainable ways, applying the principle of sustainable development for the benefit of current and future generations, both locally and globally.
This policy sets out our commitment to environmental sustainability and the steps we're taking to minimise the environmental impact of the Museums.
This includes (but is not limited to):
Implementing the requirements of all relevant sustainability legislation and regulations, exceeding the minimum requirements where possible.
Taking a leading role in defining best sustainability practice and setting demanding standards for ourselves and our suppliers where none exist to reduce the environmental impact of our activities.
Working with an internal Sustainability Manager to constantly re-think our practices 
Increasing energy efficiency and reducing our energy consumption.
Reducing our consumption of fossil fuels.
Minimising our emissions of carbon dioxide (CO2) and other harmful greenhouse gases.
Investing in clean, energy-efficient sustainable technologies.
Reducing our consumption of raw and processed materials.
Reducing the amount of waste we produce, promoting waste reduction and recycling.
Reduce and where practicable prevent  pollution  by  avoiding  the necessary use of hazardous materials and processes and take all possible steps to prevent damage to either public or ecological health where such materials are in essential use.
Through tendering and purchasing procedures we promote sustainable development, especially regarding the use of single-use plastics and non­ recyclable/sustainable products, ensuring our suppliers comply with our policies.
Promoting the use of less environmentally damaging transport options, recommending guest travel by boat and public transport and reducing the carbon footprint of each event.
Providing sustainability training for staff and encouraging them to apply sound sustainability practices at home and within the wider community as well as at work.
As an Events department, we have chosen some of the United Nation's Sustainability Goals to focus on.
4 - Quality education
We are delighted to engage with our clients directly on operating more sustainably. We make recommendations, provide guidance and lead by example. Wherever possible, we provide links rather than attachments in emails, recommend digital invites, sustainable gifts such as recycled stationery and seed giveaways, promote travelling to our sites on public transport, recommend ethical menu choices with a low carbon footprint and promote ethical, sustainable suppliers. 
12 - Responsible production and consumption
We operate on a dry hire basis and thus demand that our suppliers, which includes caterers, florists, production and travel, are committed to ethical, sustainable and environmentally friendly working procedures. 
This includes (but is not limited to):
Ensuring the best, freshest, seasonal British ingredients and supplies are purchased 

including the usage onsite only of free range eggs and sustainable fish

Energy saving equipment is used where possible throughout all event preparation.
Small scale, British, regional and local enterprises are supported and utilised.
Wastage of raw materials and energy is minimised throughout all procedures.
Usage of recyclable and renewable materials is promoted and encouraged across all areas.
Paying all staff London Living Wage
Having clear defined goals to become more sustainable and obvious plans to achieve them.
17 - Partnerships for the goals
We appreciate that there is always more that we (and others can do) and we are committed to working with other museums, events venues, suppliers, event managers, event consortiums and sustainable consultants, sharing our knowledge and learning as we go. Members of our Events team are part of internal Royal Museums Greenwich Sustainability forums, groups and initiatives as well as within the wider London events world including the Sustainability Committee with Unique Venues of London and members of our team are regularly invited to speak at conferences to discuss sustainability within unique event venues.  
14 - Life below water​
We also work within the wider museum group to raise awareness of environmental issues and the need to move towards a more sustainable future among visitors and other stakeholders. To this end we encourage sustainability research and education, through conferences, publications and collaborative work  as well as displays across our  Museums. We are leading the way in defining sustainability practices within our focused sectors (maritime, astronomy, conservation) and we communicate this to our clients. 
We are committed to monitoring and being open about  our progress  towards our sustainability goals. In 2001 we also began extracting our own water from a borehole on-site. From 2020, all electricity used across our museums is sourced from zero carbon Nuclear generation.
We are committed to working together with these goals; should you have any suggestions on how we can work in a further sustainable manner, do let  us know. You can contact us directly at events@rmg.co.uk.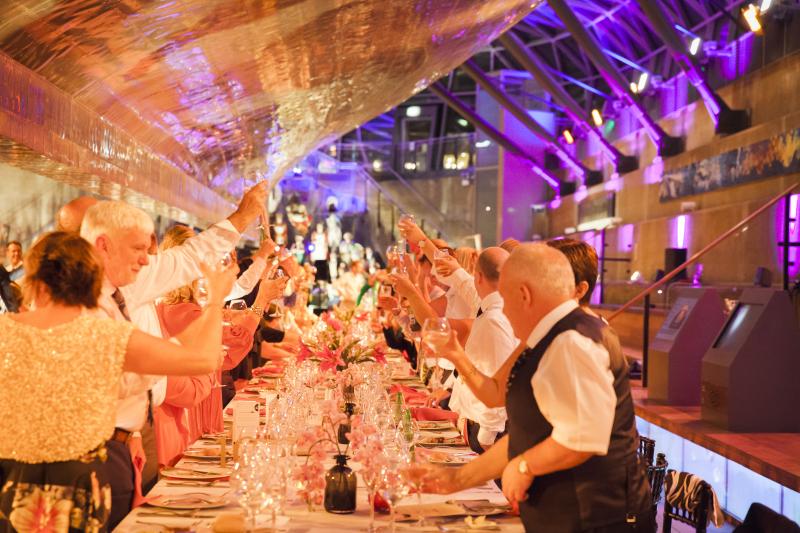 Keep up to date with all the safety measures we are putting in place to help you plan your next event with us.