When you're looking for your own 'happily ever after' and everything that comes with it, there is no better location than the Queen's House. Truly iconic, this former palace was built as a 'House of Delight' for James I's Queen - Anne of Denmark.
With exclusive use of all event spaces, epic backdrops for photographs including the Tulip Stairs, outdoor space for receptions, and spectacular views of Greenwich Park and the city skyline, this venue is proof that perhaps dreams do come true. 
Email: events@rmg.co.uk | Tel: +44 (0)20 8312 8517
Image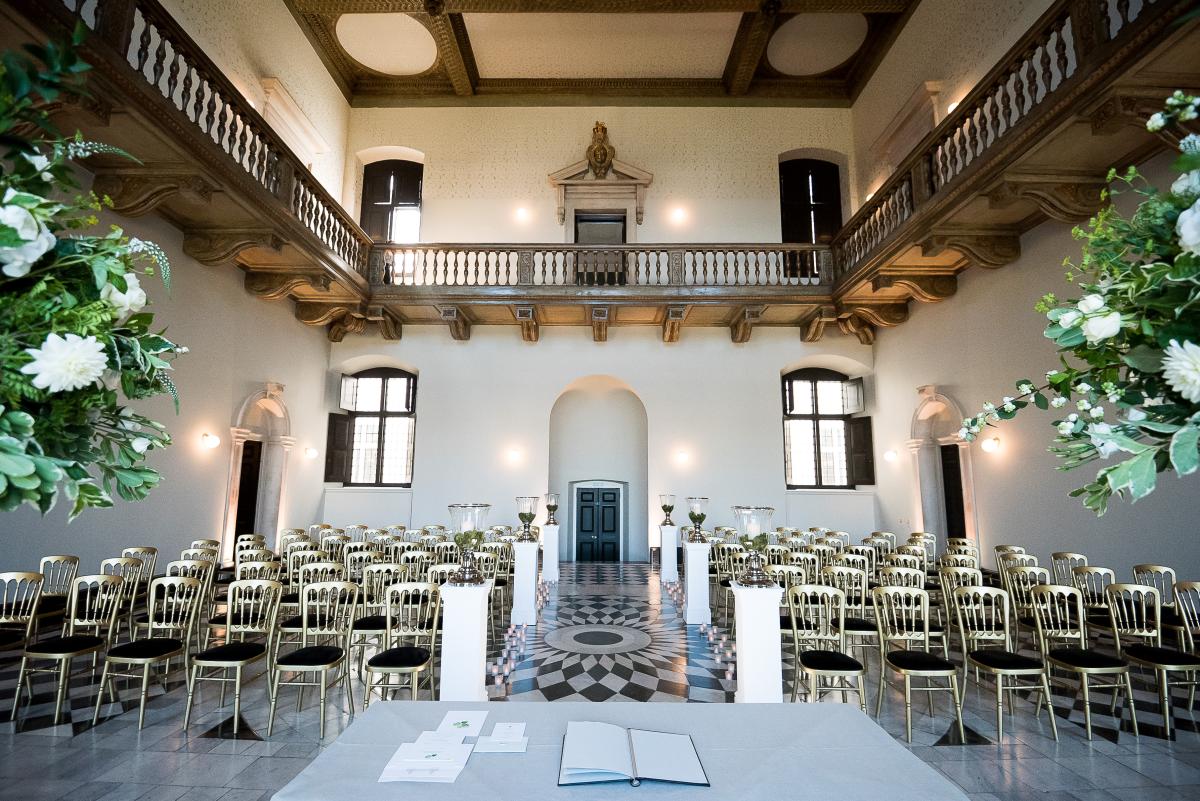 The Great Hall
With room for up to 120 people, your guests will sit in thrall as you exchange vows on the original 17th century black and white sunburst marble floor, under the contemporary gold-leaf work on the ceiling by Turner Prize-winning artist Richard Wright. The perfectly cubic space transforms into the warm and open banquet hall where your nearest and dearest will celebrate during your wedding breakfast.
We had the most incredible day and everything seemed to go like a dream...we were oblivious to anything other than a seamless experience. And not just on the day, it's been an absolute pleasure to plan the day with you and the team at RMG...Thank you so much. 

Jamie and Dan, 2017
A fantastic location; the contrast of old and new with Canary Wharf in the background is quite unique. […] A beautiful wedding venue with a clear focus on customer service.

London Venue Awards Judging Panel 2018
Image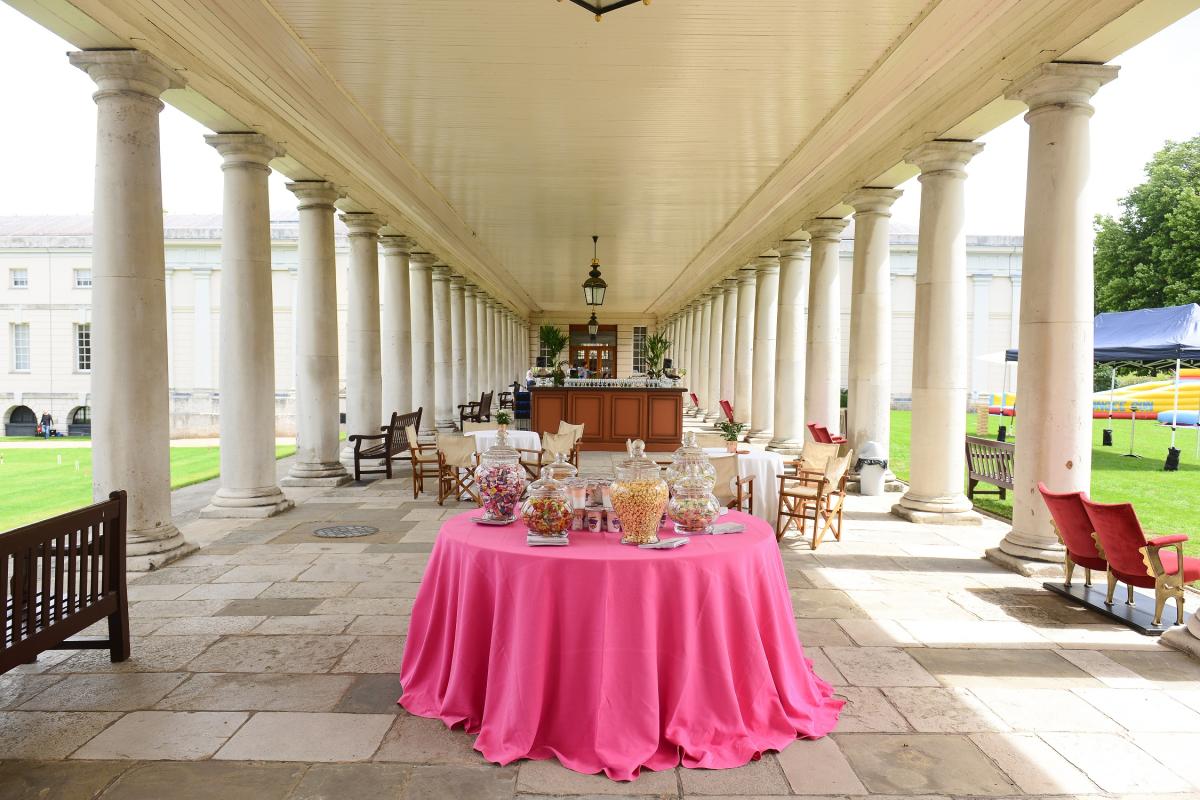 South East Lawn and Colonnade
Enjoy an outdoor reception in the park-side setting of our south lawn under the Colonnade. Offering spectacular views in all directions, this provides your guests an opportunity to soak in the summer sun whilst sipping champagne and cocktails.
Image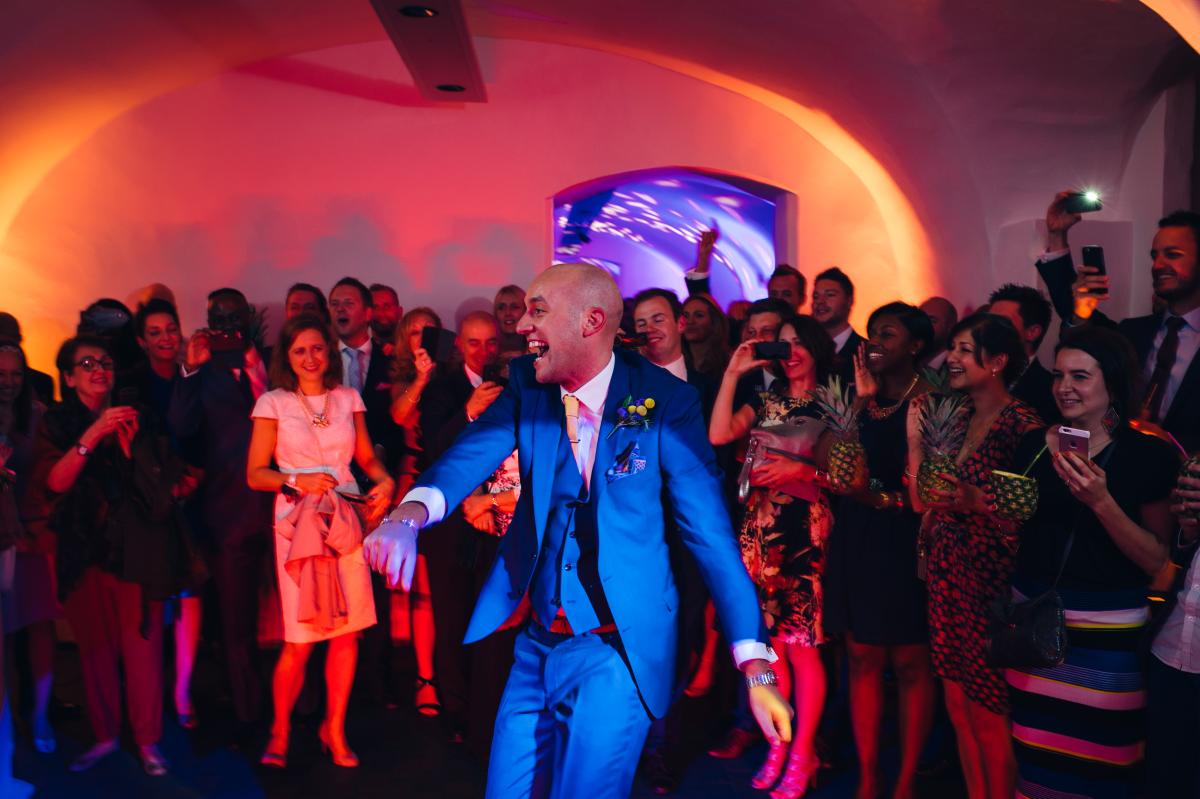 Undercroft 
Full wedding hire at the Queen's House includes the Undercroft, a series of three vaulted rooms below the Great Hall that serves as your dance and after-dinner bar space, as well as offering a wet weather option for your daytime reception. With inbuilt staging, curved white walls, and room for 150 people, it's a party waiting to happen. Easy to dress with any theme, there is separate space for a dance floor, service bar, and relaxed lounge area. Guests can step out front for fresh air, and take in the views of Canary Wharf to the north. 
(Photo courtesy of Lorenzo Ali)
Food, drink, styling and entertainment for any wedding
Exceptional food, floristry, entertainment and photography make each event unique. We work with an outstanding selection of creative suppliers to help tailor every detail to you.
Sign up to our newsletter
Whether it's our latest offers, industry news, upcoming events or venue highlights, we'll make sure you never miss a thing.